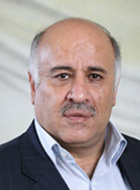 Jibril Rajoub is a Palestinian political and military figure who is a leading voice within the Fatah Party.
Rajoub, who is also known by the moniker Abu Rami, was born in the village of Dura, near the city of Hebron in the southern West Bank. In 1968, at age 15, he was arrested by Israel's Shin Bet security service on suspicion of aiding fleeing Egyptian officers, and spent four months in prison. After his release from jail, Rajoub joined Fatah.
In September 1970, he was arrested for throwing a grenade at an Israeli army bus near Hebron. He was later tried and convicted of this attack and of membership in an armed group, and sentenced to life in prison. In 1985, Rajoub was among the 1,150 Arab prisoners freed in an exchange deal for three Israeli hostages held by the PFLP terror group. He was soon rearrested for resuming terrorist activities but was released seven months later. In September 1986, he was yet again arrested for terrorist activity, and was imprisoned until March 1987.
In December 1987, Rajoub was arrested for the fifth time, this time related to his activities during the First Intifada. He was deported to Lebanon in January 1988 and later relocated to Tunisia where he served as an advisor on the intifada to Fatah deputy leader Khalil al-Wazir. After Wazir's assassination, he became a close lieutenant of Yasser Arafat and was allegedly behind a 1992 plot to assassinate Israeli military leader and political leader Ariel Sharon.
Following the signing of the Oslo Accords in September 1993, Rajoub was allowed to return to the West Bank where he assumed the role as head of the Preventive Security Force (PSF) until 2002. As head of the Preventive Security Service in the West Bank, Rajoub led one of the most powerful of the Palestinian Authority's various security agencies and had several thousand officers under his command. In 2003, Arafat appointed him as his national security advisor. During his tenure, he was accused of using the PSF to quash political dissent and harass political opponents.
In 2009, Rajoub was elected to the Fatah Central Committee where he currently acts as the deputy secretary general.  Rajoub is also the head of the Palestinian Olympic committee and leads the Palestinian Football Federation.
Despite Western efforts to portray Rajoub as a moderate, he is repeatedly made incindiary remarks about Israel and its place in the Middle East. In July 2012, during international debate on whether to hold a minute of silence at the 2012 London Olympics in memory of the murdered Israeli athletes from the 1972 Munich games, Rajoub - as head of the Palestinian Olympic Committee - wrote to IOC President Jacques Rogges in opposition to the motion, saying that "sports are a bridge for love ... and should not be used for divisiveness and the spread of racism."
During an interview with Lebanese TV in May 2013, Rajoub said, "Resistance to Israel remains on [Palestinian] agenda ... I mean resistance in all of its forms ... we believe that popular resistance - with all that it entails - is effective and costly to [Israel]."
---
Sources: MSNBC, (December 6, 2001); Wikipedia; FrontPage Mag (May 9, 2013); Times of Israel (May 7, 2013); Jewish Press (July 26, 2012)