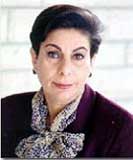 Hanan Ashrawi is a Palestinian legislator, activist and diplomat. She has served on the Palestinian Legislative Council and was the first woman elected to the Palestinian National Council.
Ashawi was born in 1946 in Ramallah, on the West Bank in Palestine. Her father was a founder of the Palestine Liberation Organization.
Ashrawi received her Bachelor and Master's degrees in literature from the Department of English at the American University of Beirut. After earning her Ph.D. in Medieval and Comparative Literature from the University of Virginia, Charlottesville, Ashrawi returned to the West Bank in 1973 to establish the Department of English at Birzeit University. She served as Chair of that department from 1973 to 1978, and again from 1981 through 1984; and from 1986-1990 she served the university as Dean of the Faculty of Arts. She remained a faculty member at Birzeit University until 1995, publishing numerous poems, short stories, and papers and articles on Palestinian culture, literature, and politics and editing the Anthology of Palestinian Literature. In the field of literature, she is author of The Modern Palestinian Short Story: An Introduction to Practical Criticism; Contemporary Palestinian Literature under Occupation; Contemporary Palestinian Poetry and Fiction; and Literary Translation: Theory and Practice. In addition to the publications on literature cited above, Dr. Ashrawi's most recent writings include From Intifada to Independence and her autobiography, This Side of Peace: A Personal Account.
In 1991, she was appointed official spokeswoman of the Palestinian Delegation at the Middle East Peace Conference in Madrid. Ashrawi headed the Preparatory Committee of the Palestinian Independent Commission for Citizens' Rights in Jerusalem, and was the Founder and Commissioner General of that committee until 1995.
From 1996 through 1998, she served as Palestinian Authority Minister of Higher Education and Research in Arafat's first government in Palestine but withdrew in 1998 because of concerns about corruption.
In August 1998, Ashrawi founded the Palestinian Initiative for the Promotion of Global Dialogue and Democracy, and has served as secretary general of that organization since that time. Ashrawi has also served since 1996 as an elected member of the Palestinian Legislative Council, Jerusalem District.
She is married and has two daughters.
---