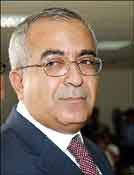 Salam Fayyad is a Palestinian politician and Western-educated economist who held the title of Prime Minister in the Palestinian Authority from 2007 to April 2013.
Fayyad (born 1952) was born in the small Palestinian village of Deir al-Ghusun near Tulkarm in the northern West Bank. In 1975, he graduated with a bachelors degree from the American University of Beirut and in 1980 he received his MBA from St. Edward's University in Austin, Texas. Fayyad also received a PhD in economics from the University of Texas at Austin.
After a few years teaching economics at Yarmouk University in Jordan, Fayyad worked at the World Bank in Washington D.C. from 1987 to 1995 and then served as the International Monetary Fund's representative to the Palestinian Authority until 2001.
Fayyad served as the Palestinian Authority Finance Minister under Yasser Arafat from 2002 to 2005 and won praise from the international community for introducing economic reform and cracking down on official corruption. In late 2005 he resigned from the cabinet to found and run the Third Way Bloc, an independent party that would run and win two seats in the Palestinian parliamentary elections of January 2006.
In March 2007, Fayyad was again appointed PA Finance Minister, this time under President Mahmoud Abbas, in a the joint Hamas-Fatah government.  Following Hamas' violent overthrow of the Gaza Strip, Abbas dismissed Prime Minister Ismail Haniyeh of Hamas and Fayyad was sworn in as Prime Minister of an emergency Palestinian government on June 15, 2007. Thoguh appointment to the position was never confirmed by the Palestinian Legislative Council, Abbas reappointed Fayyad as Prime Minister in May 2009.
In April 2013, Fayyad tendered his resignation from his political post to Abbas.  He will remain as interim Prime Minister until a new Palestinian government can be formed.
Fayyad is married with three children.
---
Sources: BBC News (June 17, 2007); PASSIA Photo; Wikipedia; Washington Post (April 13, 2013)