Marwan Barghouti
(1958 - )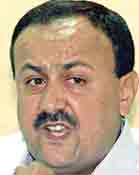 Marwan Barghouti is a Palestinian terrorist currently in jail for murdering Israelis. He is one of the most popular figures of the Palestinian uprising and has been repeatedly called on to run for Palestinian leadership position, despite his current jailing.
Barghouti is a senior Fatah leader in the West Bank. Schooled in Hebrew during his time in Israeli jails, Barghouti was a field Fatah leader during the first intifada of 1987, when he was deported by Israel. Barghouti has struck a chord with ordinary Palestinians. The son of a West Bank farmer, he has appeared frequently at demonstrations, funerals and in the Arab press. Israel asked that the Palestinian Authority extradite Barghouti for questioning in connection with a number of West Bank shootings, but the PA refused. Israel arrested him in 2002 and put him on trial for his role in terrorist attacks against Israelis.
On May 20, 2004, the Tel Aviv District Court convicted Barghouti of three terror attacks in which five Israelis were murdered, and also of attempted murder, membership in a terror organization and conspiring to commit a crime. He was acquitted of 33 other murders with which he was charged, because of a lack of evidence. On June 6, 2004, Barghouti was sentenced to five consecutive life terms and 40 years.
The court said in its verdict that "Barghouti was responsible for providing the field units with money and arms…." The judges said that the attacks were sometimes "based on instructions" from Yasser Arafat.
The court found Barghouti responsible for a June 2001 attack in Maale Adumim, in which a Greek monk was murdered, a January 2002 terror attack on a gas station in Givat Zeev, a March 2002 attack at Tel Aviv's Seafood Market restaurant, in which three people were murdered, and a car bomb attack in Jerusalem.
David Saranga, a spokeman for Foreign Minister Silvan Shalom said, "The five people who were killed in these attacks that he ordered will not return to life. The widows and orphans will not get their loved ones back. But at least justice was done.
---
Sources: MSNBC, (December 6, 2001).
Assaf Bergerfreund, "Barghouti Found Guilty of 5 Murders," Haaretz, (May. 21, 2004).
PASSIA photo