IDF Seizes PA Weapons Ship: The Karine A Affair
(January 3, 2002)
Ammunition seized on the Karine A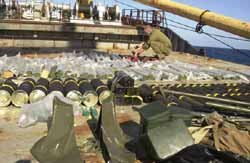 Israel Defense Forces (IDF) navy and air force units captured a Palestinian Authority-owned freighter loaded with 50 tons of weapons in the pre-dawn hours of January 3, 2002.
The operation, code-named Noah's Ark, took place 300 miles south of Eilat in the Red Sea, between the coasts of Saudi Arabia and Sudan. According to IDF Chief of General Staff Shaul Mofaz, IDF commandoes from the navy's elite Flotilla 13 (the local equivalent of the United States Navy SEALS) took over Karine A, a 4,000-ton freighter captained by a high-ranking PA naval policeman without a single shot being fired. The Iranian and Russian-made weapons on board included long-range Katyusha rockets with a 20-kilometer (12-mile) range, LAW anti-tank missiles, Sagger anti-tank missiles, long range mortar bombs, mines, sniper rifles, ammunition and more than two tons of high explosives, Mofaz said.
"The whole thing took less than eight minutes. Quicker than we expected," said Eli Marum, Israel Navy operations chief. The crew - Captain Omar Akawi, a lieutenant-colonel in the PA's Coastal Police and a senior member of PA Chairman Yasser Arafat's Fatah organization, and 12 others - surrendered without a fight. "The crew was fully surprised. They did not anticipate that we would strike so far out into the Red Sea," Marum remarked.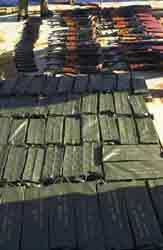 The Karine A was purchased in Lebanon in October 2001 (after Arafat's post-September 11 pledge to fight terror) for $400,000 by Adel Mughrabi, a senior PA figure close to Arafat. Antother Arafat insider, Fouad Shubaki, chief procurement and finance officer of the PA, handled payment for the weapons.
The ship was reported to have sailed to Sudan, where it picked up 20 tons of watermelon and sesame seeds. It left the port of Ajiman in the United Arab Emirates, near the Iranian coast, on December 10, 2001. The Karine A eventually went to Yemen for repairs after the ship developed engine trouble, and to pick up a cargo of rice, clothes and toys to conceal the weapons onboard.
In 2017, it was disclosed that Israel asked the CIA for help in determining the ship's location. On December 13, 2001, Israeli and American intelligence officials met and, a few days later, the Israelis were told the ship had been found. U.S. intelligence continued to track the ship's movements and relayed the information to their Israeli counterparts, allowing them to intercept it at sea.
Navy Admiral Yedidya Ya'ari told the press the weapons were packed in special floating waterproof containers designed to be dropped into the sea and picked up by smaller craft. Indeed, the shipment filled 80 custom-made submerisble containers, which were to be tossed overboard off the Gaza coast and washed ashore or picked up by fishing boats and other small vessels.
The haul included 700,000 rounds of small arms ammunition; 735 hand grenades; 311 anti-personnel mines and 211 anti-tank mines; 345 long- and short-range Katyusha rockets and 10 launchers; 29 mortar tubes and 1,545 shells; six Sagger wire-guided anti-tank missle launchers and 10 missiles; 51 RPG-7 anti-tanl missiles and 328 rockets; 30 high-powered Dragonov telescopic rifles; 212 Kalashnikov assault rifles, over 2,000 kilograms of explosives, and two speedboats with powerful Yamaha engines and a range of diving equipment. (See table below for more information). Much of this weaponry is prohibited from the PA under the Oslo Accords.
Defense Minister Binyamin Ben-Eliezer said the PA spent more then $100 million on the arms shipment.
The capture of the weapons prevented uncountable loss of life in Israel, Mofaz said, adding that the shipment was in clear violation of agreements with the PA and demonstrates that Arafat is not committed to fighting terrorism. Marum, too, commented that had the arms reached Palestinian gunmen, the impact "would have been lethal. We would have seen a great many more Israeli fatalities. The katyushas we captured have a range of 20 kilometers; I'm sure they would have been used - then and since. Rockets and mortars could have been flying into every point in Israel. "
Marum also agreed that the incident also illustrated Arafat's intention to "cause many Israeli casualties. We found two tons of C-4 explosives - a materical used by suicide bombers - on board. Why would the PA need C-4? To build roads?" It also crucially exposed the PA-Iran connection, Marum added, as many of the weapons on board were Iranian-made.
Arafat denied any connection with the shipment and accused Israel of "propaganda" to thwart the cease-fire efforts of U.S. envoy Anthony Zinni, and that Israel has "fabricated" the whole affair. Next, they PA claimed the shipment was headed for Lebanon, and not the Gaza coastline. Finally, Arafat claimed he was "stunned" to hear about it but couldnt control "everyone" in his regime - a claim easily dismissed by analysts who say so large an outlay of cash could only have been approved by the PA leader himself. In addition, Israel Radio later quoted Omar Akawi, the jailed captain of the Karine A weapons ship, as saying that a Palestinian Authority official in Greece sent him to bring the arms-laden ship through the Red Sea to PA-controlled shores.
The Weapons Seized on the Karine-A Ship

 
Weapon Type
Amount
Technotactic Stats.
Artillery
1
?122 mm Rocket Launchers
4 Launching tubes
Launching Range: 20 Km.
62 Rockets
18.3 Kg. Warhead
6.4 Kg. High Explosives
2
?107mm Launchers and Rockets
6 Launching tubes
Range: 8.5 Km.
283 Rockets
?6.4 Kg. Warhead
3
120 mm Mortars and Bombs
10 Launching tubes
Range: 6 Km.
25 Kg. High Explosives
700 Mortar Bombs
Pinpoint accuracy with laying equipment
4
81 mm Mortars and? Bombs
19 Launching tubes
Range: 5200 M.
686 Mortar Bombs
?550 g High Explosives
5
60 mm Mortars and Bombs
10 Launching tubes
Range: 1700 M.
159 Mortar Bombs
250 g High Explosives?
Anti-Tank Weapons
6
Sagger Launchers and missiles?
6 Launchers
Anti-Tank Missiles with 3.5 Km. Range?
10 Missiles
?450 mm Effective Penetration
7
RPG7 Rockets?
?119 Rockets
Efficient Range 300 m
PG7 "Tandem"
Penetration ability unknown
 
Efficient against reactive defenses
8
RPG7 Rockets?
209 Rockets
Max. Range 400 m
PG7 "Madder"
300 mm Penetration ability?
9
RPG7 Launchers
51 Launchers
No sights were found?
10
?RPG 18 Anti-Tank Rocket Launchers
346
?200 M.Range
?300 mm Penetration ability
Mines and Explosives
11
YM-III Anti-Tank Mines (Iranian)
211 Mines
Generation A Mines
High Explosive ?-5.5 Kg.
12
YM-I? Anti-Personal mines (Iranian)?
311 Mines
High Explosive 50 g
13
Demolition Blocks and standard High Explosive
Total: 2200 Kg.
C-4 Blocks
?TNT Blocks
?10 Kg. C4 Cases
Light Weapons
14
Dragunov Sniper Rifles?
30
Effective Range: 1000 m with PSO-1Telescope
15
PK machine guns
18 machine guns
 
16
AK-47 (Kalashnikov) Assault Rifles?
212 Assault Rifles
 
17
Small arms 7.62mm Rounds
407,800??????????? 291,400
Cartridges for Kalashnikov?? Dragunov and PK Machine Gun Cartridges
18
Hand Grenades (fragmentation)
735
 
Naval Equipment
19
Zodiack Boats with External Yamaha 25 HP Engines?
?2 Boats
 
20
Cylinders and Diving Equipment
 
 
21
Flotation containers for smuggling weapons
80
For Hiding Weapons in the Sea
All high trajectory weapons were equiped with laying equipment including aiming poles?
All rockets have impact fuses. A very large amount of regular and electric detonators? as well as detenators for propellant mines have arrived
On October 18, 2004, an Israeli military court sentenced the captain of the Karine A, Omar Muhammad Hassan Akawi, to 25 years in prison. Two officers, Riad Salah Mustafa Abdullah and Ahmed Mahmud Abed al-Khadi Khiris, were sentenced to 17 years each for their role in the smuggling effort. A fourth suspect, Salem Mahmud Husseini el-Sankri, was set free in a Hizbullah prisoner swap after all the charges against him were dropped.
Akawi, Abdullah and Khiris were also involved in the Lebanese Santorini weapons smuggling ship that was intercepted by naval forces on May 7, 2001. That ship, also destined for Gaza and apprehended in the Mediterranean Sea, contained anti-aircraft missiles, anti-tank missile-launchers, RPG rockets, mortar shells, mines, rifles and guns. The shipment, some of which originated in Iran, had been loaded in Lebanon by the Popular Front for the Liberation of Palestine - General Command.
In August 2009, an Israeli military court sentenced Fuad Shubaki, a former aide of Yasser Arafat, to 20 years in prison for weapons trafficking for his role in organizing and financing the Karine A. At the time, he had been the head of finance for the Palestinian security service.
---
Sources: BBC;
Ha'aretz;
Jerusalem Post;
The Jerusalem Report;
IDF Spokesperson's Unit;
BBC;
Yonah Jeremy Bob, "When Israeli Intel, CIA Caught Mega-Arms Boat And Changed History," Jerusalem Post, (September 24, 2017).
;