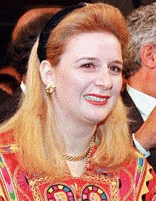 After four years living in Paris out of the spotlight, playing no apparent role in the affairs of her husband or the Palestinian Authority, Suha Arafat emerged as her dying husband's guardian, overseeing Yasser Arafat's care in a Paris hospital, and lashing out at her husband's colleagues for trying "to bury Arafat while he is still alive."
Born in Jerusalem in 1963, Suha grew up in an affluent and political household, first in Nablus, then Ramallah. Her father was a banker and her mother, Raymonda Tawil, a nationalist poet and journalist who used to run the Palestine Press Service in Jerusalem.
Raised a Catholic, Suha attended the Rosary Sisters' School in Jerusalem. After graduation, Tawil used her close connections with Arafat to obtain a scholarship for Suha at the Sorbonne in Paris.
Suha's mother introduced Arafat to her daughter while she was studying at the Sorbonne. Arafat subsequently hired Suha to work on his personal staff in Tunis. In 1990, Arafat, a Sunni Muslim, married Suha, who converted to Islam. At the time, Arafat was 62 and Suha 28. The secret marriage came as a surprise to most Palestinians because Arafat had always said he was "married to the Palestinian cause."
After the signing of the Oslo Accords and the return of the PLO leadership from exile in 1994, Suha lived with her husband in a modest two-story house in Gaza City. From the beginning, they were rumored to live separate lives and to have separate quarters in their home. Despite her conversion to Islam, her apartment was decorated with images of Jesus Christ, Pope John Paul II and a young Yasser Arafat.
Suha created an aid organization to improve the status of women in Palestinian society. While most women in Gaza had few rights in the authoritarian Islamic system that prevailed there, Suha enjoyed the rare privilege of driving a car and tooled around the impoverished area in a blue BMW. Still, a 1999 interview with the New York Times portrayed her as popular among the people, a view rarely echoed in more recent stories about her.
In July 1995, the couple had a daughter Zawha, named after Arafat's mother, who died when he was three years old. Suha's decision to give birth in a French hospital angered many Palestinians in the refugee camps of the Gaza Strip, especially after she had been quoted as saying that sanitary conditions in Palestinian hospitals were "disastrous."
When the Palestinian uprising escalated in 2000, Suha took her daughter and went to live with her mother in Paris. Her departure further enraged her critics, who said she was escaping from the daily hardships of life under the Israelis in favor of a lavish lifestyle in France.
While Arafat is known for his military dress, unkempt appearance, and austere lifestyle, Suha developed a reputation for extravagance after moving to Paris, where she receives a $100,000 monthly allowance from the PA budget. Her dyed-blonde hair, frequent purchases of expensive French designer clothes and high-profile social life provoked critics in the territories to distribute leaflets with reports from the Arab and Western media about her shopping sprees. She told Vogue magazine that her husband once compared her to former Philippine first lady Imelda Marcos after seeing her large shoe collection.
Suha's activities also attracted the attention of French prosecutors, who announced in October 2003 that they had opened a money-laundering probe into the transfer of $11.4 million from Switzerland into her French bank accounts.
Suha also gained attention for a number of controversial remarks. For example, on November 11, 1999, during a Gaza appearance with First Lady Hillary Rodham Clinton, she claimed: "Our people have been subjected to the daily and extensive use of poisonous gas by the Israeli forces, which has led to an increase in cancer cases among women and children."
In a 2001 interview, Suha announced, "I hate the Israelis...I oppose normalization with them... [they] are responsible for the problems our children have."
In 2002, just before her husband condemned "all terrorist acts which target civilians," Suha seemingly endorsed suicide bombings, saying that if she had a son, there would be "no greater honor" than to sacrifice him for the Palestinian cause.
Suha has also been outspoken in her criticism of many of the Palestinian advisers to her husband and some of the major ventures of the Palestinian Authority. In one interview she ridiculed the then thriving Palestinian-run casino in Jericho as "a disgrace." She said, "We have no hospitals, no sewage, sick children, a whole sick society. But, oh, we have gambling. Great."
During Arafat's final illness, Suha refused, under French law, to permit Palestinian leaders into the room where he lay in a coma. After negotiations, she agreed to allow Ahmed Korei (Abu Alaa), accompanied by the head of Arafat's personal guard, to enter his room. Her constant advisor during this time was Pierre Rizk, the Maronite Lebanese head of the intelligence service of the Phalange during the Lebanese civil war, who had power of attorney in financial negotiations between Suha and the Palestinians.
According to news reports, after Arafat's death, Suha met with leaders of the Palestinian Authority and insisted that she needed the financial security to continue to live in the lifestyle she'd become accustomed to. The PA leaders reportedly agreed to pay her $22 million a year out of secret accounts held by Arafat believed to hold at least $4 billion. In exchange, Suha was told she would have to reveal all of her husband's bank accounts and investments, and allow the money that belonged to the Palestinian people to be transferred to the PA.
Speaking to the Turkish newspaper Sabah in February 2013, Suha stated that her marriage to Yasser Arafat was a mistake and that she had attempted to leave him hundreds of times.  According to Yasser's servants he would not allow her to leave.  After Yasser's death Suha could never return to a normal life, and she currently lives with her daughter on the island of Malta recieving monthly payments from the Palestinian Authority. 
Suha has never had a base of popular support in territories and has no political influence, so she is not expected to have any role in the future of the Palestinian Authority.
---
Sources: BBC; Jerusalem Post, (October 20 & November 11, 2004); Wikpedia; Deborah Sontag, "Suha Arafat: Arab Militant in High Heels," New York Times, (February 4, 1999); MEMRI; Washington Post, (November 9, 2004);  Maariv, (November 12, 2004); Photo Courtesy of EPA