Rehavam Ze'evi
(1926 - 2001)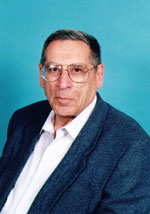 Rehavam Ze'evi was a general in the Israel Defense Forces, an Israeli politician and a cabinet minister.
Ze'evi was born on June 20, 1926, in Jerusalem in what was then Mandate Palestine. During his youth, Ze'evi went to school in Givat HaShlosha where he earned the nickname "Gandhi" for an act he once pulled impersonating Mohandas Gandhi.
In 1942, Ze'evi joined the Palmach and later served in the Israel Defense Forces after the creation of the State of Israel in 1948. During the War of Independence, Ze'evi served as a platoon commander; during the Six-Day War in 1967 he was Chief of the Department of Staff in the General Staff. As part of his service, Ze'evi also graduated from the U.S. Army Command and General Staff College.
Ze'evi retired from the IDF in September 1973, holding the rank of Major-General. However, when the Yom Kippur War broke out the following month, he rejoined the army and was appointed Special Assistant to the Chief of Staff. He retired for good in 1974.
After retiring from the military, Ze'evi entered the political world, consulting Prime Minister Yitzhak Rabin on combating terrorism and then becoming the prime minister's adviser on matters of intelligence, a position he held until 1977.
In 1988, Ze'evi established the Moledet Party, which had a platform advocating the population transfer of Arabs from the West Bank and Gaza Strip to neighboring Arab countries. In the 1988 elections, Ze'evi won a seat in the Knesset, which he held under with his Moledet party until 1999 when Moledet joined with Herut and T'kuma to form the National Union Party. On the National Union ticket, Ze'evi was re-elected to Knesset in 1999.
In Knesset, Ze'evi served on the Foreign Affairs and Defense, Education and Culture and State Control Committees. From February 1991 until January 1992, he served as Minister without Portfolio. In March 2001, Ze'evi  was appointed Minister of Tourism.
On October 17, 2001, Ze'evi was assassinated in a Jerusalem hotel on Mount Scopus near the campus of Hebrew University by four Palestinian terrorists belonging to the terror group the Popular Front for the Liberation of Palestine (PFLP).
Ze'evi edited 65 books published by the Defense Ministry and the Eretz-Israel Museum in Tel Aviv. In his memory, Israel's Route 90 was renamed "Gandhi Road" and Eilat's promenade was named for him as well.
Ze'evi is survived by a wife and five children.
---
Sources: Israeli Ministry of Foreign Affairs.
Wikipedia.