Moses Jacob Ezekiel
(1844 - 1917)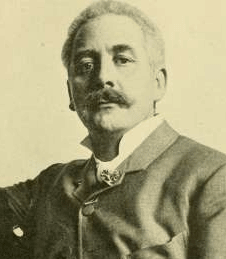 One of the most striking monuments at the Arlington National Cemetery in Virginia, United States, is the Confederate Memorial. Commissioned by the United Daughters of the Confederacy, the Confederate Memorial was designed and executed by Sir Moses Jacob Ezekiel of Richmond, Virginia, the first great American Jewish sculptor, who was living in Rome.
Ezekiel was 16 when Fort Sumter was attacked in 1861. An ardent believer in states' rights, Ezekiel begged his parents to allow him to enroll at the Virginia Military Institute. They consented, and he became the first Jew to attend VMI. Three years later, when the cadets were summoned to aid Confederate General John C. Breckenridge at the Battle of New Market, Virginia, Ezekiel joined the cadet's charge against Union lines.
When the war ended, Ezekiel completed his studies at VMI and graduated in 1866. According to Ezekiel's memoirs and letters, which repose at the American Jewish Historical Society, Ezekiel met General Robert E. Lee during this period. Lee counseled Ezekiel, "I hope you will be an artist … and do earn a reputation in whatever profession you undertake."
Living up to Lee's injunction, Ezekiel won worldwide fame as a sculptor. Had he been born a century earlier, Ezekiel would almost certainly never have become a sculptor at all. Until the early 1800's in America, the phrase "Jewish artist" was an oxymoron. American Jewish painters were rare and Jewish sculptors rarer still because of the Second Commandment's prohibition against making images. By the time Ezekiel was born in 1844, however, most American rabbis interpreted the Commandment to mean that Jews should not worship graven images, as opposed to painting or sculpting them. By the 1860's, Ezekiel was free to give three-dimensional expression to his Judaism without violating his faith.
Judaism was a major theme of Ezekiel's art. At age 13, he executed a bust of "Cain Receiving the Curse of the Almighty." His second work, "Moses Receiving the Law on Mount Sinai," collapsed during a storm, which disaster his grandmother, who remained a Second Commandment strict constructionist, attributed to divine justice.
In the late 1860's, Ezekiel studied painting and sculpture in Cincinnati and Berlin. In the latter city, his bas-relief "Israel" won a prestigious prize that enabled him to study in Rome. One critic, who took note of the fact that the talented young winner was a Jew, expressed the hope that Ezekiel "would disprove the prevailing notion that the race of Shem has no genius for the plastic arts."
Ezekiel became an expatriate, living in Rome for more than 40 years. Nonetheless, his most important sculpture commissions were for works erected in the United States. In 1876, the Independent Order of B'nai B'rith asked Ezekiel to create an allegorical sculpture of "Religious Liberty" for the Philadelphia Centennial Exposition. The resulting marble statue, featuring an eight-foot tall woman wearing a coat of mail against the shaft of tyranny, now stands outside the National Museum of American Jewish History in Philadelphia.
Ezekiel's work also adorns the Corcoran Gallery in Washington, D.C. and the Confederate Cemetery at Johnson's Island, Ohio, among other sites, and he designed the seal of the Jewish Publication Society of America. In 1899, Rabbi Isaac Mayer Wise, the leader of American Reform Judaism and founder of Hebrew Union College in Cincinnati, posed for Ezekiel. Ezekiel's father Jacob was the first secretary to the Board of Governors of HUC.
Ezekiel did indeed "earn a reputation" as Robert E. Lee had hoped, and he proved that Jews could be sculptors. When the United Daughters of the Confederacy approached him to execute the Confederate Memorial at Arlington National Cemetery (1914), Ezekiel felt he could dictate the terms of his commission. He insisted that the Daughters give him full artistic license for the monument, which was based on the words of the prophet Isaiah, "And they shall beat their swords into plowshares and their spears into pruning hooks." They agreed nervously to Ezekiel's conditions, but were delighted with the results.
As a tribute to the beauty of his work, Ezekiel was knighted by Emperor William I of Germany, and Kings Humbert I and Victor Emmanuel II of Italy –– hence his title "Sir." Despite his Roman residence and his familiarity with celebrities and kings, no one remained a more loyal son of the South or proud American than this expatriate Jew from Richmond. When Ezekiel died Rome in 1917, he left behind a specific request that his body be returned to America and buried at the base of his confederate Memorial in Arlington, alongside his comrades-in-arms.
---
Sources: American Jewish Historical Society