Ilya Prigogine
(1917 - 2003)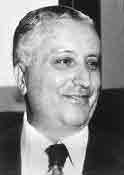 Ilya Prigogine was born in Moscow on January 25, 1917, a few months before the Russian Revolution. His family fled Russia soon after the Revolution and moved to Germany. When Prigogine was still a young boy his family moved again to Belgium.
Prigogine excelled in the fine arts as a child, but his father's career in chemical engineering, as well as his older brother's decision to study chemistry, influenced young Prigogine to focus in that field upon entering Universitee Libre de Bruxelles.
"I remember how much I hesitated before choosing this direction," Prigogine writes in his autobiography. "As I left the classical (Greco-Latin) section of Ixelles Athenaeum, my interest was more focused on history and archaeology, not to mention music, especially piano."
Prigogine obtained an undergraduate degree and, in 1941, a doctorate from the Universitee Libre de Bruxelles.
Prigogine concentrated his career on better understanding the role of time's impact on biological processes. Prigogine's work has contributed greatly to the understanding of irreversible processes, according to the Ilya Prigogine Center for Studies in Statistical Mechanics and Complex Systems at the University of Texas. "The results of his work on dissipative structures have stimulated many scientists throughout the world and may have profound consequences for our understanding of biological systems."
Prigogine rarely publically refers to being Jewish, and, according to Belgium's Jewish Community, the Consistoire Central Israelite de Belgique, Prigogine remains "fairly low-profile about his Jewishness." But a 1980 article in Quest elucidates that the Prigogine family moved from Berlin to Brussels to "escape the rising tide of Nazism." The article's author, Mary Lukas, also writes that Prigogine was "an oddity, a little Jewish boy from somewhere in the East."
Prigogine was committed to sharing and generating of knowledge. He funded five research centers for science around the world, including the Ilya Prigogine Center for Studies in Statistical Mechanics and Complex Systems at University of Texas in Austin. At Texas, he was a professor of Physics and Chemical engineering. He was also the author of 20 books and roughly 1,000 research articles.
Prigogine received 53 degrees and numerous international awards. Some of his awards included the Golden Medal of the Swante Arrhenius, the Swedish Academy Rumford Gold Medal and the Royal Society of London Descartes Medal. In 1977, Prigogine received the Noble Prize in chemistry for his contributions to non-equilibrium thermodynamics, particularly the theory of dissipative structures.
At the end of his life Prigogine was directing the International Solvay Institutes for Physics and Chemistry in Brussels, Belgium. He died on May 28, 2003, in Brussels.
---
Sources: Ilya Prigogine, Biography.com, (August 6, 2001)
Ilya Prigogine, Autobiography, (August 6, 2001)
Ilya Prigogine, Jewhoo.com, (August 6, 2001)
The Jewish Community of Belgium , (August 6, 2001)
Short biography Ilya Prigogine. Center for Studies in Statistical Mechanics and Complex Systems
The Washington Post, (May 31, 2003)
The University of Texas at Austin
The Nobel Foundation
Photograph courtesy Geneva Research Collaboration