Fatah: History & Overview
Fatah is a major Palestinian political party that began in 1965 as the Palestinian National Liberation Movement. Yasser Arafat and friends from Algeria founded the organization, which was originally opposed to the Palestine Liberation Organization that is today one of the largest terror organizations in the world. With Syrian support, Fatah started launching terrorist raids against Israeli targets in January 1965 from Jordan, Lebanon and Egyptian-occupied Gaza. Fatah carried out dozens of raids exclusively against civilian targets in its early years. After taking over the PLO in 1968, its popularity among the Palestinian public decreased significantly. Today, Fatah is the PLO's most prominent faction.
- Basic Facts
- Constitution
- Timeline
- Recent Developments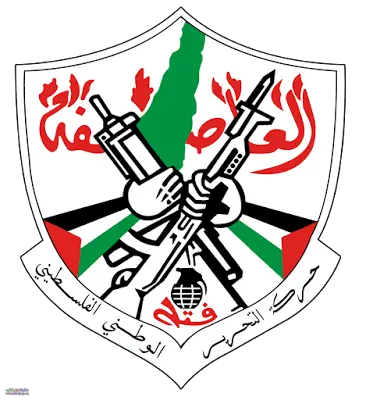 Fatah Flag
Basic Facts
The word "Fatah" is a reverse acronym of the Arabic Harekat at-Tahrir al-Wataniyyeh al-Falastiniyyeh, meaning "conquest by means of jihad [Islamic holy war]." The Fatah flag features a grenade with crossed rifles superimposed on the map of Israel. This emphasizes the dedication of Fatah, along with the other "liberation" groups, to the "armed struggle" against Israel, which is a euphemism for terrorism against civilians.
Constitution
Fatah is diametrically opposed to Israel, and its 1989 political program emphasizes the barbarism of colonial Zionism, the success of the (first) intifada, and the centrality of the Palestinian Arab national rights within the Arab-Israeli conflict. In 2009, Fatah adopted a new charter at its general conference in Bethlehem. It mainly concerns organizational structure and political intricacies within the group itself, all the while reaffirming themes of revolution and resistance. A key distinction between the two charters is the inclusion in the first of "the world-wide struggle against Zionism" whereas the 2009 version does not even mention Israel, Zionism or Jews.
Timeline
1964: First Fatah terrorist attack against Israel
1967: Fatah becomes best-funded Palestinian organization, takes over PLO
1971: Jordan kills Fatah leader
1972: Fatah's Black September militant group murders 11 Israeli athletes at Munich Olympic Games
1982: Fatah transfers power base from Lebanon to Tunisia after IDF outs it & PLO from non-Syria controlled Lebanon
1983: Struggle between Fatah leaders
1990s: Arafat regains leadership of Fatah
1993: Fatah-led PLO signs Oslo Accords with Israel
1994: Palestinian Authority established to govern autonomous Palestinian regions, Gaza City becomes Fatah Headquarters
2006: Fatah unexpectedly loses Palestinian Legislative Council elections to Hamas
2009: First Fatah congress in two decades convenes in Bethlehem
2011: Hamas and Fatah reconcile in agreement in Egypt-mediated negotiations, sign agreement to form interim joint government
2012: Mahmoud Abbas becomes interim Prime Minister
2014: Fatah and Hamas sign a reconcilliation agreement in April and form a unity government, on June 2 Abbas swears in the new government. Soon after, the unity government falls apart.
2017: Fatah and Hamas sign a new reconciliation agreement in October. They begin to implement the agreement on November 1, as Hamas gives control of Gaza border crossings to the PA.
Recent Developments
After Hamas unexpectedly won the 2006 Palestinian legislative elections and overtook the Gaza Strip, it forced out all remnants of Palestinian President Abbas's Fatah party. Since then, Fatah has largely been in charge of the West Bank and Hamas of the Gaza Strip. Fatah remains the Palestinian Authority's largest political and military power, but its ties to terrorist activities cause strains between Israel and the Palestinians. In fact, the issue of uniting Hamas and Fatah has been up for debate – among Palestinians and externally - since 2007. Each side wants to keep their own land and control but acknowledges that political division within the Palestinian infrastructure is probably untenable. The de facto alliance between Israel and the PA aimed to prevent Hamas from overtaking the West Bank has been US-assisted. The US created the Security U.S. Coordinator's Officethat trains Palestinian security forces and organizes Israel-PA cooperation.

Although the two groups signed a reconcilliation agreement in April 2014, during Operation Protective Edge Fatah members were intimidated, harassed, shot, and generally treated unfairly by Hamas members. Hamas members have placed hundreds of Fatah members under "house arrest" and have shot 125 for failing to comply. According to Fatah officials Hamas is trying to silence the voice of Fatah and does not want any of the international attention pulled away from their personal struggle against Israel.

In light of the cease-fire begining August 26 following Operation Protective Edge, Senior Fatah Central Committee member Marwan Barghouti addressed Fatah in a letter written from an Israeli prison where he is imprisoned for directing multiple terror attacks which killed and injured a number of Israelis. He wrote that Fatah had the privilege of "fire[ing] the first bullet against the Zionist enemy," and will eventually be the one to "fire the final bullet against this occupation". He goes on to state that the Fatah fighters must dedicate themselves to the establishment of an independent Palestinian state, and that Israel is only interested in their land and not peace or reconciliation. According to Barghouti the steadfastness and sacrifices made by the Palestinian people will eventally convince Israel that the "occupation" is too costly economically, militarily, diplomatically, and morally. Lastly, Barghouti calls for a sweeping change withinin Fatah and an abandoning of the "illusion of achieving independence" through diplomatic negotiations. The letter calls for Fatah to renew it's "it's ideology, it's frameworks, it's institutions, and it's platform". Barghouti is calling on Fatah to take advantage of Hamas's weakened state after Israel's ground and pound tactics during Operation Protective Edge and take back control of resistance in the Gaza Strip.

Although groups like Hamas and Fatah have continued to deny it, The Islamic State has begun to take a foothold in the Palestinian territories. Israeli security sources claim that in late 2014 and early 2015 hundreds of Hamas and Fatah supporters have defected to the Islamic State. Following the attack on the satirical French news magazine Charlie Hebdo in January 2015, thousands of supporters of the Islamic State crowded the streets of Gaza in protest of the publishing of images of Mohammed by the magazine, and in support of the violent attack that left twelve people dead. Similar demonstrations took place in Ramallah and Hebron. These protestors attempted to storm the the office of the French Cultural Center in Gaza, and burned French flags while chanting calls for the slaughter of French nationals. Palestinian security forces were dispatched to the protest area, where they arrested seven Islamic State supporters. It was revealed on January 18 2015 that a number of would-be jihadists "training" to join the Islamic State had been arrested in November and December in Galilee, Northern Israel. The seven Arab Israeli citizens were apprehended by Israeli security forces after apparently participating in "training" sessions during which they slaughtered sheep, practiced riding horses, learned how to properly make and hurl a molotov cocktail, and participated in target shooting activities. The individuals arrested included Adnan Ala al-Din, a 40 year old prominent lawyer from Nazareth, and brothers who had had issues with Israeli security forces in the past. Ala al-Din presented himself to the security forces as the Senior Commander of the Islamic State in Palestine at the time of his arrest.

On February 16, 2017, the leaders of the Fatah movement elected their first ever Vice-President, offering a first look at who may succeed the aging Mahmoud Abbas. Former Nablus Governor Mahmoud al-Aloul, a close friend of Abbas, was appointed to the position. Al-Aloul has in the past also served on the Fatah Central Committee, and as the Palestinian Labor Minister. At the same time, the head of the Palestinian Football Association, Jibril Rajoub, was appointed secretary general of the Fatah Central Committee.

A new reconciliation agreement was signed between Hamas and Fatah in Cairo, Egypt on October 12, 2017. To read about this agreement please click here.

Today, despite the peace process in shambles, the PA and thus Fatah is the only prospective partner for a lasting solution to the conflict.
---
Sources: Federation of American Scientists;
Britannica;
Washington Institute;
Marwan Barghouti In Message From Israeli Jail: The Time Has Arrived For Fatah Members To Take Part In Comprehensive Resistance Against Israel, Middle East Media Research Institute, (August 27 2014);
Thousands of Palestinians protest Charlie Hebdo Mohammad cartoon, Reuters (January 24, 2015);
Lieber, Dov/Isacharoff, Avi. Fatah picks first-ever deputy for Abbas, sidelines Barghouti, Times of Israel (February 16, 2017);