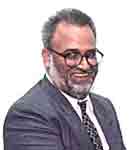 Saeb Erekat is the lead negotiator of the Palestinian Authority (PA) and one of the architects of the Oslo Accords.
Erekat (born April 28, 1955) was born in the neighborhood of Abu Dis in Jordanian-controlled East Jerusalem just under seven years after the State of Israel declared its independence. He recieved his B.A. and M.A. in political science from San Francisco State University and completed his Ph.D. in peace and conflict studies at Bradford University in England.
After completing his doctoral studies, Erekat returned to the West Bank and taught as a professor of political science at An-Najah University in Nablus.
In 1991, Erekat was deputy head of the Palestinian delegation to the Madrid Conference and in 1994 he was appointed Minister for Local Government for the Palestinian Authority and also the Chairman of the Palestinian negotiation delegation. In 1995, Erekat served as Chief Negotiator for the PA during the Oslo peace process.
Erekat was elected to the Palestinian Legislative Council (PLC) in 1996 on the Fatah slate representing Jericho.
When Mahmoud Abbas was nominated to serve as Prime Minister of the Palestinian Legislative Council in early 2003, Erekat resigned as Minister of Negotiations after he was excluded from a delegation to meet Israeli Prime Minister Ariel Sharon. Erekat was later reappointed to his post and participated in the 2007 Annapolis Conference. He resigned from his post as chief negotiator again in February 2011, citing the release of the Palestine Papers, however, by the end of 2013 he was still holding the function.
Erekat is married with twin daughters and two sons.
---