Erich Hoepner
(1886 - 1944)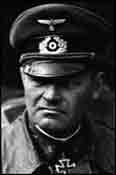 Erich Hoepner was born in Frankfurt, Germany on September 14, 1886. He joined the German Army and after the First World War he was a member of the Freikorps.
Hoepner remained in the army and, by 1938, had reached the rank of Major General and was head of 1st Light Division and took part in the invasion of Czechoslovakia and Poland. He placed his tanks at the disposal of the conspirators for the intended 1938 coup attempt against Hitler.
In March 1939, Hoepner succeeded Heinz Guderian as head of the 16th Army Corps and, the following year, led his troops in France and chased Allied troops to Dunkirk.
Hoepner also took part in Operation Barbarossa where he commanded the 4th Panzer Army. Hoepner's enthusiasm for the war against Russia reflected his belief in Hitler's fight against Jews and Bolsheviks. In an order he issued on May 2, 1941, Hoepner wrote:
"The war against Russia is an important part of the German people's battle for existence. It is the old fight of Germans versus Slavs, the defense of European culture against the Muscovite-asiatic flood; and the repulse of Jewish Bolshevism.

This war must have as its goal the destruction of today's Russia and for this reason  it must be conducted with unheard-of harshness. Every clash must, in its conception and execution, be guided by the iron will to completely and mercilessly annihilate the enemy. In particular, there is to be no mercy for the carriers of the current Russian-Bolshevik system."
His troops attacked Leningrad before being transferred to the AG Centre and fought under Gunther von Kluge on the advance to Moscow. By December 5, 1941, Hoepner was only 20 miles north of the capital. However, following a counter-attack by the Red Army, Hoepner decided to withdraw his troops to save them from annihilation. Adolf Hitler was furious when he heard the news and dishonorably discharged Hoepner in 1942 for withdrawing German forces from Moscow on his own initiative. After protests from senior figures in the German Army, Hoepner was allowed to retire and was able to retain his pension rights.
In 1944, Hoepner joined the plot to overthrow Adolf Hitler. He was on hand in the Bendlerstrasse to help Stauffenberg launch his coup on July 20, 1944. He was appointed acting Commander-in-Chief of the Home Army after General Fromm refused to launch Operation Valkyrie. Arrested that night, Hoepner declined to commit suicide and chose to face the People's Court. He was later found guilty of treason and hanged at Ploetzwnsee Prison on August 8, 1944.
---
Sources: Joric Center; Email from Dr. Geoffrey P. Megargee, Applied Research Scholar, Center for Advanced Holocaust Studies, United States Holocaust Memorial Museum, Spartacus Educational [Spartacus photo]