Heinz Guderian
(1888 - 1954)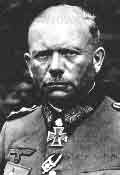 Heinz Guderian, the son of an army officer, was born in Kulm, Germany, on 17th June, 1888. He joined the German Army and was commissioned in the Jaegers in 1908 where he became a communications specialist. He fought in the First World War and afterwards was a member of the right-wing Freikorps group.
In 1922, Guderian became Inspector of Motorized Troops. He began to study the experience of tanks during the war and was greatly influenced by the ideas of British military writers such as Basil Liddell Hart and John Fuller. As a result of his studies he was employed as a teacher of tank tactics.
Guderian was appointed commander of a motorized battalion in 1930. While in this post he developed one of companies as a tank scout company, one as a tank company and one as an anti-tank company. Guderian also developed a radio-communication system that enabled communication between tank officers.
In 1934, Guderian was appointed chief of staff of the Motorized Troops Command and, the following year, he took over the 2nd Panzer Division. The other two panzer divisions were commanded by generals whereas Guderian was only a colonel.
In Feburary 1938, Guderian was promoted to lieutenant general and the following month was involved in the occupation of Austria. Later that year, Adolf Hitler appointed Guderian to the new post of Chief of Mobile Troops. However Guderian had difficulty persuading his senior officers about the importance of tank warfare in any future conflict. Franz Halder, the Chief of General Staff told Guderian that the infantry would always play the most important role in any future war.
Guderian led the attack on Poland in September 1939 and his rapid success created shockwaves throughout the world. Despite this easy victory Guderian objected to the planned Western Offensive. When Hitler ordered the plan to go ahead, Guderian, who served under General Paul von Kliest, attacked at great speed and crossing the crossed the Meuse near Sedan on May 14.
Kleist now ordered Guderian to halt until the arrival of General Siegmund List and his 12th Army. Guderian disagreed with Kleist's view that the panzers needed the support of the infantry. After a heated argument with Kleist, who had the support of his superiors, Gerd von Rundstedt and Heinrich von Brauchitsch, on May 17, 1940, Guderian threatened to resign. Kleist responded by sacking Guderian.
Adolf Hitler was unwilling to lose this brilliant commander and General Siegmund List was ordered to intervene and managed to persuade Kleist that Guderian should return to duty. Guderian got his way and Kleist's troops rushed ahead and reached the English Channel at Abbeville on May 21, 1940.
Boulogne was taken on May 23, but later that day Hitler called a halt arguing that the rapid advance was jeopardizing the whole campaign. Kleist supported Hitler's decision but Guderian was furious. He rightly argued that this stopped the German Army cutting off the escape of the British Expeditionary Force (BEF) from Dunkirk.
Promoted to general for his achievements in France, Guderian led the 2nd Panzer Group during Operation Barbarossa. Working closely with Herman Hoth, Guderian's troops took Minsk and Smolensk. In July 1941, he moved into the Ukraine where he captured Kiev before moving on Moscow.
Guderian was shocked by the stout resistance of the Red Army and, as the severe Russian winter set in, he made a limited withdrawal to better defensive ground. Guderian then returned to Germany where he argued with Adolf Hitler about the tactics being employed. After further disagreements with General Fedor von Bock and General Gunther von Kluge, Guderian was dismissed from office on December 25, 1941.
After the defeats at El Alamein and Stalingrad, Hitler decided to recall Guderian and, on March 1, 1943, he became commander of Germany's Armoured Troops. Guderian was unable to repeat earlier successes and, in July 1943, lost one of the largest tank battles in history at Kursk.
On July 21, 1944, Guderian replaced General Kurt Zeitzler as commander of the General Staff. As a result of the July Plot Guderian demanded the resignation of any officer who did not fully support the ideals of the Nazi Party. Over the next few months Guderian sat with Gerd von Rundstedt and Wilhelm Keitel on the Army Court of Honour that expelled hundreds of officers suspected of being opposed to the policies of Adolf Hitler. This removed them from court martial jurisdiction and turned them over to Roland Freisler and his People's Court.
Although willing to carry out a purge of the German Army, Guderian continued to argue with Adolf Hitler over strategy and on March 28, 1945, he was dismissed from office.
Guderian was captured by the U.S. Army on May 10, 1945. Despite claims in the Soviet Union and Poland that Guderian was a war criminal, he was released from captivity on June 17, 1948. Heinz Guderian died on May 17, 1954.
---
Sources: Spartacus Educational