El Salvador Virtual Jewish History Tour
By Jessica Alpert
Beginning of a Community
World War II Years
Israel & El Salvador
Community Life Today
Jewish Contributions to Society
Beginning of a Community
It is believed that the El Salvador's first Jewish immigrant, Alsatian-born Bernardo Haas, arrived in 1868 and later summoned his nephews Lazaro and Julian Dreyfus (relatives of Captain Alfred Dreyfus). Leon Liebes, the first documented German Jew arrived in the country in 1888. The same year, Liebes founded his business Casa Goldtree-Liebes which elicited the arrival of his nephew, Eugenio Liebes. At the end of the nineteenth century, Casa Benny and Armando Bloch was founded along with associates Jose Olkovich and Julio Oppenheimer. This firm was later considered one of the leading import/export houses in the country. Salvador Mugdan later came to the country in 1888, followed by his brothers Felix and Arturo. Mr. Mugdan eventually became one of the most significant spiritual leaders of the community.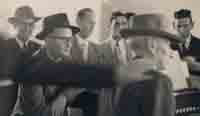 Of the few Sephardic families who arrived in El Salvador, one of the most notable included Herbert de Sola (who emigrated via Curacao). Other Sephardic families arrived from Turkey, Egypt, and Tunisia (via France). An important entrepreneur in the history of El Salvador, de Sola helped to found the first synagogue and became an invaluable member of the Jewish community, not to mention the Salvadoran business community. In 1909, Alfred Widawer, a virtuous and religious man, joined the community. His knowledge of Judaism allowed the small group of Jews to celebrate their first high holidays in El Salvador despite the lack of a rabbi. 
As became the custom of most Jewish entrepreneurs, firms such as Casa Goldtree-Liebes and Casa Haas invited young Jewish bachelors to join the ranks and settle in El Salvador. Other notable pre-World War II arrivals included Enrique Guttfreund, Enrique Weill, Jorge Salomón, Max Freund, Ernesto Reich, Toto Lasally, Jaime Gabay, Federico Bloch, Jose "Don Chepe" Baum, and Jorge Lewinsky.  
Max Freund, whose family hardware business continues to this day, arrived in 1913. He become the first president of the community in 1943 and sat on the board of directors with Herbert de Sola, Leon Liebes, Eugenio Liebes, Alfredo Widawer, and Benjamin Bloom. The first synagogue was founded in 1950, and the first rabbi and spiritual leader of the community was Alex Freund, who officiated at the community's first bar mitzvah, Ernesto Freund, son of Max Freund.
World War II Years
A fury of activity ensued beginning in 1936 as members of the Jewish community in El Salvador attempted to help their relatives escape from Europe. While some were successful in bringing relatives to El Salvador, others were forced to send their loved ones to neighboring countries including Brazil, Ecuador, Guatemala, and Panama.  
At the beginning of the war, Maximiliano Martinez Hernandez, the president of El Salvador, admired Hitler and Mussolini, overseeing such activities as the public celebration of Hitler's birthday. Out of his own volition, Martinez appointed two German nationals to senior governmental positions. The first, "Fuhrer" of El Salvador, Baron Wilhelm von Hundelshausen acted as German consul as well as manager of the government-owned Banco Hipotecario (Mortgage Bank). Directing the Escuela Militar, the Salvadoran Military Academy was German national General Eberhardt Bonstedt. Bolstering axis influence on the military, Martinez imported an Italian flight instructor to train Salvadoran airmen as the sole aviation instructor.  Although well-known at home, Martinez slowly gained popularity abroad as a fascist sympathizer. 
On July 30, 1939, President Martinez barred the entry of fifty Jewish refugees bound for El Salvador on the German ship, Portland. The refugees had each paid $500 for Salvadoran visas in Budapest and Amsterdam, but upon arrival to El Salvador, the visas were declared "fraudulent" and the refugees were returned to Germany. Other families explain that El Salvador closed its borders to Jews in 1939 leading some individuals to seek other assistance. 
Hitler's influence was also apparent in Martinez's El Salvador. Beginning in 1937, German trade skyrocketed to new highs while diplomatic approval was given to the Italian and German roles in Franco's Spain.  Only a year later, an editorial praising democracy in France on Bastille Day resulted in the fifteen-day suspension of El Diario de Hoy.  Later it was learned that the Editor-in-Chief was exiled to New York. Nearly all members of the Salvadoran press were against the dictator yet despite their disagreements with Martinez's policies, most avoided printing anything that might attract the dictator's attention. The university newspaper, Opinión Estudiantil, was prohibited from production throughout the entire Martinez regime.  In April 1939, public birthday celebrations for Hitler took to the streets.  These events troubled Jewish Germans as well as anti-Nazi Germans; most of all, this troubled the United States. 
Martinez's outward admiration of Hitler and Mussolini gave way to troubling public support of the Third Reich and Fascisti. Germans, some having lived outside of Germany for the majority of their lives, were torn by these developments. While some shunned the local Nazi leaders, others joined the German Embassy's parties andauslandorganisation, Nazi Party foreign organization meetings. Martinez embraced the purported power of the Axis and accepted military assistance from Germany and Italy. Still, Nazi organizing was significantly stronger outside of Central America.
President Franklin Delano Roosevelt fomented a new era of U.S.-Latin American relations with the goal of establishing "Pan American Solidarity." This would not be a simple operation in El Salvador. Early diplomatic clashes regarding sovereignty and governmental recognition upset U.S.-Salvadoran relations. Having received official recognition from the United States almost three years into his Presidency, Martinez was slow to forgive. Even so, he eventually joined the rest of Central America in monitoring the supposed "fifth column" threat. Despite the initial promise through the Good Neighbor Policy to refrain from interfering in internal affairs, the United States embarked upon an enormous operation to convince Latin American republics to blacklist, repatriate, and deport all suspicious German nationals within their borders.  
The following years terrorized Jewish and non-Jewish Germans, Nazis and anti-Nazis. Many were faced with the choice of repatriation to Germany or deportation to internment camps in the United States. For Jewish deportees, this astonishing suggestion was a no-brainer: returning to Germany would result in certain death. Fortunately, the Jewish cases highlighted in El Salvador only faced blacklisting and therefore avoided the dreaded deportation/repatriation situation.  
While the United States attempted to make a differentiation between German Jews, German Nazis, and German anti-Nazis, they failed miserably. The idea that the United States would blacklist German Jews along with local Nazi leaders is simply unfathomable today. Just as the Salvadoran-Jewish community could make no sense out of the apparent blacklisting of fellow German Jews, Nazi-sympathizers were shocked by President Martinez's sudden policy changes. In El Salvador, Martinez completely shifted from his earlier Axis-sympathies and publicly proclaimed support of the Allied cause, shutting down a Nazi-run radio station and related presses. 
There is no doubt that this dramatic policy change must have further confused Martinez's former political friends. It was clear to all involved that Martinez, due to economic and political pressure both within Central America and the wider Western Hemisphere, now fully supported the United States and the Allied cause. Eager to please and aware of his new positive status in the United States, Martinez declared war on the Axis days after the bombing of Pearl Harbor.
Meanwhile, despite the efforts to bar Jews from entering the country, El Salvador's Consul General for Geneva, José Arturo Castellanos Contreras, worked with a Jewish-Hungarian businessman named György Mandl (George Mandel) to help save up to 40,000 Central European Jews by providing them with false papers of Salvadoran nationality.
Israel & El Salvador
On September 11, 1948, El Salvador recognized the State of Israel. Israel has an embassy in San Salvador. For years, El Salvador was one of only two countries (Costa Rica was the other) to maintain an embassy in Jerusalem. In 2006, El Salvador announced plans to move the embassy (Costa Rica did so as well) to Tel Aviv where the remaining embassies are located. In 1956, the Instituto Cultural El Salvador-Israel was founded. The community continues to support a school outside of the capital named the "Colegio Estado de Israel."
Salvadoran Civil War & Jewish Community Today
Most Salvadoran Jews planned to stay in El Salvador throughout the unrest of the late 1970's. However, with the kidnapping and subsequent assassination of community leader and honorary consul to Israel, Ernesto Liebes, in 1979, much of the Jewish community sought to flee El Salvador. This self-imposed exile brought many Salvadoran Jews to the United States, Switzerland, France, Israel and neighboring Guatemala. 
The signing of peace treaties in 1991 led to the return of several Jewish couples with children who had moved elsewhere during the civil war, and, as of 2006, the Jewish population in El Salvador was approximately 60 families. A community center andsynagogue were built in the former home of a Jewish family. There is one synagogue that includes a wing of classrooms and playground area. Services mainly adhere to the traditions of Conservative Judaism. At the synagogue, Sabbath services are held on Friday evenings, Shabbat morning, and on holy days. ForPesach, Rosh Hashanah, Sukkot, Chanukah, Purimand Yom Haatzmaut the women's committee organizes meals for the community to share and celebrate together.
University students formerly had a Jewish students association, EJES (Estudiantes Judíos de El Salvador), and aZionist group, FUSLA (Federación de Universitarios Sionistas de Latinoamérica), both of which are no longer active. For adults, the community offers different educational classes in Hebrew and other topics of interest. The "Comite Femenino" offers a courses and social activities for women and the weekly Jewish bulletin, el Kehilatón, advertises synagogue events. The Noar Shelanu youth movement, to which about 30 children age 8–18 belong, meets weekly. The kindergarten for young children also meets weekly. A full-time rabbi from Argentina is currently in-residence and together with his wife, the couple teaches the community's children, prepare Bar/Bat Mitzvahs, run conversion classes, and instruct adults in Hebrew and Judaism.
Jewish Contributions to Salvadoran Society
While usually maintaining a low profile, the Jewish community has nevertheless given back enormously to the country of El Salvador. Early on, Leon Emmanuel Dreyfus of Santa Ana worked to establish the Banco Occidental, which was later transferred to the hands of the Bloom family in the capital of San Salvador. Upon his death, Benjamin Bloom donated his entire fortune of approximately nine million dollars to the Government of El Salvador with the mandate of establishing a children's hospital. Today, the Bloom Children's Hospital continues to be one of the largest and most significant pediatric institutions in the country.
Ernesto Liebes and Carlos Bernhard worked tirelessly to establish a Zionist Organization in El Salvador. The women of the community later inaugurated their own chapter of WIZO (Women's Internacional Zionist Organization). Ernesto Liebes was named Honorary Consul to the State of Israel in 1949 while Carlos Bernhard became Honorary Vice-Consul in 1959. 

Community members were also founders of the committees to establish the American School of El Salvador (then the only co-educational, non-religious educational institution in the capital) as well as the first Circulo Deportivo Sports Club. Enrique Guttfreund, who arrived in 1934 to work with Casa Goldtree-Liebes, dedicated a significant amount of energy to helping the youth of the country. Another huge project was his campaign for literacy and the founding of Pro-Arte in 1958, an arts organization that brought leading performing artists to perform in El Salvador.

Today, members work with various foundations for environmental protection and the advancement of women and children. Some of these include including the Hilda Rothschild Foundation, the Fundacion por el Lago Ilopango, the Fundacion Pablo Tesak, and the Tin-Marin Children's Museum.
---
Sources: Beker, Avi. "El Salvador." Jewish Communities of the World. Lerner Publications Company, Minneapolis, 1998.
"Salvador Extends President's Term 6 Years, Nazis and Fascists Backed his Propaganda," New York Times, 1939.
T.R. Ybarra, "Nazis Influential in El Salvador; German and Italian Groups Strongly Regimented and Fighting for Hold," New York Times, 1939.
Frank L. Kluckhohn, "Central America Tied to Fascism," New York Times, 1937.
"Salvador Paper Closed; Nazis and Fascists Thought to Have Resented Editorial," New York Times, 1938.
David Luna, "Maximiliano Hernandez Martinez: Metralla y Teosofia," Repertorio 17, 1970.
"Birthday is Honored by El Salvador Nazis," New York Times, 1939.
"El Salvador." Encyclopedia Judaica.
"El Salvador." La Unión Judía de Congregaciones de Latinoamérica y el Caribe.
Zaidner, Michael. Jewish Travel Guide. Vallentine Mitchell, Portland, 2000.
Map: CIA-World Fact Book
Photos courtesy of Swim Jamaica and Elie Berman