George Mandel-Mantello
(1901-1992)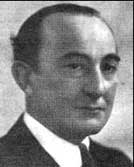 George Mantello (born George Mandl or Mandel) was a Jewish diplomat who, while working for the Salvadoran consulate in Geneva, Switzerland, saved thousands of Jews from the Holocaust by providing fictive Salvadoran citizenship papers and by publicizing the deportation of Jews from Hungary to the death camps.

Mantello was born in 1901 to Orthodox Jewish parents in Bistriţa, Transylvania, which at the time was part of Austria-Hungary, and today is Romania. After World War I broke out and Transylvania was annexed to Romania, he moved to Kolozsvar (Cluj) and later to Budapest.

In 1928, he married Irene Berger, and their only child, a son, was born in 1930.

Originally a textiles manufacturer, as an adult in Bucharest, he met Salvadoran consul Colonel José Arturo Castellanos in the 1930s. In 1939, Castellanos appointed him honorary consul for Hungary, Romania and Czechoslovakia. The position provided a Salvadoran diplomatic passport, a valuable asset in those times. Around this time, Mandel changed his name to Mantello, presumably considering Mantello more suitable for a Latin American official. He was in Vienna in 1938 when the Nazis annexed Austria, and in 1939, he saw the Germans march into Prague.

In 1941, he decided to liquidate his business holdings in Eastern Europe and relocate in Switzerland.  In December, the declaration of war against the Axis Powers by El Salvador and most other Latin American countries found Mantello still in Romania and now the representative of an enemy power. As a diplomat, he should have been able to return directly "home" to Switzerland, El Salvador's diplomatic headquarters for Europe, but due apparently to an identity mix-up, he was detained illegally in Zagreb where he spent months under "hotel arrest."  Finally, he escaped back to Bucharest disguised as the co-pilot of a small military aircraft.  From there he traveled by train to Switzerland, using the false identity of a Romanian officer and in constant fear of being discovered.  Safe at last, in August Mandel-Mantello was appointed by Castellanos to serve as first secretary for the Salvadoran consulate in Geneva.  He would hold that position throughout the war years and from there his extraordinary rescue efforts were launched.

In 1944, he mounted his most ambitious effort - to halt Adolf Eichmann's secret deportation of Jews from Budapest to Auschwitz. He began to issue Salvadoran nationality papers, along with Col. Castellanos. Castellanos had told Mantello to seek the approval of El Salvador's leading jurist, Dr. Gustavo Guerrero, then residing in Switzerland. Guerrero supported the effort. In many instances, his papers were forwarded by diplomats and handed out secretly. Many hundreds of such documents were prepared individually and written on typewriters or even by hand. This was a time-consuming job, accomplished by Mantello, his assistant, Mathieu Muller, and a dedicated small team of five Swiss students. During the sudden Hungarian crisis of 1944, the team rose to twelve. In all urgency, it prepared several thousands of protective papers. No fees were charged for the papers.

Before 1944, the Jews of Hungary had survived in relative peace. After the German invasion on March 19, mass deportation of Hungary's Jews to the death camps began immediately. Under certain threat, Mandel-Mantello asked a Romanian diplomat-friend and former business partner of Mantello's brother Josef Mandel, Dr. Florian Manoliu, who was stationed in Switzerland to rush to Transylvania in order to give the papers to his family living in the countryside there. He left Switzerland for Bucharest on May 22. Travel was slow and Manoliu arrived too late. The entire Mandel family had been deported a few days earlier. Mandel-Mantello's parents and dozens of relatives in the Hungarian countryside perished at Auschwitz.

On his return trip, the Romanian diplomat called on Swiss Consul Carl Lutz in Budapest, who was himself engaged in vast action to save the Jews. The consul welcomes the additional blank Salvadoran papers, and then he and his Hungarian assistant, Moshe Krausz, gave Manoliu a copy of the "Auschwitz Protocol." This was the first fully reliable report on the death camps. It had been prepared by two young Slovak Jews, Rudolf Vrba and Alfred Wetzler (also known as Josef Lanik), who had miraculously escaped from Auschwitz on April 7, 1944. They had both worked in the death camp for nearly two years as clerks, and their skills not only kept them alive but also gave them the chance to know the operation of the murder factory in detail. By late April, the had prepared a 26-page report, which came to be known as the "Auschwitz Protocols."

After his return to Geneva, Manoliu turned over the document immediately to Mantello and his brother Josef at 2:00 a.m. on June 21. The brothers sat down and made a summary of the "Protocol" during that same night. With the help of highly places Swiss friends, he then released it to the local and international press. The news about Auschwitz caused an unprecedented public uproar in Switzerland, Sweden, and then the English-speaking countries. Governments had been sitting on reports about the death camps since 1942, but they never made these public. This time it was different, because Mantello went directly to the public, breaking wartime censorship. For the first time, the atrocities against the Jews of Europe made front-page news in the West.

On July 7, 1944, surprised by the extent of the international outcry, Admiral Horthy ordered a stop to the deportations and Eichmann was called back to Germany. The Jews of Budapest had an unexpected reprieve of three months. On October 15, Eichmann was sent back to Budapest to finish his mission. The publication of the Auschwitz Protocols by Mantello disrupted Eichmann's deportation schedule, which saved the lives of tens of thousands of people.

After the war, Mandel-Mantello continued as a philanthropist and businessman. His deeds became well-known, and he received some international recognition by the time he died in Rome, where he settled after the war, in 1992 at the age of 90. His first wife, Irene, had passed away in the 1940s and Mantello subsquently remarried and had second son and daughter. He made frequent trips to Israel.
---
Sources: Wikipedia; Montgomery, David, "Unsung Savior," The Washington Post (July 15, 2008); The International Raoul Wallenberg Foundation; Lamperti, John, "El Salvador's Holocaust Hero."