Guatemala Virtual Jewish History Tour
By Jacqueline Shields and Mitchell Bard
With an estimated population of around 17.6 million, Guatemala is the most populous country in Central America. It has a relatively recent Jewish history and a current population of approximately 900 Jews.
Beginnings of a Community
Documents in the archives of the Mexican Inquisition attest to the presence of Marranos in Guatemala during the colonial period. The origins of the present Jewish community, however, are from German immigrations who came to the country in the mid-19th century. The community formed by these immigrants was small and isolated from the rest of the Jewish world, and its descendants are mostly no longer Jewish. The most prominent members of that community were the German Stahl family, which established cotton mills and, for 30 years, attended to the government's banking and financing needs.
Jewish immigrants, whose Jewish traditions are still present, arrived at the beginning of the 20th century from Germany and Middle East countries, followed in the 1920s by East European Jews. Many of the latter came via Cuba and considered Guatemala only a transit stop until they could obtain visas to the United States.
Guatemala was not favorably disposed to Jewish immigration, and it attempted to limit their arrival. In 1932, the government ordered the expulsion of all peddlers, the overwhelming majority of whom were Jewish; although the actual expulsion was averted, peddling was prohibited, and many Jews faced ruin and were compelled to emigrate. In 1936, under the influence of the substantial German community in Guatemala, legislation was enacted to curb immigration of all people of "Asian origin," among whom were included Poles, most of whom were Jewish. Due to the restrictive laws, the Jewish community was reduced to only 800 people in 1939. Although never formally abolished, these laws have rarely been enforced since World War II, and after the war, many Jewish refugees entered the country. The majority of the Jews lived in Guatemala City, the remainder in Quezaltenango and San Marcos.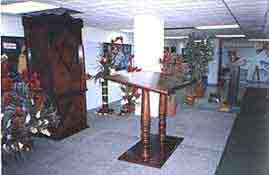 Children's chapel, Centro Hebreo Synagogue
Modern Guatemala
The majority of the Jewish population resides in the capital Guatemala City. The community comprises three main groups: the German, the Sephardi, and the East European, each with its own institutions, the Sociedad Israelita de Guatemala and Bet-El (Reform), Maguen David, and Centro Hebreo (Conservative/liberal Orthodox) respectively, each also with their own synagogue. Other organizations, unified under the Comite Central, include B'nai B'rith, Wizo, and two youth groups, the Maccabi, and Guafty, a Reform youth movement. The Organizacion Sionista de Guatemala comprises all Zionist groups.
Jewish school, called Instituto Albert Einstein, founded in 1957, is authorized by the Ministry of Education and has an enrollment of 100 children from kindergarten through preparatory levels. The Jewish press is all but nonexistent. The Spanish-language monthly, which appeared previously, ceased publication, and only a single communal information bulletin is published occasionally.
Relations with Israel
Guatemala can boast of two firsts in Israeli history. It was the first Latin-American country to announce its recognition of Israel by Jorge Garcia Granados in the UN immediately after the proclamation of the state. Guatemala was also the first country to open an embassy in Jerusalem under the same Garcia Granados. Later, under international pressure, the embassy was moved to Tel Aviv.
On December 6, 2017, President Donald Trump announced U.S. recognition of Jerusalem as Israel's capital and moved the U.S. embassy there on May 14, 2018. Guatemala was the first country to follow suit, moving its embassy from Tel Aviv to Jerusalem on May 16, 2018.
An Israeli team of medical experts arrived in Guatemala in June 2018 to aid victims of the Fuego volcano eruption.  The team was dispatched at the request of Guatemalan President Jimmy Morales Cabrera.  Members of the Israeli medical team helped local hospitals deal with victims of the volcano who had injuries such as burns, broken bones, and respiratory ailments.  
A conference on anti-Semitism was held in Guatemala's Parliament in July 2018, featuring pro-Israel U.S. representatives as keynote speakers. The conference was hosted by the Israel Allies Foundation (IAF).
In 2023, Bernardo Arévalo was elected president. He is the son of the former president, Juan José Arévalo, who in 1948 recognized the State of Israel and later served as ambassador to the country. During that time, Bernardo learned Hebrew and studied at Hebrew University in Jerusalem, where he received a degree in sociology. In his subsequent political career, he served as first secretary and consul and minister counselor in Israel (1984-1988).
"Israel is a country for which I have great affection. I lived 10 years of my life in Israel. They were very important years," he has said.
Before his election, Arévalo expressed his support for a two-state solution to the Palestinian-Israeli conflict. He also criticized President Jimmy Morales's decision to move Guatemala's embassy to Jerusalem,
Israel maintains an embassy in Guatemala's capital, Guatemala City, and has an ambassador that resides there.
---
Sources: Avi Beker,  Jewish Communities of the World, (Minneapolis: Lerner Publications Company, 1998).
"Guatemala," Encyclopaedia Judaica.
Noa Landau, Guatemalan Embassy Moves to Jerusalem, to Open After U.S. Moves Theirs, Haaretz, (May 2, 2018).
Israeli Medical Team Lands in Guatemala, Jerusalem Post, (June 8, 2018).
Paul Miller, Anti-Semitism the focus of conference in Guatemalan Congress, JNS, (July 16, 2018).  
Map: CIA World Fact Book.
Childrens Chapel, Courtesy Comunidad Judia de Guatemala.
Tikal Background, Courtesy Bjørn Christian Tørrisse.
"Guatemala elects progressive Arévalo, who studied in Israel, as president," Times of Israel, (August 21, 2023).
Jacob Kessler, "5 Jewish facts about Guatemala's new Hebrew-speaking president," JTA, (August 21, 2023).