Mousa Abu Marzook
(1951 - )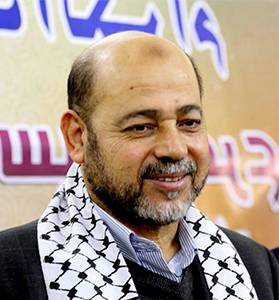 Mousa Mohammed Abu Marzook was born in Rafa in the Gaza Strip in 1951. He graduated from Helwan University with a bachelor's degree in mechanical engineering in 1975 and obtained a master's degree in construction management from Colorado State University in 1984. He received a doctorate in industrial engineering from Louisiana Tech in 1992.
 He took part in founding the Islamic University of Gaza and helped establish the first branch for the Muslim Brotherhood in the UAE. He worked as manager of a factory in the United Arab Emirates (UAE) until 1981. In 1987, he was one of the founders of Hamas and was elected to head the first politburo in 1992. He later served as vice-president and remains a member of the politburo.
While living in the United States in the 1980s and early 1990s, Marzook was reported to have lectured to a training session of terror recruits at a June 1990 conference in Kansas. While in the United States, he served as the political director of the Springfield Virginia-based United Association for Studies and Research (UASR). The UASR has been linked to two Palestinian-Americans who were arrested in Israel for bringing funds into the country to organize Hamas terror activities.
Marzook was then elected as Chairman of the Hamas Political Bureau in 1991 and shortly after moved to Jordan, where he lived for three years. While in Jordan he is suspected of planning numerous terrorist attacks, including the April 1994 bombings in Afula and Hadera. In 1995, he was arrested in the United States at New York's JFK Airport after returning from a trip from the Middle East. Israel requested he be extradited to Israel on charges of issuing commands and transferring money to the military wing of Hamas. Israel later decided not to pursue the extradition request and he was deported to Jordan. Marzook was deported from Jordan in 1999 in response to a Jordanian crackdown on Hamas. He lived in Syria until approximately 2012 when he moved to Egypt. He subsequently was reported living in Qatar.
In 2004, a U.S. court indicted him in absentia for coordinating and financing Hamas activities.
He is married and has six sons and daughters.
---
Sources:ADL;
Palestine Information Center;
Hamas;
"Mousa Mohammed Abu Marzook," Wikipedia.