Abd al-Aziz Rantissi
(1947 - 2004)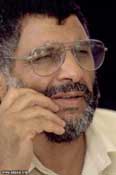 Abd al-Aziz Rantissi was a Hamas leader and head of activities in the Gaza Strip.
Rantissi was born in Yubna, near Jaffa. In 1948, his family moved to the Gaza Strip. He was an outstanding student. He completed his secondary school education in 1965 and was admitted as a student to the faculty of medicine at Alexandria University (Egypt). He graduated in 1972, returned to Gaza for two years, and than obtained a masters degree in Pediatrics.
Rantissi studied in Egypt for nine years and received a degree in pediatric medicine. While there, he was influenced by the philosophy of the Muslim Brotherhood.
In 1976, he returned to Gaza and became part of the Muslim Brotherhood movement. He also worked as a resident physician at Nasser Hospital (the main medical centre in Khan Yunis). He occupied several posts in public works such as a member in the administrative board of the Islamic Complex, Arab Medical Society in Gaza, and the Palestinian Red Crescent Society.
Rantisi joined the Faculty of Science at the Islamic University of Gaza when it opened in 1978 and also became Chief Pediatrician in the Government Hospital in Khan Yunis. In 1983, he was arrested for refusing to pay taxes to Israel. On January 15, 1988, he was again arrested for 21 days.
In September 1987, four residents of the Jabalya refugee camp in Gaza were killed in a traffic accident. According to Rantisi, he joined with Sheikh Ahmad Yassin, 'Abdel Fattah Dukhan, Mohammed Shama', Dr. Ibrahim al-Yazour, Issa al-Najjar, and Salah Shehadeh and instructed people to exit the mosques chanting "Allah Akbar" (God is great). This was how the first intifada began, says Rantisi, under the leadership of what would subsequently be known as Hamas. The PLO later joined and a united leadership was formed. On March 4, 1988, Israel arrested him for his participation in the Intifada. He was released on September 4, 1990. On December 14, 1990 he was again arrested and placed in administrative detention.
In December 1992, he was expelled to Lebanon, as part of the expulsion of 416 Hamas and Islamic Jihad operatives, and emerged as general spokesman of those expelled to southern Lebanon. Upon his return in 1993, he was arrested, but later released.
Rantissi was detained many times by the Palestinian Authority for his criticism of the PA and Arafat, but in most cases, was released after a short period.
After the return of Sheikh Yassin to the Gaza Strip in October 1997, Yassin, together with the senior operatives including Rantissi, reorganized the Hamas leadership in the Gaza Strip to restore its activity.
In mid-1999, following his release from a PA prison, Rantissi returned to his position as "right hand" to Yassin. During talks among the Hamas leadership in Gaza and abroad and in its contact with the PA regarding ceasing terror activity, Rantissi, together with Ibrahim Macadma and with the support of the external leadership, was one of the main opponents to any cease-fire and cessation of terrorist attacks inside Israel.
Abd al-Aziz Rantissi replaced Salah Shehadeh and Ibriahim Macadma, after they were assassinated by Israel, as the head (along with "spiritual" leader Yassin) of Hamas and its principal spokesperson.
Hamas tries to present a separation between the political leadership and the military wing, as if the military activity serves no political aim. In practice, the formal "military leadership" of the Hamas is subordinate to what is known as the "political leadership." However, it is this "political echelon" of the terrorist organizations, which directs, instructs and determines policy, including terrorist activity. Interrogation of Hamas operatives point to Rantissi as directing Hamas terrorist policy. His public statements serve as instructions for terrorists to carry out attacks.
Rantissi has considerable influence over the Palestinian public, in general and the Hamas operatives, in particular. He delivers sermons, addresses, and interviews utilizing extreme language, in which he calls for the continuation of the terrorist activity against the State of Israel and its citizens, opposing any cease fire. This serves as instructions to the field operatives in the Gaza Strip and the West Bank to continue their terrorist activity.
The Hamas leadership in Gaza is also involved in the recruitment and operation of terrorist cells among Israeli Arabs, which has so far, been thwarted by Israeli security forces. Rantissi was directly involved in directing and guiding this activity.
Rantissi is responsible for directing many terrorist attacks by Hamas, including the June 8, 2003, attack in which four Israeli soldiers were killed at the Erez Checkpoint in the Gaza Strip. Following this attack, Israel unsuccessfully attempted to assasinate Rantisi on June 10.
Upon the assassination of Sheikh Ahmed Yassin on March 22, 2004, Rantissi was named head of Hamas's activities in the Gaza Strip.
On April 17, 2004, Israeli security forces killed Abdel Aziz Rantisi.
---