Austria to Return Priceless Paintings Stolen During World War II
A court ruling stated that Austria must give back five priceless paintings by world renowned artist Gustav Klimt to the heirs of a Jewish family. The paintings were stolen from the rightful owners when the Nazi occupation in Austria began in 1938. For decades since the Nazis seized the paintings, they have been housed and displayed in the Belvedere castle gallery in Vienna. Although Austria said it would abide by the court order as part of a campaign to begin paying compensation to victims of Nazi persecution, the country has proposed that the paintings be kept on display as national treasures. The Austrian Culture Ministry has also proposed that the heirs loan the paintings to Austria for public display.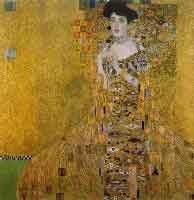 Klimt's Adele Bloch-Bauer I
For Maria Altmann, a retired Beverly Hills boutique operator, and one of the heirs of family from whom the paintings were stolen, the court order is a victory seven years in the making. Altmann is the niece of Adele Bloch-Bauer, the subject of one of Klimt's most famous and beloved portraits, "Adele Bloch-Bauer I."
Although the five paintings are valued at over $150 million, the Bloch-Bauer portrait is said to be priceless by lovers of Klimt's work. Altmann has said the paintings should remain on public display and not be kept solely for private use.
Altmann's family came from Vienna, which once housed a large and prosperous Jewish community of over 200,000. World War II and the Holocaust virtually destroyed the community, and today there is a small remnant of its pre-war population at around 7,000 Jews. Austria has begun paying compensation to Nazi victims from a $210 million fund endowed by the government, the city of Vienna, and various Austrian industries. The court order to return the Klimt paintings is so far the most expensive concession that the government has had to make as part of its restitution campaign.
The Washington Post