Alois Brunner
(1912 - c. 2010)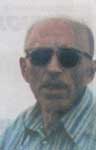 Alois Brunner was a key operative of Nazi war criminal Adolf Eichmann and was responsible for the deportation of Jewish people from Austria (47,000), Greece (44,000), France (23,500), and Slovakia (14,000) to Nazi death camps during the Holocaust.
Last seen in 2001, it remained unknown whether Brunner was still alive until his death was confirmed in December 2014 by the Simon Wiesenthal Center.  The news of his death was recieved from a credible former German secret service agent who confirmed rumours that Brunner had died in 2010 in Syria. According to international human rights organization Simon Wiesenthal Center's 2013 Annual Report on the Satus of Nazi War Criminals:
" ... the likelihood that he is already deceased increases with each passing year ... but until conclusive evidence of his demise is obtained, he should still be mentioned on any Most Wanted List of Holocaust perpetrators."
Born in Austria in 1912, Brunner joined the Austrian Nazi Party in 1931 at the age of 19. His anti-Semitism was considered so extreme that Adolf Eichmann's private secretary; and Eichmann called him his "best man" in his memoirs.
As head of the Nazis' Jewish affairs office in prewar Vienna, Brunner instituted and organized persecution that forced thousands of Jews to flee to other European countries and the United States.
He sent 47,000 Austrian Jews to concentration camps at the start of World War II, and after organizing mass roundups in Berlin, Brunner was transferred to Greece, where he was responsible for deporting all 43,000 Jews in Thessaloniki (also known as Salonika) within a two-month period.
In June 1943, he was sent to France to take over the Drancy transit camp near Paris from its French administrators. During 14 months in France alone, Brunner sent an estimated 25,000 men, women and children to their deaths.
SS-Hauptsturmfuhrer Brunner was also responsible for transporting the children of Izieu, forty-four Jewish orphans from La Maison d'Izieu, to Auschwitz.
After World War II, Brunner was employed by Reinhard Gehlen and the U.S. Central Intelligence Agency. Gehlen, Hitler's top anti-Soviet spy, surrendered to the Americans and offered them his services. The CIA took the bait and Gehlen re-established his spy organization and enlisted thousands of Gestapo, Wehrmacht and SS veterans. During the Cold War, Gehlen's network of agents received millions of dollars in funding from the U.S. Between 1956-68, Reinhard Gehlen was Germany's Chief of Federal Intelligence Service.
Brunner later escaped to Syria where he became a government adviser. He is believed to have lived in Damascus under the alias of Dr. Georg Fischer, although in December 1999 unconfirmed reports surfaced that he had died in 1996 and was buried in a Damascus cemetery.
German journalists visiting Syria in the 1990s reported Brunner to be living at the Meridian Hotel in Damascus. Brunner is easily identifiable, having lost an eye and several fingers from letter bombs sent him years ago by Israel's intelligence services.
Brunner was sentenced to death in absentia in France in 1953 and 1954. a new suit was filed there based on his sending children to Auschwitz. Previous attempts to persuade Syria to release Brunner failed. Germany applied for his extradition in 1987, and in 1991 the European Parliament voted to condemn Syria for continuing to harbor the alleged war criminal.
He was the object of many manhunts and investigations over the years by different groups, including the Simon Wiesenthal Center, the Klarsfelds and others. He was condemned to death in absentia in France in 1954 for crimes against humanity. He lost an eye and then the fingers of his left hand as a result of letter bombs believed to have been sent to him by the Military Intelligence Unit of the IDF in 1961 and by the Mossad in1980.
In 1995, German State prosecutors in Cologne and Frankfurt posted a $333,000 reward for information leading to the arrest of the last leading Nazi still believed to be on the loose.
When the Austrian news magazine Bunte interviewed him decades ago, Brunner said his one regret was that he had not murdered more Jews. In a seperate 1987 telephone interview, he told the Chicago Sun Times: "The Jews deserved to die. I have no regrets. If I had the chance I would do it again ..."
In 2000, rumors circulated that Poland was preparing to seek the extradition of Alois Brunner. The Syrians have ignored all attempts to extradite him, including those by the Simon Wisenthal Center.
In 2003, The Guardian described him as "the world's highest-ranking Nazi fugitive believed still alive."
Reports surfaced in December 2005 that an international manhunt to find Brunner was underway. If caught, Brunner would be extradited to France, where he was sentenced in absentia in 2001 to life in prison for crimes against humanity.
In July 2013, sketchy rumors emerged that Brunner may be alive in Syria, but the uncertain status quo about his whereabouts and whether he is even still alive remain.
Brunner's death was confirmed by the Simon Wiesenthal Center in December 2014, confirming rumours that Brunner had died in Syria around 2010.  The Syrian civil war made it impossible to verify Brunner's death, but he would have been 102 years old in 2014 so experts believed that he had in fact died or was near death.  His death was confirmed by a reliable source, a former German secret service agent who had kept ties with Brunner.  He died unrepentant for his crimes, and is buried in an unknown location in Syria. 
---
Sources: Louis Bulos, "Alois Brunner," Children of Izieu.
Yaakov Katz, "Int'l hunt on for top Nazi fugitive," Jerusalem Post, (December 28, 2005).
Dr. Efraim Zuroff, "2013 Annual Report on the Status of Nazi War Criminals," Simon Wiesenthal Center [PDF] (April 2013).
Adam Chandler, "Eichmann's Best Man Lived and Died in Syria," The Atlantic, (December 1, 2014).
"Alois Brunner," Wikipedia.