Wilhelm Heinz
(1899 - 1968)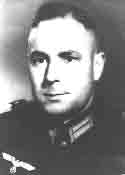 Wilhelm Heinz served as an officer in World War I. He later joined the Freikorps and the SA. He was expelled from the Nazi Party.
An early conspirator, Heinz was deeply involved in the 1938 and 1939 coup attempts. He was to have led a commando raid on Hitler's Chancellory on both occasions. He carefully put together an assault force of 50 trusted commandos, and assumed responsibility for planning and leading the raid, which was to have taken place at the height of the Czech-Sudetenland crisis.
As Europe held its breath in late September 1938, wondering whether Britain and France would threaten military action to defend Czechoslovakia, Major Heinz and his 50 commandos hid in safehouses in Berlin armed and ready to storm the Chancellery at a given signal from their co-conspirators in the Army High Command. But British Prime Minister Neville Chamberlain's decision to agree to Hitler's terms in Munich torpedoed the coup.
At this early stage in the conspiracy, all but two conspirators — Major Heinz and General Hans Oster — are opposed to assassinating Hitler on ethical grounds. But Heinz and Oster agree that only assassination can guarantee the success of the coup. They therefore hatch a secret plot between them in which Heinz will arrange for Hitler to be killed in the crossfire when his commandos storm the Chancellory.
Heinz planned another attack in October 1939, but the second coup attempt was aborted.
On July 20, 1944, Heinz was in the Bendlerstrasse, prepared to lead a task force, but he is unable to do so when the coup attempt collapses. He managed to evade capture and survived both the regime and the war by disappearing underground in Berlin.
Heinz later became a municipal politician in the Soviet zone and finally a controversial employee in the defense department of the West German government.
---
Sources: Joric Center