Antony "Tony" Blinken
(1962 - )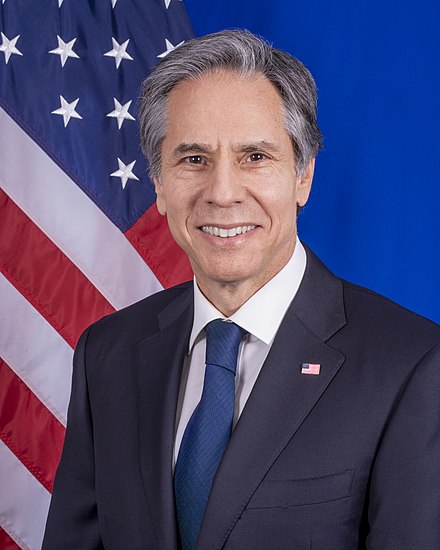 Antony "Tony" Blinken is a Jewish American policy maker and current Deputy National Security Advisor to President Obama.
Blinken (born April 16, 1962) was born in Yonkers, New York, to Jewish parents Judith and Donald Blinken. He attended the prestigious Dalton School in New York City until 1971, when he moved to Paris, France, with his divorced mother and her new husband, Holocaust survivor and lawyer, Samuel Pisar.
Pisar, who had survived both the Auschwitz and Dachau concentration camps, would later share his experiences during the Holocaust with Blinken, who says those conversations had a profound impact on his current policy preferences. He believes the United States and other powerful nations have the "responsibility to protect" against barbarity around the world.
During adolescence, Blinken was torn between pursuing the arts and politics. He attended Harvard University, where he edited the daily student newspaper and co-edited the weekly art magazine. After earning his Bachelors degree, Blinken compromised on his career interests and took an internship at The New Republic, an American commentary magazine focused on politics and culture.
Blinked earned his J.D. at Columbia Law School and, in 1987, Praeger published his Harvard senior thesis, "Ally vs. Ally: America, Europe and the Siberian Pipeline Crisis." That summer Blinken stayed in New York City and worked as a summer associate in the law offices of Rogers & Wells.
Soon after, Blinken became active in Democratic politics, helping his father fundraise for Michael Dukakis' 1988 presidential campaign. All the while – during his academic pursuits and political activities – he played guitar in a band and organized film festivals and other cultural activities.
During the Clinton Administration in the 1990's, the then-assistant secretary of state for European and Canadian affairs brought Blinken into the National Security Council. Blinken was highly regarded for writing speeches for the President and thinking strategically about America's future. Later in the Clinton Administration, Blinken served on the National Security Council.
By the time George W. Bush won the 2000 presidential election, Blinken was well-established in the American foreign policy establishment. He met Erin Ryan, another Democratic staffer, while they were both working in the Clinton Administration and the two married in a bi-denominational ceremony officiated by a rabbi and priest at Georgetown University in Washington, D.C.
At his wedding, Blinken thanked all those who voted for Bill Clinton for president, "because without them I would never have met Erin at the White House." Former-first lady Hillary Clinton was also among his wedding guests.
In 2008, Blinken worked for the presidential campagin of Senator Joseph Biden, a close friend who Blinken had originally met when he was staff director of the U.S. Senate Foreign Relations Committee, on which Biden served as a ranking member, and later, chairman.
When Democratic nominee Barack Obama chose Biden as his running mate for the 2008 elections, Biden gave Blinken a broad portfolio including managing the team's Iraq policy. Biden said Blinken was "the go-to guy" on Iraq, and credited him with having been indispensable to the team that made it possible for the U.S. to withdraw from the country. Blinken also helped craft U.S. policy on Afghanistan, Pakistan and the Iranian nuclear program.
In January 2013, President Obama appointed Blinken to the post of Deputy National Security Advisor, a post from which he regularly briefs on matters related to the Syrian civil war and other important topics in the Middle East. Blinken has also been a senior fellow at the Center for Strategic and International Studies in Washington, a foreign policy think tank.
---
Sources: "Antony Blinken," United States Holocaust Memorial Museum, 2013.
Jason Horowitz, "Tony Blinken, Rising," Washington Post, September 16, 2013.
Sara Sorcher, "Antony Blinken, Deputy National Security Adviser," National Journal, July 17, 2013.
Who Runs Gov, "Antony J. Blinken: Deputy National Security Advisor (since January 2013)," Washington Post, 2013.

Photo credit: http://capitolfile-magazine.com/galleries/slash-the-stache-campaign