Israel Science & Technology: Oil & Natural Gas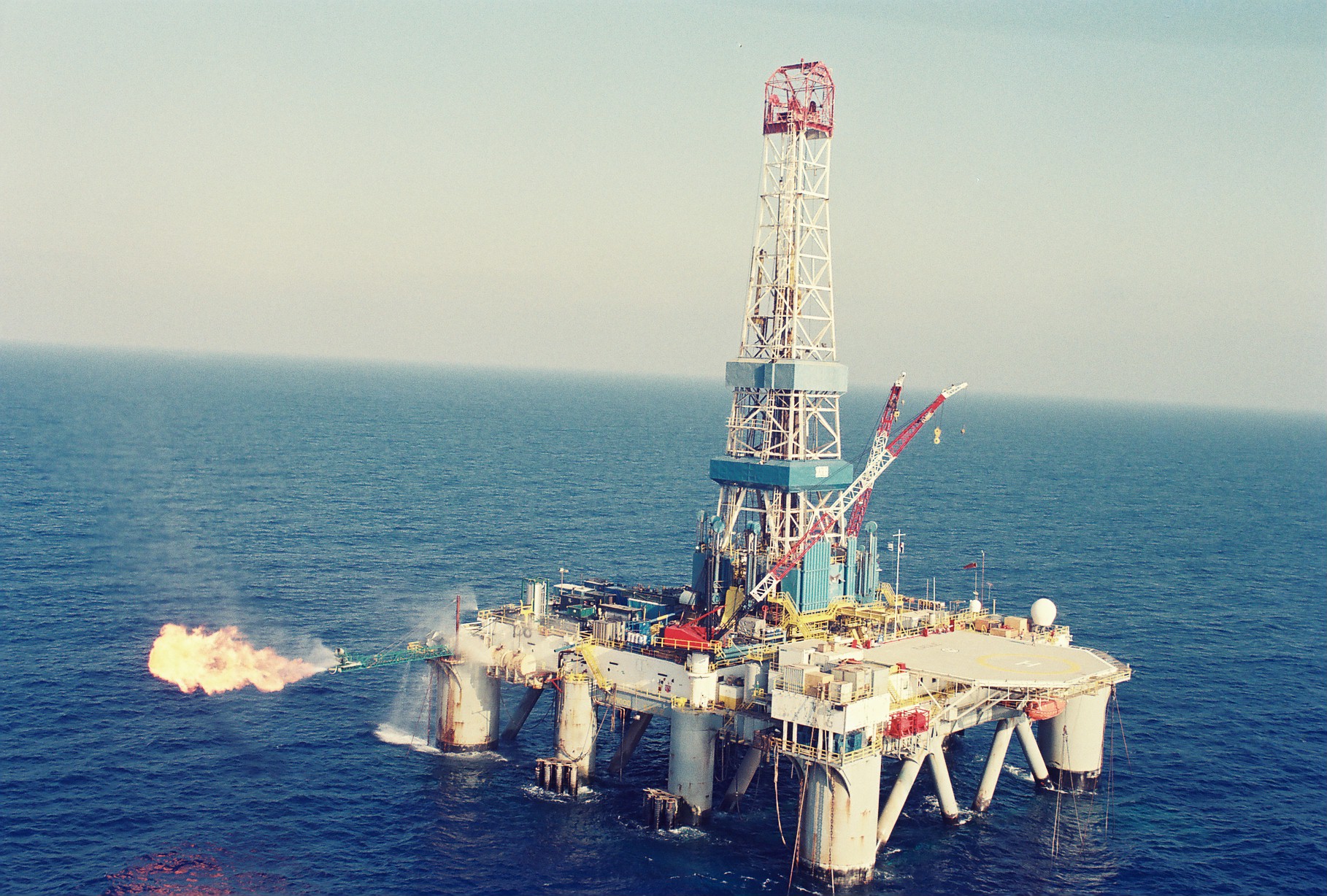 Noa natural gas field offshore Ashkelon
Oil
One of the major concessions Israel made when it signed its peace agreement with Egypt was to give up the Alma oil field in the southern Sinai. The field, discovered and developed by Israel, appeared at that time to offer Israel its only chance to become energy-independent. When Israel gave up this field, it had become the country's largest single source of energy, supplying half the country's energy needs. Israel, which estimated the value of untapped reserves in the Alma field at $100 billion, had projected that continued development there would make the country self-sufficient in energy by 1990.
Instead of becoming independent, Israel became dependent on other countries, including Egypt, for its oil needs. Largely as a result of poor regional relations, Israel does not share any international oil pipelines with its neighbors. In 2012, the majority of Israel's crude oil imports came from Russia and Azerbaijan via tanker vessels.
While not currently a significant oil producer, Israel is the eastern Mediterranean's largest consumer of petroleum. Total Israeli oil consumption averaged 246,000 bbl/d from 2000-2011, ranging from a low of 233,000 bbl/d in 2005 to a high of 263,000 bbl/d in 2011. In addition, Israel was the region's second-largest natural gas consumer in 2011, the last year for which EIA data are available. Unlike Israel's petroleum consumption—which Israel meets with imports—much of the natural gas consumed in Israel came from domestic sources.
Israel exports small quantities of refined products, but with domestic production being virtually nonexistent, imported oil meets nearly 99 percent of total oil demand, and over 80 percent of those imports are crude oil. Israeli exports of refined products grew from approximately 66,000 bbl/d in 2000 to 84,000 bbl/d in 2010, with residual and distillate fuel oil accounting for approximately half of exports over that period.
In May 2016, it was announced that the Hatrurim oil and gas exploration license in the Dead Sea had uncovered an oil reservoir containing 7-11 million barrels of oil. The Hatrurim license area covers 94 square kilometers in the Dead Sea region, and the initial exploratory drilling was carried out in 1995. The firm Israel Opportunity Energy Resources LP was awarded 25% of the Hatrurim license.
Natural Gas
Historically Israel has been an importer of natural gas; most recently through the Arish-Ashkelon pipeline from Egypt. However, Egypt suspended supply in the aftermath of unrest beginning in 2011. The el-Arish-Ashlekon pipeline (Egypt-Israel) met up to 40 percent of Israel's demand prior to its closure.
In 2009, a large natural gas reservoir of 311 billion cubic meters (BCM) was discovered off Israel's coast. In the next few years, an even larger reservoir was found (600 BCM). The Leviathan reservoir was the largest natural gas find in two decades. Additional discoveries produced enough natural gas to meet Israel's needs for 200 years.
In January 2014, the Oil & Gas Journal estimated Israel's proved reserves of oil at 11.5 million barrels and its proved reserves of natural gas at 10.1 trillion cubic feet (Tcf). While neither figure places Israel in the top-40 globally, these totals are significantly higher than they were a few years ago.
While once Israel was almost entirely dependent on importing oil and gas, it now gained the capacity to become more independent by shifting more of its economy (70 percent of electricity production in 2018) to a reliance on its own natural gas. For the first time, Israel also became an energy exporter creating the potential to generate significant profits and revenue and improve Israel's relations with its neighbors.
Leviathan Field
The most significant find in offshore Israel is the Leviathan field, located approximately 80 miles off the coast and situated in water that is more than 5,000 feet deep. Assessments of the Leviathan field indicate that there could be as much as 19 Tcf of recoverable natural gas in place.
The Israeli government approved the development of the Leviathan natural gas field on June 2, 2016. The field is expected to be operational by 2019, and contains an estimated 622 cubic meters of natural gas reserves. The project will cost at least $5 billion according to a spokesperson for Noble Energy, which owns a 39.7% stake in the oil field. Other owners include Delek Drilling and Avner Oil Exploration, subsidiaries of Israel's Delek Group, and Israel's Ratio Oil. An initial investment in the development of Leviathan, to the tune of $3.75 billion, was approved on February 23, 2017.
Tamar Field
Israel began commercial production of natural gas from the Tamar field (located offshore, near Haifa) in March 2013. The natural gas produced from the Tamar field travels through existing onshore facilities at Ashdod via a pipeline that links to existing infrastructure at the Mari-B development site. Plans are moving forward on a floating LNG project that will draw natural gas supply from the Tamar field (with estimated discoveries of 10 Tcf) and the nearby Dalit field and will produce approximately three million tons of LNG per year (144 billion cubic feet per year) as soon as 2017. The most recent offshore discovery occurred at the Tamar Southwest exploration well, located 8 miles southwest of the Tamar Field, and the Tamar Southwest field may contain more than 500 billion cubic feet of natural gas in place.
An independent research firm, Netherland, Sewell & Associates, Inc., stated in July 2017 that the Tamar field contains 11.2 trillion cubic feet of natural gas, with an additional 14.6 million barrels of condensate. If true, this represents a 13% increase from previous estimates of the field's potential yield.
Mari-B Field
The Mari-B field—discovered in 2000—provided the first significant volumes of domestically-produced natural gas to Israel's markets, but in 2012 production plummeted as the field entered the final stages of depletion. In prior years, the Mari-B field met up to 40 percent of Israel's natural gas demand. Israel's total production volumes in 2012 reached more than 150 Bcf, after being as low as 350 million cubic feet (MMcf) as recently as 2002. Natural gas consumption in Israel also grew in recent years, from an annual average of 350 MMcf between 2000 and 2002 to a peak of 129 Bcf in 2010.
Karish and Tanin Fields
Greece's Energean Oil & Gas signed a $1.27 billion deal with Morgan Stanley and other banks in March 2018, to finance the development of Israel's Karish and Tanin fields. The two unexplored fields hold an estimated 2.4 trillion cubic feet of contingent gas, with an equal amount of potential reserves.
Gas for Israel and Export
In early 2013, Israel began receiving LNG cargoes on a short-term contract (two loads per month) in order to bridge the gap created by the loss of Egyptian volumes, the swift decline in production of the Mari-B field, and the start-up of the Tamar field in April 2013. The contract could deliver between 50 and 70 Bcf per year to Israel, but delivered volumes hinge on how quickly operators can bring the Tamar field up to peak capacity.
The European Union announced it would support a feasibility study for shipping Israeli oil and natural gas through Greek waters to Europe. On December 9, 2014, representatives from the EU said a "EastMed Pipeline" "could play an important role in diversifying our resources." The study was necessary because the route the pipeline may need to take is through extremely deep waters between Cyprus and the Greek island of Crete.
In January 2014, the Israeli government approved plans to supply the Palestinian Authority with natural gas and Noble Energy signed an agreement with two Jordanian companies to supply them with natural gas from the Tamar field.
On September 27, 2016, the Jordan Electric Power Company finalized negotiations for Israel's Leviathan consortium to supply it with $10 billion in natural gas until 2031. Under this deal Israel will become Jordan's largest gas supplier, providing the Kingdom with an estimated 45 million cubic meters of gas from the Leviathan field.
In February 2018, U.S.-based Noble Energy Inc and Israeli Delek Drilling LP announced $15 billion worth of deals to sell natural gas from the Leviathan and Tamar fields to Egypt over the subsequent 10 years. Noble, Delek, and their other partners in Leviathan and Tamar signed two agreements with Egypt's Dolphinus Holdings to sell the country 64 billion cubic meters total of natural gas.
The deals with Jordan and Egypt, signed despite protests by opponents of Israel in both countries, were important because they strengthened ties with Israel's two peace partners.
Even before these deals were implemented, the Israeli Ministry of National Infrastructures, Energy and Water Resources reported record revenue from oil and gas fees and royalties in August 2016. Oil and natural gas sales royalties as well as oil production royalties and other various fees and activities, provided NIS 411 million in revenue for the Israeli government during the first half of the year; an increase of 12.8% over the previous period's numbers. Israeli Energy Minister Yuval Steinitz stated in February 2017 that over the previous year, Israel earned $800 million exporting natural gas.
Gas began flowing from Israel to Egypt in January 2020 and, in January 2021, Chevron and its partners in the Leviathan and Tamar fields agreed in 2021 to invest around $235 million in the expansion of existing pipelines and a new one between Ashdod and Ashkelon to export fuel to Egypt.
Egyptian Petroleum and Mineral Resources Minister Tarek El Molla visited Jerusalem for the first time on February 21, 2021, and agreed to connect Israel's Leviathan gas field to the Egyptian Liquefied Natural Gas company plants via an offshore pipeline. The agreement would make it easier for Israel to export liquefied gas to Europe.
Pipeline to Europe
In December 2018, Israel, Cyprus, Greece and Italy, with the backing of the EU, reached an agreement to construct the world's longest underwater pipeline (more than 1,300 miles) for the export of gas from Israel to Cyprus and from there to Greece, Crete and Italy.
Minister of National Infrastructures, Energy and Water Resources Yuval Steinitz said "The agreement that we have drawn up will enable Israel to become an energy supplier to Europe, and that has both economic and political importance. This will be the first time ever that Israel has joined with the EU on any major infrastructure project."
It is expected to take five years to lay the pipeline with the hope of it opening by 2025.
Threats to Exports
In 2018, two developments threatened to reduce the possibility of exporting Israel's natural gas. The first was the victory of Recep Tayyip Erdogan's victory in the Turkish elections. In recent years, Erdogan has been increasingly hostile toward Israel and he may object to Israeli companies supplying natural gas to Turkey. Even if he did, the gas companies may not want to incur the risk. According to Oded Eran and Elai Rettig, this would eliminate one of Israel's largest potential markets as "Turkey is the most profitable export destination for Israeli natural gas." In addition, they note that "Turkey constitutes a comfortable route for transport of Israeli gas to Europe. The cost of laying the pipeline to the southern coast of Turkey is far less than the alternative of building a direct pipeline via Greece, or building a liquefaction facility in Israel." It is also possible, they argue that Turkey would "pay more for Israeli gas than it is currently paying for Russian gas, given its interest in reducing its dependence on Russia."
The second potential threat to Israel's natural gas industry is the possibility that gas reservoirs may be found off the coast of Egypt. Eran and Rettig say "the Israeli economy cannot itself absorb a large enough volume of gas in the coming years to justify the capital investment needed for the development of the Leviathan field if the gas export deal with Egypt does not materialize." This, they add, would leave "Israel without sufficient backup in the event of a prolonged disruption of gas supply from the Tamar field."
Regional Cooperation
In a major development, Chevron announced plans in July 2020 to acquire Noble Energy. Dore Gold called this "a revolutionary development" because, "historically, none of the American oil companies that held shares in the Arabian-American Oil Company (Aramco) would do business with Israel."
In September 2020, Egypt, Israel, Greece, Cyprus, Italy and Jordan established the East Mediterranean Gas Forum (EMGF). The Palestinian Authority is also part of the forum. France has applied to join, and the United States and European Union requested observer status.
For Israel, the forum "brings regional cooperation with Arab and European countries, the first of its kind in history, with contracts to export (Israeli) gas to Jordan and Egypt worth $30 billion, and that is just the beginning," according to Israeli Energy Minister Yuval Steinitz.
---
Sources: U.S. Energy Information Administration.
Hillel Koren, "Renewed drilling finds oil near Dead Sea," Globes, (May 3, 2016).
"Israel approves development of large offshore Leviathan natgas field," Reuters, (June 2, 2016).
"Israel's gas royalties hit new record," Globes, (August 16, 2016).
"Israel consortium signs 'historic' 15-year, $10b gas deal with Jordan," Times of Israel, (September 26, 2016).
Steinitz: Israel made NIS 3b from exporting natural gas in 2016, Times of Israel, (February 13, 2017).
Tovah Cohen/Avi Rabinovitch. Leviathan gas field developers approve $3.75 billion investment, Reuters, (February 23, 2017).
Eran Azran, Israel Quietly Begins Exporting Natural Gas to Jordan Amid Political Sensitivities, Haaretz, (March 2, 2017).
Daniel Graeber, More gas offshore Israel than originally thought, UPI, (July 3, 2017).
Shoshana Solomon, Delek, Noble sign accords for $15b in sales of Israeli natural gas to Egypt, Times of Israel, (February 19, 2018).
UPDATE 2-Greece's Energean lists in London, raises $460 mln for Israeli gas project, Reuters, (March 16, 2018).
Amir Foster, "Natural gas discoveries: Economic momentum for geopolitical stability," Jerusalem Report, (December 2017).
Amir Foster, "Giving Gas for Bilateral Relations in the Middle East," Jerusalem Report, (April 2018).
Oded Eran and Elai Rettig, "New Obstacles Facing Israeli Natural Gas Exports," INSS Insight No. 1073, (July 10, 2018).
Sonia Gorodeisky, "Agreement reached on Israel-Europe gas pipeline," Globes, (November 25, 2018).
Dore Gold, "Chevron and the Centrality of Energy Diplomacy in the Middle East," JCPA, (August 13, 2020).
"East Mediterranean states formally establish Egypt-based gas forum," Reuters, (September 22, 2020).
Yaacov Benmeleh, "Chevron to Invest in Pipelines to Send Israeli Gas to Egypt," Bloomberg, (January 19, 2021).
Lahav Harkov, "Israel to link Leviathan gas field to Egyptian LNG plants, says Steinitz," Jerusalem Post, (February 21, 2021).
Photo: This file is licensed under the Creative Commons Attribution-Share Alike 3.0 Unported license. Wikimedia.