U.S.-Israel Strategic Cooperation: F-35 Joint Strike Fighter Plane
In February 2003, the United States and Israel signed an agreement to cooperate in the development of America's latest jet fighter design, the F-35 Joint Strike Fighter. The agreement stipulated that Israel will pay the United States millions of dollars for the rights to use and participate in the designing of the plane.
Undersecretary of Defense, Technology, and Logistics Edward Aldridge Jr. and Israeli Defense Ministry Director-General Amos Yaron signed the agreement February 13, 2003. The agreement includes a special bilateral security deal with Israel that permits the country to give input on the design but forbids Israel to participate in discussion of the development.
As part of the agreement, an Israeli program office was opened in Washington near the Joint Strike Fighter office.
In 2009, the Pentagon announced their opposition to the upcoming sale of the F-35's to Israel because Israel wanted to stipulate that they use their own electronic warfare suite within the jet.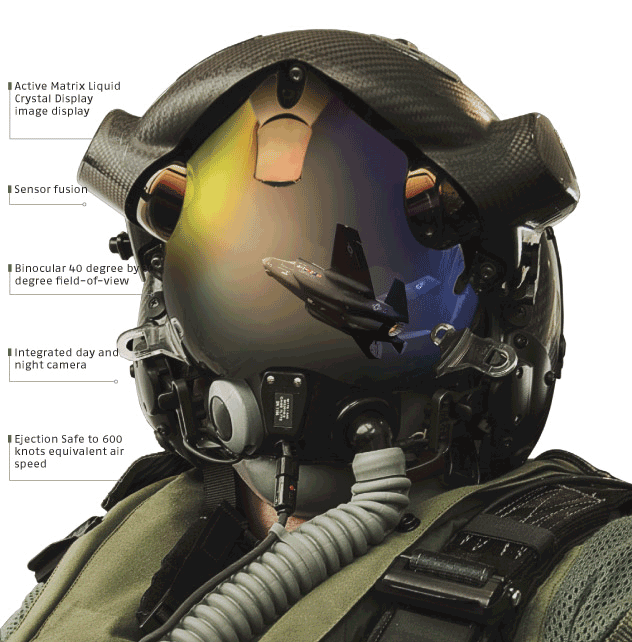 Rendering of the HMDS F-35 Helmet
In October 2010, Israel signed a $2.75 billion agreement with the United States to to buy 19 F-35 jets. The deal included options for up to 75 of the radar-evading fighters.
In July 2012, after more than three years of hesitation, the Pentagon reached a $450 million deal with the Lockheed Martin Corporation to enhance electronic warfare equipment on the F-35 fighter jet, including the integration of Israeli-unique systems. The Israeli systems will help make the F-35 the world's most advanced fighter plane.
"This agreement kicks off the Israeli program," said one of the sources, who was not authorized to speak on the record. "Now all of the agreements are in place."
In October 2013, Israel's Elbit Systems and U.S. defense firm Rockwell Collins welcomed a decision by the Pentagon to green-light their jointly developed helmet-mounted display system (HMDS) and include it with all F-35 fighter jets. The HMDS projects all vital information a pilot needs to their helmet's visor and features an enhanced nightvision camera, liquid-crystal displays, automated alignment and software improvements. The helmet will also show pilots real-time images from six infrared cameras on board the aircraft, allowing the pilots to "look through" the air frame.
---
Sources: Jerusalem Post, (February 14, 2003); Jerusalem Post (July 27, 2012); Reuters (July 26, 2012); Aviation Week (July 2012); Haaretz (November 25, 2009); Jerusalem Post (October 12, 2013)