Sweden Virtual Jewish History Tour
By Rebecca Weiner and Mitchell Bard
Sweden, a constitutional monarchy and a parliamentary democracy located on the Scandinavian peninsula of northern Europe, has a short Jewish history dating back to the mid-17th century. Today, the Jewish population of Sweden is approximately 14,900 - the ninth-largest Jewish community in modern Europe.
Early History
World War II & Holocaust
Post-Holocaust Period
Modern Jewish Community
Rising Anti-Semitism
Sweden-Israel Relations
Early History
While a number of Jews lived in Sweden, practicing their rituals in secret, a Jewish community was not officially established until the 1770s. Samson Efraim and his son visited Goteborg and Stockholm on business in 1702. More Jewish businessmen came to Sweden because of the demands of the East Indian Company and, in 1733, Jews could visit auctions in Goteborg, and a small Jewish community of eight individuals lived in Stockholm until 1734.
Aron Isak, a seal engraver from Germany, was the first Jew granted permission to live as a Jew in Sweden. He was first offered citizenship if he accepted Christianity; his response, "I would not change my religion for all the gold in the world," impressed the Lord Mayor of Stockholm, who advised Isak to make a legal protest to King Gustav III. The King subsequently granted him citizenship as the first Swedish Jew. He was allowed to bring some Jewish families, so there would be at least 10 Jewish men (the number needed to hold prayer services).
In 1775, on the island of Marstrand, off the coast of Goteborg, all foreigners could live on the island, including Jews. Five years later, the first Jewish family settled in Goteborg. In 1782, legislation was adopted allowing Jews to settle in Sweden without converting to Christianity.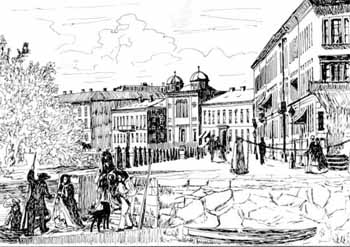 Lithograph from 1860 showing the Goteborg synagogue built in 1855, which stands on a waterfront site. 
Until 1860, Jews were only allowed to live in Stockholm, Goteborg, Norrkoping, Karlskrona, and Marstrand (although only from 1775 to 1794). The first Jewish cemetery was consecrated in 1776. In 1782, in the designated cities of residence, Jews were given permission to build synagogues, perform communal services, and engage in business and crafts that were not subject to guilds. In 1840, about 900 Jews lived in Sweden.
The process of Jewish emancipation began in 1838 when King Charles XIV removed some of the restrictions placed on Jews, which gave them many civil rights and legal protection. Until the 1840s, only wealthy Jews could intermarry. More prohibitions were removed by 1870. One of the last prohibitions was not removed until 1951, which stated that Jews could not hold political office. Once they became full citizens, Jews were treated as peers, and anti-Semitism was rare.
The Jewish population increased tremendously between 1850 and 1920 due to immigration from Russia and Poland. The population reached nearly 6,500 in 1920.
Immigration was regulated following World War I and the inter-war period. Small groups of German, Austrian, and Czech Jews could immigrate to Sweden during the 1930s. Fear of large-scale Jewish immigration led to student demonstrations at Uppsala and Lund universities, in 1938. A law prohibiting the Jewish ritual slaughter of meat was introduced and is still in effect today.
From 1933-1939, only 3,000 Jews were allowed to immigrate to Sweden, and another 1,000 were permitted to use Sweden as a transit stop to other locations. Once the brutalities of the Nazi regime were known, Sweden opened her doors to immigration and short-term stays.
World War II & the Holocaust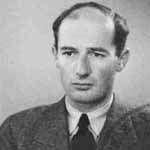 Raoul Wallenberg
Sweden was involved in many efforts to save Jews from Nazi brutality and murder.
In 1942, Sweden allowed the immigration of 900 Norwegian Jews. In October 1943, Sweden gave asylum to more than 8,000 Danish Jews, the whole Danish Jewish community, who came to Sweden via small fishing boats. Swedish diplomat Raoul Wallenberg is famous for having saved thousands of Hungarian Jews in Budapest. Also, Count Folke Bernadotte helped bring Jews and non-Jews out of concentration camps.
Sweden also profited from the Holocaust. It is known that Wallenberg's relatives made money converting Nazi gold into Swedish crowns and that Sweden provided iron ore and ball bearings to the Nazis. Swedish documents reveal that some Swedes sided with the Nazis and volunteered to fight for Hitler. Some Swedes were members of the Waffen-SS and served in police battalions.
A committee was established by the Swedish government in 1997 to investigate the transfer of Nazi gold to Sweden during the war. It is reported that Sweden received 38 tons of gold from Germany (worth today $430 million). Many Swedish companies, such as Ericsson, AGA, and Hasselblad Cameras, as well as the country's paper and wood industries, traded with Nazi Germany. Swedish jewelers bought stolen diamonds, which were smuggled into Sweden by civil servants working at the German legation in Stockholm.
On July 1, 2022, the Swedish Museum of the Holocaust is scheduled to open in Stockholm.
Post-Holocaust Period
In the post-war period, many Holocaust survivors were brought to Sweden for rehabilitation. Sweden also accepted refugees from the Baltic countries, Lithuania, and Estonia, who were later to be discovered as Nazi collaborators.
Due to the activities of Swedish anti-Semite, Einar Aberg, a law was passed in Sweden, in the 1950s, prohibiting the incitement against ethnic groups.
In 1956, Sweden accepted hundreds of Hungarian Jewish refugees fleeing the Communists, and in 1968, Sweden accepted thousands more fleeing from Communist-led witch hunts. Jews from Czechoslovakia and Poland also immigrated to Sweden, including many intellectuals, university students, and young professionals. Between 1945 and 1970, the Jewish population of Sweden doubled.
In 1987, Radio Islam, run by a Swedish-Moroccan, Ahmed Rami, began broadcasting anti-Semitic messages to the greater Stockholm area. Rami served time in jail for several years, and, in 1996, he began broadcasting once again in Sweden and over the Internet.
An amendment to the criminal code was passed in 1994, making racist motivations for a crime an aggravating circumstance. In 1996, Sweden's supreme court ruled that a person wearing Nazi symbols could be charged with incitement against an ethnic group. Also, in 1996, one of the major producers of neo-Nazi music, Tomas Lindvist, was sentenced to one-month imprisonment for incitement against an ethnic group. It was the first case against the White Power music scene prevalent in Sweden. In 1997 the first complaint against an internet site in Sweden was lodged for Ahmed Rami's website.
Sweden is considered a pioneer in Holocaust education. In November 1997, the Swedish government introduced a large-scale educational program, called the Living History Project, to educate Swedes about anti-Semitism. For this project, a free book was distributed about the Holocaust to every household in Sweden and minority communities were given the book in their own language. A website devoted to the Holocaust was designed, and Uppsala University opened an institute dedicated to the study of the Holocaust and other genocides. Uppsala University also hosted an international conference on Holocaust education, in 1998. In January 2000, Sweden hosted an international gathering to promote awareness of the Holocaust, which was attended by heads of state from numerous countries throughout the world.
After a series of anti-Semitic incidents in December 2017, Prime Minister Stefan Lofven said, that the government had allocated more money to schools for trips to Auschwitz and that stiffer punishments for anti-Semitism might be needed. "More students need to see this firsthand and be in Auschwitz, for example, or another concentration camp to really understand what has happened."
Modern Community
In Sweden today, there is a Jewish population of approximately 15,000 out of a population of 9 million. Stockholm, Sweden's capital, boasts the largest Jewish community. There are also Jewish communities in Malmö, Goteborg, Boras, Helsingborg, Lund, and Uppsala. The Jewish community is composed of mainly pre-war refugees and Holocaust survivors and their descendants.
All the denominations and Jewish communities are linked to the Official Council of Jewish Communities in Sweden. Swedish Jewry is active in international Jewish welfare activities. There are branches of the WIZO, General Organization of Jewish Women, Emunah, B'nai B'rith, and B'nai Akiva in Sweden.
There are synagogues in Stockholm (two Orthodox and one Conservative), Goteborg (one Orthodox and one Conservative), and Malmo (one Orthodox synagogue). Jewish cemeteries can be found in Goteborg, Gotland, Kalmar, Karlskrona, Karlstad, Larbro, Malmo, Norrkoping, Stockholm, and Sundsvall.
The Jewish community of Stockholm has a primary school, kindergarten, Judaica House, communal library, a bi-monthly publication (Judisk Kronika), and a weekly Jewish radio program.
Rising Anti-Semitism
In recent years there has been an uptick in anti-Semitism in Sweden, most notably in Malmö.
According to Dr. Manfred Gerstenfeld, Umea in Northern Sweden, numbering only 70 individuals, is the only Jewish community in all Western Europe "to dissolve itself because of nonstop threats from neo-Nazis." That happened in April 2017 after neo-Nazis from the Nordic Resistance Movement began harassing members of the Jewish community and pasting stickers with fascist and anti-Semitic imagery on the windows of the local Jewish Community Center in 2016. Jews were also placed under surveillance by these neo-Nazis, who then published details about them and their personal lives.
Following the U.S. announcement in December 2017 that it would be moving its embassy in Israel from Tel Aviv to Jerusalem, three Arab men were convicted of throwing firebombs at the synagogue of Gothenburg in Southern Sweden.
Prime Minister Stefan Lofven admitted after that attack his country had a problem with anti-Semitism. "We must be very clear that this anti-Semitism and hatred of Jews has no place in our society," Mr. Lofven said at a news conference. "There must not be any room for this hatred toward Jews. We must tackle this from all angles to extinguish it. Anything we can find we must report. We need to get it out in the open and to see to it that people are brought to justice."
In 2018, a former department head at Karolinska University Hospital in Stockholm was accused of systematically discriminating against Jewish doctors. One doctor told Haaretz the department head bullied and harassed Jewish doctors working in his department.
The Swedish government has increased funding to protect Jewish institutions and investigate and prosecute hate crimes. It is also considering legislation against racist groups. The prime minister also announced in January 2020 that Sweden is adopting the International Holocaust Remembrance Alliance's definition of anti-Semitism.
In September 2021, the government published a statement that said, "Hatred of Jews is a poison in our society. Anti-Semitic hate crimes and incidents are becoming more common, both in Sweden and in the rest of the world. It's scary and requires us to act." It notes that hatred is present "in right-wing extremist groups, in parts of the left and in Islamist circles, and "among adults and children who have fled to Sweden from countries where anti-Semitism characterizes schooling and state propaganda."
The statement said that approximately $11 million was allocated in the 2022 budget to preserve and carry on the memory of the Holocaust, promote education and research on the Holocaust, anti-Semitism, and other forms of racism, fight racism online and offline, promote Jewish life, and strengthen the security of civil society.
Prime Minister Stefan Löfven invited heads of state and government, international organizations, and social media platforms to Remember-ReAct, the Malmö International Forum for Holocaust Remembrance and Combating Antisemitism. The Forum took place on October 13, 2021, in Malmö. The program focused on four main themes: Holocaust remembrance, Holocaust education, anti-Semitism on social media platforms, and combating anti-Semitism and other forms of racism in all spheres of life.
Katrin Stjernfeldt Jammeh, Malmö's mayor since 2013, told Haaretz why the city, which has been a hotbed of anti-Semitism, was the right place to host the conference. "Anti-Semitism can be found everywhere and Malmö isn't vaccinated against it," says Stjernfeldt Jammeh, "but it's a problem we're addressing. We talk about it more today and, when you talk about it, it seems like it's a bigger problem than it does if you don't talk about it. But for me, [the image] is not important. The only thing that's important is that we attack the problem and create change."
In November 2022, Sweden's new foreign minister, Tobias Billström, told Haaretz, "Combating antisemitism is very important, and the new government is fully committed to doing so." He added, "It's obvious there are people in our society who have not laid off the horrible idea that there are grounds for antisemitic persecution of people of Jewish origin in our society. That should always be combated – in schools, at workplaces, wherever we find it. As foreign minister of Sweden, this is something I have a very firm conviction about."
Billström also told a personal story that explained his passion for the subject. "My grandparents in Malmö took in a Jewish family that escaped from Denmark across the Öresund strait, during the period in 1943 when the Gestapo tried to round up the Jews. I grew up with this story. I have this very nice diploma that says two trees were planted in their memory in Tzippori as thanks from this family. My grandmother and my mother, who remembers playing with the kids of this family, told me this story, and it has left a deep mark on me, leading to my understanding of what the Jews and what Denmark went through."
Sweden-Israel Relations
According to Manfred Gerstenfeld, "Sweden has also long led Western Europe in anti-Israelism."
Sweden made international headlines in October 2014 when its newly elected left-leaning government pledged to be the first European Union country to recognize the state of Palestine. Swedish Prime Minister Stefan Lofven stated that the announcement was made to spur negotiations to reconvene and come to a two-state solution to the conflict. The move was made on Lofven's first day in office and was immediately criticized by international actors, including the U.S. State Department, which issued a statement stating that the recognition of a Palestinian state as the situation currently stands is premature. This possible recognition of Palestinian statehood was met with protests from Israeli officials, who claimed that Lofven did not "study the issue in depth" and made a knee-jerk decision.
In response to these criticisms, Swedish officials, including Lofven, backtracked their steps. Instead of boldly making the outright claim that they would recognize the Palestinian state, on October 5, Swedish officials stated that no date had been set for the recognition and that the announcement was meant to engage a dialogue between Sweden and Israel. Retracing his words, Lofven was quoted saying that Sweden "wasn't going to recognize a Palestinian state tomorrow morning" and that he "wants to speak first with all the relevant parties, including Israel, the Palestinians, the United States, and other EU states."
On October 30, 2014, Sweden officially recognized the state of Palestine, making good on their promise made earlier in the month. Although the move was met with protests and criticism from Israel, Sweden issued a statement affirming its history of excellent cooperation with Israel. In response to this recognition of a Palestinian state, Israel temporarily recalled their ambassador to Sweden
The Palestinian Authority opened an embassy in Sweden on February 9, 2015, further straining ties between Sweden and Israel. Speaking in Sweden, Mahmoud Abbas said that he was hopeful that Sweden's recognition of a Palestinian state will move the negotiations and peace process forward. Abbas and Swedish Prime Minister Stefan Lofven signed a deal that will see Sweden raise their aid to the Palestinian Authority by $180 million by 2020. In other Western European countries, the Palestinians have a "diplomatic mission" and not a full embassy.
Relations between Sweden and Israel continued to degrade in December 2015, as Sweden's Foreign Minister Margot Wallstrom accused Israel of unlawful, extrajudicial killings of Palestinians during the wave of street violence incited by Palestinian leaders late in the year. In response to the comments made by Foreign Minister Wallstrom, Israeli Prime Minister Benjamin Netanyahu asked whether "she expects Israel's citizens to bare their throats to those trying to stab them." Wallstrom continued to call for "thorough and credible" investigations into the deaths, demands to which Netanyahu responded were "Outrageous, immoral, and stupid." 
Swedish Foreign Minister Margot Wallstrom was denied meetings with Israeli officials, including Netanyahu, during a visit to the area in December 2016. Publicly, Israeli leaders stated they could not meet with Wallstrom due to scheduling conflicts, but the real reason behind the snub was allegedly the government's unhappiness with Sweden's policy on the Israeli-Palestinian conflict.
In January 2020, Swedish Prime Minister Stefan Löfven made the first visit by a Swedish Prime Minister in 21 years. Relations between the two countries had grown particularly frosty after Löfven's government recognized a Palestinian state, and then-Foreign Minister Margot Wallstrom said in 2015 that terror attacks in Paris were related to the Israeli-Palestinian conflict.
The situation began to improve at the end of 2017 when two senior Swedish officials came to Israel and Israel's new ambassador to Stockholm, Ilan Ben-Dov, brought "a new atmosphere and approach" to bilateral relations. Nevertheless, no Israeli officials met Löfven during his visit, which he made for the commemoration of the 75th anniversary of the liberation of Auschwitz.
Despite Sweden's small Jewish population, or maybe because of it, anti-Semitism has spiked. Israel does not believe the government's one-sided support for the Palestinians has helped. Foreign Minister Ann Linde said, "I am very clear about my sincere ambition to further deepen and broaden the relationship with Israel." In addition, she said, "Sweden remains deeply committed to the international fight against anti-Semitism."
In 2019, Linde said Sweden wants "more cooperation with Israel, not less," and that Stockholm does not support boycotts of Israel.
In October 2021, Linde visited Israel, the first senior Swedish official to visit Israel since 2014, when Sweden recognized "Palestine" as a state, which led to a breakdown in diplomatic relations. She had called Israeli Foreign Minister Yair Lapid before Yom Kippur and reiterated Sweden's support for a two-state solution between Israel and the Palestinians, condemned terrorism, and expressed support for the security of Israel.
She also met with Palestinian officials and warned that Sweden would cut off aid if corruption continued. If we are to fully support economic development, then we can not have corruption at such a level as exists in Palestine, she said.
In November 2021, the Central Board of the Church of Sweden called on ecumenical organizations to investigate whether Israel is an apartheid state. The decision was condemned by the Council of Swedish Jewish Communities and members of the church itself, including the church's head, Archbishop of Sweden Antje Jackelen, who called the wording "unfortunate."
Haaretz noted that "the Church of Sweden is an evangelical Lutheran church with 5.8 million members (about 55 percent of Sweden's population)" and that it "backs various organizations and projects, some of which support the boycott, divestment and sanctions movement against Israel. The church has often been accused of being anti-Israel and a one-sided supporter of the Palestinians."
In 2022, Israeli defense electronics company Elbit Systems Ltd. was awarded a contract worth $27 million to provide the Swedish Armed Forces ammunition for its Leopard Main Battle Tanks.
In November 2022, Foreign Minister Tobias Billström told Haaretz, "The decision to recognize Palestine in 2014 was premature and unfortunate. However, the decision has been taken, and this government doesn't plan to revoke it." He said, "On the Israeli-Palestinian conflict, the government stands firmly behind the EU policy. We want to see a negotiated two-state solution based on international law." Billström added, "We will continue to criticize the parties when called for, when violations of international law are committed and when human rights are abused. We'll do that in the same way we criticize other states when it's justified. This is in no way contrary to having excellent relations with Israel or Palestine. The government will at all times stand up for Israel's legitimate security needs."
Billström also said Sweden was "working very closely with Israel" on combating anti-Semitism. "I appreciate the very fruitful cooperation with Israel during the IHRA presidency, and we're looking forward to continuing the cooperation during Israel's presidency in 2025," he said. 
He specifically mentioned the unacceptability of anti-Semitism in the Palestinian Authority. "It's very important that the PA ensures that its textbooks fully meet UNESCO standards," he said, "and that the EU continues to be clear in its dialogue with the Palestinians to ensure that this is the case."
In 2023, a Swedish subsidiary of Israeli defense electronics company Elbit Systems Ltd. was awarded a $48 million contract by the Swedish Defence Materiel Administration to provide mobile communication platforms for the Swedish Armed Forces. Elbit won another $109 million contract to supply the Iron Fist Active Protection System to BAE Systems Hägglunds.
---
For more information:
Official Council of Jewish Communities in Sweden
Wahrendorffsgatan 3 B
10391 Stockholm
Tel: 08 587 858 00
---
Sources: Barak Ravid, "Israel Turns Cold Shoulder to Visiting Swedish Foreign Minister," Haaretz, (December 13, 2016).
Dan Williams, "Sweden-Israel rift deepens over comments on Palestinian deaths," Yahoo News, (December 6, 2015).
James Neuger, "Palestine Recognition Not 'Goal in Itself,' EU's Mogherini Says," Bloomberg, (November 26, 2014).
The Aryan Cradle, Chapter 2: The Jews in the North.
Ilya Meyer, From Sweden with hatred, Times of Israel, (August 27, 2012).
The History of the Jews of Sweden.
Nick Meo, Jews leave Swedish city after sharp rise in anti-Semitic hate crimes, Telegraph, (February 21, 2010).
Marc Tracy, Malmo Syndrome, Tablet, (October 13, 2007).
Mordecai Spektor, Stockholm conference puts spotlight on Swedish Jews, Be'chol Lashon, (October 16, 2007).
Jews of Sweden, Center for Holocaust and Genocide Studies.
Sweden, World Jewish Congress- Machon - Forum.
Sweden, Jewish Communities of the World.
Sweden, Cemetery Project Sweden.
Sweden and Jews: History, Tensions, and Changing Relationships, A Research Project Proposal By Prof. Tom R. Burns, Prof. Ron Eyerman, Dr. Julian Illicki, and Prof. Jim Kemeny.
Paulina Neuding, "Sweden's 'Damn Jew' Problem," Tablet, (April 5, 2012).
Karin Wells, "Anti-Semitism in Malmö reveals flaws in Swedish immigration system," CBC News, (May 22, 2015).
By Dan Williams and Simon Johnson, "Sweden-Israel rift deepens over comments on Palestinian deaths," Reuters, (December 7, 2015).
"Israel's Netanyahu: Swedish FM's remarks 'outrageous,'" BBC, January 15, 2016).
David Stavrou, "Jewish Cemetery Attacked, in Sweden's Second anti-Semitic Incident This Week," Haaretz, (December 11, 2017).
"Antisemitic chants at demonstration in Sweden," European Jewish Congress, (December 11, 2017).
Christina Anderson, "Sweden's Prime Minister Condemns Anti-Semitism in His Country," New York Times, (December 12, 2017).
Cnaan Lipschitz,  Caught Between Jihadists and neo-Nazis, Swedish Jews Fear for Their Future, JTA, (July 11, 2018).
David Stavrou, "'Anti-Semitism Cover-up' Rocks Sweden's Most Prestigious Hospital," Haaretz, (November 27, 2018).
Dr. Manfred Gerstenfeld, "Sweden's Ugly Ultraliberalism and the Jews," Besa Center, (December 4, 2018).
David Stavrou, "Sweden Hopes Its First Top-level Visit to Israel in 21 Years Will Thaw Ties," Haaretz, (January 31, 2020).
David Stavrou, "Her City Was Called Sweden's 'Antisemitism Capital.' This Mayor Is Determined to Change That," Haaretz, (October 10, 2021).
"Remember - ReAct," The Government Offices of Sweden, (October 13, 2021).
Lazar Berman, "Swedish foreign minister visits Israel in major step toward rebuilding ties," Times of Israel, (October 17, 2021).
Cecilia Uddén, "Ann Linde: Palestinian corruption problem for Sweden," Radio Sweden, (October 19, 2021).
David Stavrou, "The Church of Sweden's Unholy Spat Over Israel and Apartheid," Haaretz, ().
"Elbit wins Swedish tank ammunition deal," Globes, (March 21, 2022).
David Stavrou, "Sweden's New FM Calls 2014 Palestine Recognition 'Premature and Unfortunate,'" Haaretz, (November 22, 2022).
"Elbit Systems wins $48m Swedish Army deal," Globes, (January 24, 2023).
Mandi Kogosowski, "Elbit Awarded $109 Million Contract to Supply BAE Systems Hägglunds with Iron Fist Active Protection System," IsraelDefense, (September 11, 2023).
Photo credits:
Picture of Aron Isak courtesy of Institute for Jewish Culture.
Goteborg synagogue courtesy of Edward Victor's Judaica Philatelic Resources.