Count Folke Bernadotte
(1895-1948)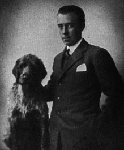 Folke Bernadotte was born in Stockholm, Sweden, on January 2, 1895. A descendent of the Napoleonic marshal Jean Bernadotte, who in 1810 was elected crown prince of Sweden, and in 1818 succeeded to the throne as Charles XIV, Count Bernadotte was also a grandson of King Oscar II of Sweden and a nephew of King Gustav V. After graduating from the military school of Karlberg, he studied horsemanship at the Stromsholm military riding school and became cavalry office in the Royal Horse Guards. On December 1, 1928, he married Estelle Romaine Manville, of New York. He represented Sweden in 1933 at the Chicago Century of Progress Exposition, and in 1939-1940 was Swedish commissioner general at New York World's Fair.
At the beginning of World War II, as head of the Sveriges Scoutforbund (the Swedish Boy Scouts), he integrated that organization into Sweden's defense system, training the scouts in anti-aircraft work and as medical assistants. His most important war work, however, was as vice chairman of the Swedish Red Cross, supervising the exchange of disabled British and German war prisoners. This work necessitated frequent trips to London and Berlin involving conferences with high officials of both countries. Just before the end of the war, he led a rescue operation transporting interned Norwegians, Danes, and western European inmates from German concentration camps to hospitals in Sweden. Around 15,000 people were taken to safety in the "White Buses of the Bernadotte expedition, among them a few thousand Jews.
In the spring of 1945, while working in the Swedish legation's temporary headquarters at Friedrichsruh, Germany, he was summoned by Heinrich Himmler, head of the Gestapo and commander-in-chief of the German home front. They met at Lübeck, Germany, on April 24. Asserting that Hitler was dying and that he was in authority, Himmler offered the complete surrender of Germany to Britain and the United States, provided Germany was allowed to continue resistance against Russia. The Swedish foreign office transmitted Himmler's offer to Prime Minister Churchill and President Truman. They, in turn, notified Premier Stalin, advising him at the same time of the British-American decision to accept only an unconditional surrender to the three Allied governments. A translation of the count's book describing his negotiations was published in the United States under the title The Curtain Falls (1945).
On May 20, 1948, the five big powers of the United Nations Security Council agreed on the choice of Count Bernadotte as mediator to seek peace in the Arab-Jewish conflict in Palestine. Ten days later, he initiated conferences with Arab and Jewish leaders in Palestine and Arab leaders in Cairo, Egypt, and Amman, Jordan. He succeeded in obtaining an agreement to a four-week truce commencing June 11. On June 28, he submitted to the Arab League and the Israeli government a peace plan that both sides rejected in part. On July 12, he made a report to the United Nations Security Council, in session in New York, and shortly thereafter returned to Palestine.
On September 17, Count Bernadotte and Colonel Andre P. Serot of the French air force were assassinated in Jerusalem by members of the Stern group, an organization of radical Zionists who had committed numerous attacks over a period of years against the British and Arabs. Three days after his death, Count Bernadotte's final report on his peace efforts was published in Paris. It gave the United Nations General Assembly his suggested terms for peace that was to be imposed by the United Nations. It won the immediate support of the United States and Britain but was rejected by the Israeli government and Arab leaders..
Ralph J. Bunche, an American serving as chief United Nations aide to Bernadotte and as the personal representative in Jerusalem of United Nations Secretary-General Trygve Lie, was appointed Bernadotte's temporary successor.
Bernadotte's book Instead of Arms was published in Sweden and the United States shortly after his death.
---
Sources: Folke Bernadotte Memorial Library.
Encyclopedia Americana, 1988.
Ralph Hewins,  Count Folke Bernadotte: His Life and Work, 1950.