Adding Beauty to Holiness: Secret Weddings
Meshed, in the northeastern section of Persia near the Afghan border, is, in the Shiite Moslem tradition, "a place of martyrdom," the site of the tomb of Imam Riza, who is supposed to have been poisoned by the Caliph Mamun. In Jewish historical memory it is also a place of martyrdom. in March 1839, a mob broke into the Jewish quarter, burned the synagogue, and was intent upon murdering all the Jews. Only mass conversion to Islam prevented the complete annihilation of the Jewish community. The new Muslims continued, however, to practice Judaism, remaining Muslims in name only. Many left the city in order to live openly as Jews, while others remained, living as best they could as crypto-Jews.
This Meshed ketubah reflects its provenance, for its form, colors, and decorative patterns suggest a Persian prayer rug. The ketubah, however, represents mute evidence of the power of the Jewish spirit to resist environmental pressure when it threatens Jewish survival. In 1839, the Jewish community was forced to convert to Islam, but it did so only formally, retaining Jewish loyalties and living as Jews secretly. Now fifty years later, there is a Jewish wedding, expressing a passion for Jewish survival, and a richly illuminated ketubah celebrating commitment to Jewish continuity, (Ketubah, Meshed, Persia, 1889, Hebraic Section, Library of Congress Photo).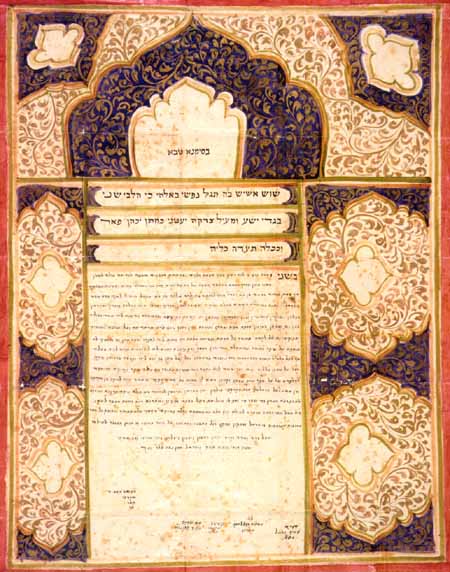 When getting married they conducted a Jewish ceremony in secret, then proceeded to the mosque for the public one. "For the marriage ceremony it was their custom to write two ketuboth, simultaneously," David Davidovitch reports in The Ketubah. "One was an Islamic marriage contract ... written in ... Arabic script in the Arabic and Persian languages ... the other was an 'illegal' ketubah in Hebrew and Aramaic," the traditional ketubah. The Library's Meshed ketubah is in Hebrew and Aramaic on paper, as Meshed ketuboth are, and colorfully illuminated with floral and geometric designs, and a red border which frames and rises to an angular dome shape at the top. Within the frame are decorative adornments in bright blue and gold. The groom is Rahamin ben Yisrael; the bride, Malka bat Yehezkel. The wedding took place in 1889, fifty years after the Jewish community there was forced to convert to Islam.
---
Sources:Abraham J. Karp, From the Ends of the Earth: Judaic Treasures of the Library of Congress, (DC: Library of Congress, 1991).