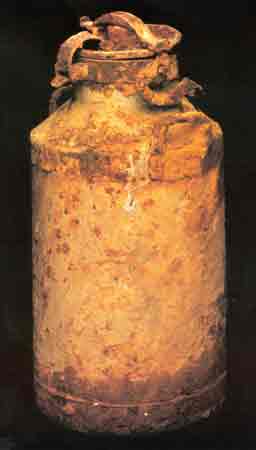 The most comprehensive effort to document ghetto life was undertaken in the Warsaw ghetto by a group of several dozen writers, teachers, rabbis, and historians led by Dr. Emmanuel Ringelblum in a secret operation code-named Oneg Shabbat (Hebrew for "Sabbath delight"). They wrote diaries, collected documents, commissioned papers, and preserved the posters and decrees that comprised the memory of the doomed community. They had no illusions. Their only hope was that the memory of the Warsaw ghetto would endure.
On the eve of the ghetto's destruction in the spring of 1943, when all seemed lost, the archive was placed in three milk cans and some metal boxes and buried in the cellars of several Warsaw buildings. The first containers were found in 1946, while the milk can in the photograph was unearthed on December 1, 1950, at 68 Nowolipki Street. It contained copies of several underground newspapers, a narrative of deportations from the Warsaw ghetto, and public notices by the Judenrat (the council of Jewish leaders established on German orders).
Despite repeated searches, the rest of the archive, including the third milk can, was never found.
United States Holocaust Memorial Museum