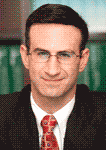 Peter Richard Orszag is a Jewish Hungarian-American economist and was the 37th Director of the Office of Management and Budget under President Barack Obama.
Orszag was born on December 16, 1968 in Boston, Massachusetts to Reba and Steven Orszag. He attended Phillips Exeter Academy and then earned his B.A. degree summa cum laude in economics from Princeton in 1991. He received an M.Sc. in 1992 and Ph.D. in 1997 in economics from the London School of Economics.
Orszag was a senior fellow and Deputy Director of Economic Studies at the Brookings Institution, where he directed The Hamilton Project and (in conjunction with Georgetown University's Public Policy Institute) the Pew Charitable Trust's Retirement Security Project.
He served as Special Assistant to the President for Economic Policy (1997–1998), and as Senior Economist and Senior Adviser on the Council of Economic Advisers (1995–1996) during the Clinton administration. He also formed a consulting group called Sebago Associates, which merged into Competition Policy Associates and was bought by FTI Consulting Inc. He was a consultant for McKinsey and Company on an HMO project in San Francisco, California.
Prior to his appointment in the Cabinet of President Barack Obama, Orszag was the Director of the Congressional Budget Office from January 2007 to November 2008. He was announced as a nominee for Director of the Office of Management and Budget, the office of the White House responsible for crafting the federal budget and overseeing the effectiveness of federal programs, on November 25, 2008.
Orszag left his position as Director of the Office of Management and Budgetin August 2010.
Orszag lives in Washington, D.C. and is married to Bianna Golodryga Orszag, co-host of ABC's Weekend Good Morning America. His previous marriage ended in divorce and he has two children, Leila and Joshua.
---
Sources: Wikipedia