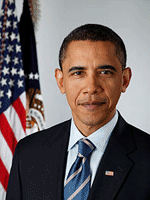 Barack Obama is the fourty-fourth President of the United States.
Obama (born August 4, 1961) was born in Honolulu, Hawaii to Barack Sr. and Ann (Dunham) who had met while studying at the University of Hawaii. Barack Sr., born and raised in Kenya, had won a scholarship to attend the university while Ann, who had been born in Kansas, moved to the state with her parents following World War II.
Barack's father eventually returned to Kenya, and he remained with his mother in Hawaii. The two lived for a few years in Indonesia, and later as a teenager, Barack moved to New York, where he graduated from Columbia University in 1983.
In 1985, Obama moved to Chicago, Illinois where he worked as a organizer to help rebuild communities hurt by the closure of steel plants. In 1991, Obama earned his law degree from Harvard Law School and became the first African-American president of the Harvard Law Review.
After graduation, he returned to Chicago to lead one of the most successful voter registration drives in Illinois state history, and went on to practice civil rights law and teach constitutional law at the University of Chicago. His advocacy work led him to run for the Illinois State Senate, where he served for eight years beginning in 1996.
In the Illinois State Senate, Obama helped create programs like the state Earned Income Tax Credit - providing over $100 million in tax cuts to families across Illinois - and he also passed an expansion of early childhood education. In addition, he passed the first major ethics reform in 25 years.
In 2004, Obama became the third African-American since Reconstruction to be elected to the U.S. Senate. Together with Senator Tom Coburn [R-OK], Obama passed his first law in 2004 - a measure to allow Americans the access to see where every dime of their tax dollars is spent. As a member of the Veterans' Affairs Committee, Obama fought to help Illinois veterans get the disability pay they were promised, while working to prepare the Department of Veterans Affairs for the return of the thousands of veterans who will need care after having served in Iraq and Afghanistan.
On November 4, 2008, Obama was elected 44th President of the United States, defeating Republican nominee John McCain, and he was inaugurated in January 2009 at one of the largest ceremonies in history. One of the signature accomplishments of his first term was passing the Affordable Care Act (Obamacare) that helped make quality health care accessible to many more Americans. In addition, President Obama ended the war in Afghanistan and passed significant reforms to Wall Street.
On November 6, 2012, Obama was re-elected for a second term, narrowly winning over Republican challenger Mitt Romney.
President Barack Obama is strongly in favor of a two state solution to the Israeli-Palestinian conflict, and has been vocal about his stance on the issue. Following the 2015 election victory of Israeli Prime Minister Benjamin Netanyahu, Obama stated in an interview with the Huffington Post that "we continue to believe that a two-state solution is the only way for the long-term security of Israel."
Obama is married to Michelle and has two daughters - Malia and Sasha.
---
Sources: Obama Huffington Post interview with Sam Stein (March 21, 2015); Obama for America; Washington Post (November 7, 2012)