Israel's Wars & Operations: Operation Defensive Shield
(March 29 - April 21, 2002)
Operation "Defensive Shield" was a large-scale military operation undertaken by the Israel Defense Forces against Palestinian terrorists in the West Bank.
Precipitated by a series of a deadly terrorist attacks - and in direct response to the Passover massacre in which a Palestinian terrorist killed 30 people during the Jewish holiday on March 27 - Operation "Defensive Shield" sought to renew IDF control over the major cities in the West Bank in order to destroy the terrorist network that had been building within them. During the operation, IDF forces led incursions into Ramallah, Tulkarm, Qalqilya, Bethlehem, Jenin, and Nablus, as well as many other smaller towns, and conducted house to house searches for terrorists and weapons. Thirty IDF soldiers were killed during the month-long mission and more than 120 were wounded in fierce urban fighting that took place during the entirety of the operation. Initial reports from international media outlets and the Palestinian Authority condemned the IDF for massacring hundreds of innocent civilians, though these allegations were all proven false. Around 250 Palestinians were killed and another 4,200 were arrested.
Though "Defensive Shield" did not stop all future terrorist attacks from the West Bank, it was a decisive turning point in the Palestinian Al-Aqsa Intifada and it still remains one of the best examples of counter-insurgency warfare by any army in modern times.
Background: Surge in Terror
Catalyst: Passover Massacre
Incursion: IDF Operation Begins
The Battle in Jenin
Aftermath, Casualties & Future
Background: Surge in Terrorism
For nearly a year and a half before Israel commenced Operation "Defensive Shield," Palestinian terrorism from the West Bank and Gaza Strip had become an almost daily scourge on Israeli society. Instigated by their own leaders, Palestinians initiated the Second Intifada in September 2000 and quickly starting using the perfidious and lethal tactics of terror - roadside sniper attacks, IED's, and suicide bombings.
From September 2000 through the end of February 2002, nearly 300 Israeli's were murdered by Palestinian terrorists, many in such heinous attacks as the suicide bombings at the Tel Aviv Dolphinarium Discotheque in June 2001 that killed 21 teenagers and the Jerusalem Sbarro Pizza shop in August 2001 in which 15 people were killed. Israeli reaction to this terrorism had ranged from financial sanctions on the Palestinian Authority to prohibiting Palestinians from crossing into Israel to the targeted assassinations of terror leaders, yet none of these punitive measures had managed to dent the terror organizations relentless attacks.
The events of March 2002, however, changed the Israeli defense establishment's philosophy on counter-terrorism. In what would become known as "Black March," Palestinians unleashed 15 suicide bombing attacks against Israel - nearly one every other day - and, in addition to other shooting and grenade attacks, killed no fewer than 130 Israeli's.
With the streets literally stained in blood, the Israeli public demanded action from their government to stop the atrocities.
The Last Straw: Sharon OK's Military Operation
Aftermath of the Passover Massacre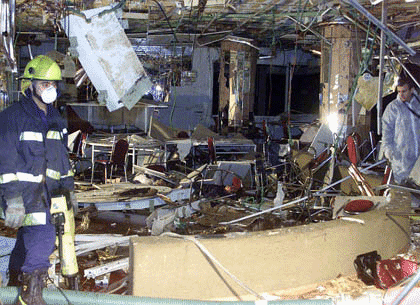 The final catalyst for action occurred on March 27 when a Palestinian terrorist detonated himself inside a hotel in the Israeli coastal city of Netanya during a 250-person Passover seder. Twenty-two civilians were killed instantly in the blast and another eight died of their wounds over the next few days; a further 150 were injured. Hamas claimed responsibility for the attack and Palestinian officials lauded the attack in Arabic media.
The following night, Prime Minister Ariel Sharon green-lighted Operation "Defensive Shield," explaining to his inner Cabinet members that, "The Palestinians must be hit, and it must be very painful ... We must cause them losses, victims, so that they feel a heavy price." With the operation okayed, the Israeli Defense Ministry proceeded to issue an emergency call-up for more than 20,000 reserve soldiers, the largest such action since the 1982 Lebanon War, and put the army and air force on high alert.
In his address to the nation on March 31, Sharon highlighted that his government had made every effort to reach a cease-fire but had now been forced to throw down in an uncompromising fashion.
"Israel is in a war, a war against terror," Sharon remarked. "This is a war that was forced on us. It is not a war that we decided to embark upon. This is a war for our home ... We must wage an uncompromising fight against this terror, uproot these weeds, and smash their infrastructure because there is no compromise with terror." Sharon also made clear who Israel would hold responsible for the actions. "This terror is operated, directed and initiated by one man - Palestinian Authority Chairman Yasser Arafat," he said. "Arafat heads a coalition of terror. He operates a strategy of terror. The PA Chairman is an enemy of Israel in particular and the entire free world in general. All those who treasure freedom, all those who were raised on the values of freedom and democracy, must know that Arafat is an obstacle to peace in the Middle East. Arafat endangers the stability of the entire region."
In his speech about the operation to the Knesset in early April, Sharon more clearly outlined Israel's goals:
To catch and arrest terrorists and, primarily, their dispatchers and those who finance and support them; to confiscate weapons intended to be used against Israeli citizens; to expose and destroy facilities and explosives, laboratories, weapons production factories and secret installations. The orders are clear: target and paralyze anyone who takes up weapons and tries to oppose our troops, resists them or endangers them - and to avoid harming the civilian population.
Sword & Shield: Incursions into Ramallah, Bethlehem and Nablus
On March 29, IDF infantry and armor, supported by air force helicopters, made their way into a number of the major Palestinian cities of the West Bank, including Bethlehem, Nablus, Ramallah, Tulkarm, Qalqilya, and Tubas, to initiate Operation "Defensive Shield." Except for Hebron and Jericho, the IDF planned to spread its forces throughout the entirety of the Palestinian territory.
Instead of using heavy artillery and air force jets to pound the areas swarming with Palestinian terrorists, however, the IDF decided to send infantry soldiers and tanks to conduct house to house fighting in order to minimize civilian casualties and collateral damage.
Ramallah
IDF tanks positioned outside the Mukata'a in Ramallah
One of the operation's first objectives entailed placing a siege around the Mukata'a in Ramallah, the official office building and presidential compound of PA Chairman Yasser Arafat. With tanks and soldiers stationed completely around the structure, Arafat was effectively cut off from leading an insurgency and was cordoned off, along with several his advisors and security personnel, to a small section of the building. Despite dramatized pictures of Arafat living in candle-lit quarters, Israel actually supplied the men inside with all necessities including electricity.
Documents seized by IDF soldiers from inside the Mukata'a proved how Arafat and other Palestinian government officials used public money to fund Palestinian terrorist organizations, especially the Al-Aqsa Martyr's Brigade, from this provincial capital. Other files also confirmed that the Palestinian General Intelligence and Preventive Security Force (PSF) had transferred money from the Arab Bank to Hamas and Palestinian Islamic Jihad operatives.
On April 2, the IDF surrounded the headquarters of the PSF in the Ramallah suburb of Beitunia and arrested hundreds of wanted prisoners and heavily armed Palestinian police officers. During searches of the building, soldiers uncovered large caches of illegal weapons, many of which had been stolen from Israeli forces, and uncovered intelligence documents, including one that spoke of a plan to use female Israeli soldiers as spies for the PA. Air Force helicopters then destroyed most of the building.
On April 14, soldiers found and arrested arch-terrorist Marwan Barghouti and his relative Taleb Barghouti who had been influential in sparking the rise of Palestinian terrorism during the Intifada.
Two IDF soldiers - Lt. Boaz Pomerantz, 22, of Kiryat Shmona and St.-Sgt. Roman Shliapstein, 22, of Ma'ale Efraim - were killed in the course of operations in Ramallah. 30 Palestinians were killed in fighting and approximately 700 were arrested.
Bethlehem
Video of the siege and terrorists using the Church as cover
On March 29, IDF forces, led by the Jerusalemite Reserve Infantry Brigade, entered Bethlehem through both its main arteries for "Defensive Shield." The IDF had known from previous incursions into the city that terrorists usually hid from forces in the Christian Church of the Nativity and to head them off sent a force from the Shaldag Special Forces unit to blockade entrance into the holy shrine.
Thirty minutes before the Shaldag unit arrived, however, a force of between 100 and 180 Palestinian gunmen barricaded themselves inside the church and set off a battle and siege that gripped headlines all over the world. The barricaded Palestinian force inside the church was led by Colonel Abdullah Daud, head of Palestinian security in Bethlehem, and Muhammad al-Madani, the governor of Bethlehem, and it held more than 40 priests, nuns, and church personnel as well as around 200 other Palestinians hostage.
On April 3, the IDF laid siege to Manger Square and the Church, while demanding that the terrorists inside release the hostages and give up peacefully. The Vatican officially warned Israel to respect the religious site and ensure no damage was caused while Holy See Undersecretary of State, Archbishop Jean-Louis Tauran, condemned the Palestinian gunmen who entered the area. "The Palestinians have entered into bilateral agreements [with the Holy See] in which they undertake to maintain and respect the status quo regarding the Christian holy places and the rights of Christian communities," the Archbishop said on Vatican Radio. "To explain the gravity of the current situation, let me begin with the fact that the occupation of the holy places by armed men is a violation of a long tradition of law that dates to the Ottoman era. Never before have they been occupied - for such a lengthy time - by armed men."
Fighting between IDF forces surrounding the area and the Palestinian gunmen inside raged infrequently during the time and by early May, a mediated truce was put in effect and Israel agreed to exile the thirteen most wanted men inside, including Daud.
One IDF soldier - Sgt.-Maj. Ofir Roth, 22, of Gan Yoshiya - was killed in the fighting in and around Bethlehem. At least 8 Palestinians were killed.
Nablus
IDF forces in Nablus casbah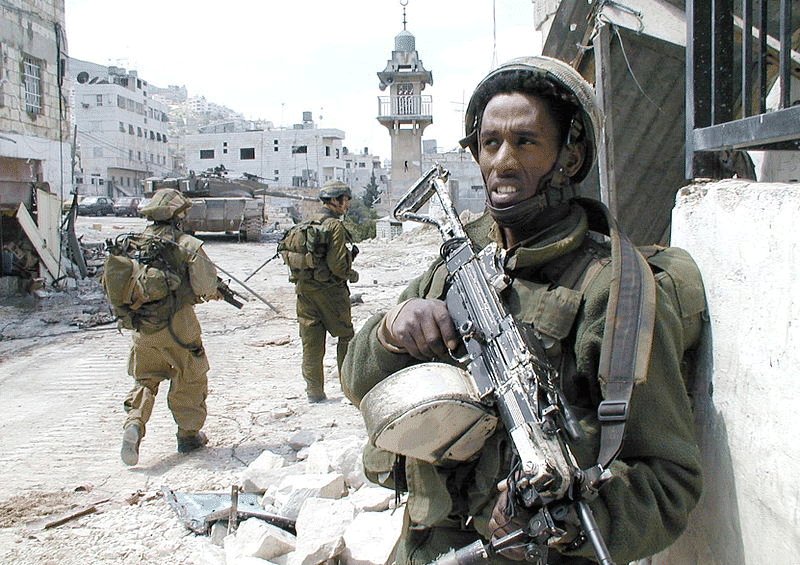 Aside from Jenin, the IDF viewed Nablus as the Palestinian terror capital, and as such devoted large forces for the incursion into the largest of the West Bank cities. According to reports, two regular infantry brigades - Golani and Paratroopers - together with the Yiftach reserve armored brigade were sent to Nablus, a city that Israeli intelligence estimated to hold nearly 8,000 Palestinian terrorists and thousands of illegal weapons and explosives.
The IDF noted that the Paratroopers advanced into the city from the west, Golani entered through the southern flank, and the Yiftach armor came from the east. Golani forces focused their attack on the casbah where they engaged in heavy street fighting with terrorists and used bulldozers to demolish buildings that housed enemy militants. The Paratroopers were used for house-to-house engagements throughout the city's refugee camps and perfected a method of advancement that had them blow through walls to move between buildings rather than using doors and alleyways as the Palestinians had booby-trapped the majority of these.
After a few days of fierce fighting, the Palestinians surrendered on April 4. One IDF soldier - Maj. Assaf Assoulin, 30, of Tel Aviv - was killed while about 70 Palestinian gunmen were killed and over 100 were arrested. Those terrorists who managed to escape the city through the mountains northeast to Tubas and Taluza were eventually all located and arrested by IDF forces in the coming months.
Jenin: A Massacre That Wasn't
According to Israeli authorities, Jenin was the central base for Palestinian terror groups in the West Bank, including Palestinian Islamic Jihad, Al-Aqsa Martyrs Brigades, and Hamas, and served as the launchpad for terror attacks in Israel. 23 of the 60 suicide bombers that attacked Israel in 2002 were attributed to Palestinian terrorists hailing from Jenin.
Aerial map of fighting in Jenin. Click for larger resolution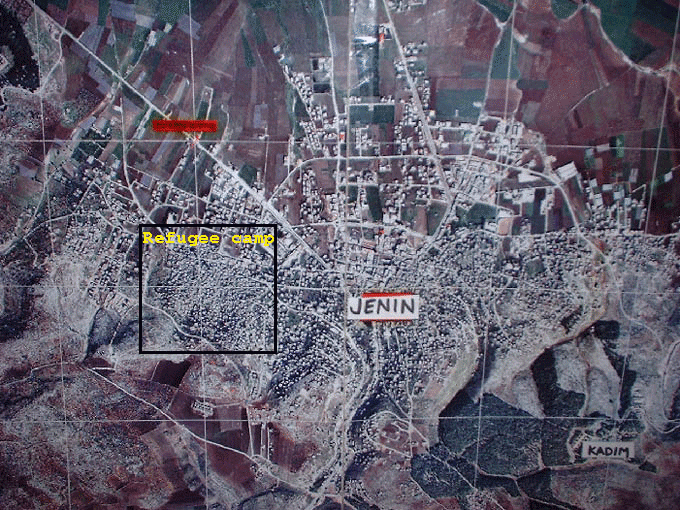 On April 2, more than 1,000 IDF soldiers - a combination of regular and reserve infantrymen, special forces, armor and combat engineers - entered the Jenin refugee camp, calling on all civilians and non-combatants to leave the area while searches were to take place. An estimated 13,000 Palestinians were housed in this area of Jenin but the number of civilians who fled before the fighting commenced was unknown at the time, leaving the soldiers severely outnumbered and will no ability to decipher between combatant and civilian.
Most of the international reporting on the fierce battle in Jenin focused on the accusations that the IDF had led a brutal massacre of hundreds of Palestinian civilians, and then quickly buried them in mass graves. The truth, however, was far from these charges.
As in the other cities of the West Bank, the IDF sent infantry forces into Jenin's refugee camps in order to weed out and destroy the terror infrastructure from the ground instead of doing so from the air. What waited for the soldiers inside the camp was approximately 200 heavily armed terrorists who had literally booby-trapped the entire city, placing their own neighbors and Palestinian civilians directly in harm's way. Islamic Jihad terrorist Tabaat Mardawi claimed later that Palestinian fighters had planted "between 1,000 and 2,000 bombs and booby traps" throughout the camp, some that weighed over 100 KG and had the ability to destroy a tank. In one instance, an army bulldozer sent down the main street of Jenin detonated 124 such bombs in about 3/4 of a mile.
IDF Chief of Staff Shaul Mofaz initially promised the fighting would be over by April 6, but that became impossible once the fighting began. Aerial attacks would have allowed the IDF to end the battle in this timetable but would have also resulted in numerous civilian casualties. On April 5, the Palestinians were still holding strong in most of the camp while seven IDF soldiers had already been killed in fighting. Suffering heavy casualties from the house-to-house fighting, a Golani Battalion commander, Ofer Buchris, developed a method that allowed relatively rapid advance without unduly exposing troops - a bulldozer was used to ram the corner of a house, opening a hole in it though keeping the house intact, which enabled civilians a chance to escape and an armored personnel carrier to discharge troops directly into the structure. Using the newly termed "Buchris Method," the IDF forces began advancing more rapidly through the city and the Palestinian fighters eventually fell back to the Hawashin neighborhood in the center of the camp.
On the morning of April 9, a unit of reserve soldiers accidentally ran into a Palestinian ambush while pinned down in a residential courtyard surrounded by tall walls on all sides. A rescue force sent by the same unit to withdraw the unit was also attacked by terrorists. The fighting between the two sides lasted for several hours until soldiers from the elite Shayetet-13 commando unit were able to rescue the trapped force. 13 IDF soldiers were killed in this battle, the deadliest day for the IDF since the 1982 Lebanon War.
Following this fight, IDF forces sieged the rest of the Hawashin neighborhood and then began mopping up the final resistance by demolishing most buildings in the area. At 7:00 AM on April 11, the Palestinians began to surrender, most later saying that there was nothing they could do to hide from the bulldozers. Zakaria Zubeidi was among the only fighters who did not surrender and managed to escape.
Area of Hawashin neighborhood demolished towards the end of fighting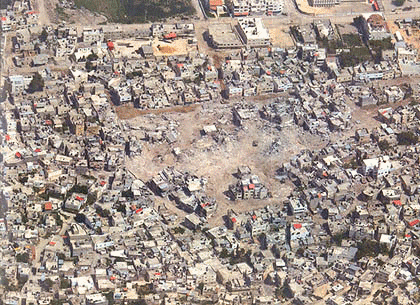 Following the fighting, the IDF proceeded to remove the bodies of the Palestinians killed in order to bury them outside the camp and on April 14 the Israeli Supreme Court upheld the decision and allowed the IDF to finish burying the dead bodies. Troops began withdrawing from Jenin on April 18 and by April 24 the autonomous zone of Jenin was cleared.
Overall, 23 Israeli soldiers were killed in the battle for Jenin and another 50 were wounded. Initially, the Palestinian government and numerous NGOs reported that hundreds of Palestinians had been killed. Eventually, however, both Human Rights Watch and the United Nations published reports that showed only about 52 to 56 Palestinians were killed, of whom about half or more were terrorists. The UN also ruled out that a massacre occurred.
Aftermath: Casualties & Strategic Importance
The effects of Operation "Defensive Shield," as recorded by the Israeli Intelligence & Terrorism Information Center, were an initial drop of 46 percent in the number of suicide bombings - from 22 in February and March to 12 in April and May - and a 70 percent drop in executed attacks between the first half of 2002 and the second half (43 January–June, 13 July–December).
While 2003 had a total of 25 executed suicide bombings in comparison to 56 in 2002, the main difference was the number of attacks which did not come to realization (184) either due to Israeli interception or problems in the execution. 2003 also saw a 35 percent drop in the number of fatalities from 220 deaths in 2002 to 142 deaths resulting from suicide bombings.
As an extended result of the operation, the IDF reinforced its presence in the West Bank, improved its ability to track and apprehend suspected terrorists, and even created a new infantry brigade, the Kfir Brigade, to deal exclusively with counter-terror operations in the major Palestinian cities.
During the fighting, 30 Israeli soldiers were killed and 127 were wounded, while 497 Palestinians were killed and 1,447 were wounded according to a United Nations investigation. However, B'Tselem only registered 240 Palestinians killed by Israeli security forces in the West Bank during the period in which the military operation was carried out. 4,258 Palestinians were detained by Israel, including 396 wanted suspects. Nearly 2,000 AK-47 rifles, 2,200 long-range rifles, 400 sniper rifles, and hundreds of other explosives, weapons, and ordnances were confiscated by IDF forces.
The World Bank estimated that over $361 million worth of damage was caused to Palestinian infrastructure and institutions.
The following soldiers were killed in Operation "Defensive Shield":
Ramallah:

     Lt. Boaz Pomerantz - 22 (Kiryat Shmona)
     St.-Sgt. Roman Shliapstein - 22 (Ma'ale Efraim)

Bethlehem:

     Sgt.-Maj.(res.) Ofir Roth - 22 (Gan Yoshiya)

Hebron:

     Border Police Supt. Patrick Pereg - 30 (Rosh Ha'ayin)
     Lt. Dotan Nahtomi - 22 (Kibbutz Tzuba)

Gaza:

     St.-Sgt. Nisan Avraham - 26 (Lod)

Nablus:

     Maj. Assaf Assoulin - 30 (Tel Aviv)

Jenin:

     Maj.(res.) Moshe Gerstner - 29 (Rishon Lezion)
     Sgt.-Maj.(res.) Einan Sharabi - 32 (Rehovot)
     Lt. Nissim Ben-David - 22 (Ashdod)
     St.-Sgt. Gad Ezra - 23 (Bat-Yam)
     Sgt. Merom Fisher - 19 (Moshav Avigdor)
     Sgt. Ro'i Tal - 21 (Ma'alot)
     Sgt. Oded Kornfein - 20 (Kibbutz Ha'on)
     St.-Sgt. Matanya Robinson - 21 (Kibbutz Tirat Zvi)
     Sgt. Shmuel Weiss - 19 (Kiryat Arba)
     Maj.(res.) Oded Golomb - 22 (Kibbutz Nir David)
     Capt.(res.) Ya'akov Azoulai - 30 (Migdal Ha'emek)
     Lt.(res.) Dror Bar - 28 (Kibbutz Einat)
     Lt.(res.) Eyal Yoel - 28 (Kibbutz Ramat Rachel)
     1st Sgt.(res.) Tiran Arazi - 33 (Hadera)
     1st Sgt.(res.) Yoram Levy - 33 (Elad)
     1st Sgt.(res.) Avner Yaskov - 34 (Be'er Sheva)
     Sgt. 1st Class (res.) Ronen Alshochat - 27 (Ramla)
     Sgt. 1st Class (res.) Eyal Eliyahu Azouri - 27 (Ramat Gan)
     Sgt. 1st Class (res.) Amit Busidan - 22 (Bat Yam)
     Sgt. 1st Class (res.) Menashe Hava - 23 (Kfar Saba)
     Sgt. 1st Class (res.) Shmuel Mayzlish - 27 (Moshav Hemed)
     Sgt. 1st Class (res.) Eyal Zimmerman - 22 (Ra'anana)
     St.-Sgt. Gedaliah Mellick - 21 (Jerusalem)
---
Sources: Wikipedia: Operation Defensive Shield; Siege of the Church of Nativity; Battle of Jenin.
Matt Rees, "Streets Red With Blood," Time Magainze, (March 18, 2002).
"Operation Defensive Shield," YnetNews, (March 12, 2009).
"Operation Defensive Shield," Zionism & Israel Information Center.
Israel Ministry of Foreign Affairs: "PM Sharon's Address to the Nation"; "Arafat's Mukata'a Compound."
"Myth of the Jenin Massacre," NGO Monitor.
Barbara Sofer, "The Human Spirit: To a Relative Abroad," Jerusalem Post, (April 20, 2010).
"Marwan Barghouti," Encyclopedia of the Middle East.
"Last of 'Nativity Church Crusaders' Left Cyprus," Ynet, (November 26, 2002).
"Terrorists Take Hostages at the Church of the Nativity in Bethlehem," Take-A-Pen.
Shalom Freedman, "Book Review - Brett Goldberg, 'A Psalm in Jenin,'" J-Books.
"Palestinian Fighter Describes 'Hard Fight' in Jenin," CNN, (April 23, 2002).
"Summary: Battle in Jenin," Human Rights Watch.
"Report on Israeli Actions in Occupied Palestinian Territory," UN Secretary General.


Photo Credits: Israel Ministry of Foreign Affairs (Reuters); YnetNews (AP); Israel Defense Forces