Juniper Falcon 11
(October 21, 2010)
The US and Israel concluded a several day-long command post simulation and training exercise called Juniper Falcon 11 on October 21, 2010. Juniper Falcon 11 was part of a series of routinely conducted training exercises between the US and Israel that build partnership and which promote regional peace and stability. The exercise was part of a long standing agreement between the US and Israel to hold bilateral training exercises on a regular basis.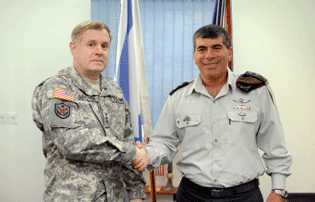 Deputy EUCOM Commander Lt. Gen. John D. Garner, left, with IDF Chief of the General Staff Lt. Gen. Gabi Ashkenazi, right.
Commanders and participants from both militaries expressed their satisfaction with the exercise upon its completion, expressing that the exercise allowed for each of the militaries to mutually learn from the other and improve their interoperability.
IDF Chief of the General Staff, Lt. Gen. Gabi Ashkenazi, said: "I see great progress in all matters of cooperation between us and the American armed forces and EUCOM [the US European Command]. This is an important part of our ability to operate in different scenarios at sea, on the ground and in the air. It emphasizes the deep, intimate relations between us and the United States when facing mutual enemies, such as when fighting terror. I get the impression that officers from both sides feel these improvements and that we have interoperable capabilities."
US Exercise Director, Maj. Gen. Craig Gourley, said: "I've had the opportunity in the past couple of years to participate in quite a few exercises and this definitely ranks at the top of my experiences. We've met 100 percent of our objectives and through the great experiences and trust we've developed in the past couple of days we were able to make this a truly outstanding exercise and gain good experiences for the future. Talking through our experiences and capabilities does nothing but enhance our interoperability and capabilities to work together and just improves how we operate as a team. I take away the friendships, the exposure to the environment and the great partnership. We've taken a look at a lot of the issues of interoperability and where we can enhance our capabilities and improve. All gaps have been filled. You've been a gracious host and met all of our needs. You've been outstanding. We've seen great camaraderie, dedication, pride, and commitment on behalf of the Israeli forces - it's outstanding. We're looking forward to coming back."
IDF Exercise Director, Brig. Gen. Nizan Nuriel, said: "The real purpose of this exercise is to make sure that in real time, if necessary, we will be well trained and fully prepared. We know it's about friendship, brotherhood and these kinds of exercises can create this level of relationship that in real time may be needed. This has been the most organized of such exercises until now.  The exercise challenges both sides.  I would like to emphasize the preparations of the American forces in this exercise, proving the importance they give to such an exercise."
This exercise was a routine training exercise and was not associated with or in response to world events at the time.
---
Sources: IDF.
Photo: IDF Spokesperson