Iron Dome Anti-Rocket System
The Iron Dome system was designed and developed jointly by the United States and Israel as a response to the threats Israel faces from short and medium-range rockets and mortar shells fired from Gaza.
Iron Dome Launching Interceptor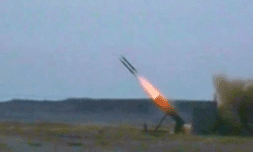 The system has the capability to identify and destroy such projectiles before they land in Israeli territory and is now one of the most effective anti-missile systems in the world. The system is comprised of three components: the design and tracking radar, built by the Elta defense company; the battle management and weapon control system, designed by the mPrest Systems software company; and the missile firing unit, manufactured by Rafael Advanced Defense Systems Ltd.
One of the most advanced features of Iron Dome is its capability to determine where an incoming rocket will land and to only intercept such projectiles that pose meaningful threats to populated civilian areas.
Iron Dome joins Israel's comprehensive missile defense network which includes the David's Sling system, intended to protect against mid-range missiles, and the Arrow Interceptor system, designed to provide defense against long-range missiles.
The decision to build the Iron Dome system was made by the Ministry of Defense in 2007, following a year in which Hezbollah fired thousands of missiles into northern Israel during the Second Lebanon War. Israel had also experienced rocket attacks on its southern communities from the Gaza Strip, mainly carried out by Hamas.
Between 2008 and 2010, the Iron Dome system underwent a number of comprehensive tests and was declared operational in March 2011. On April 7, 2011, the system successfully intercepted its first projectile, a rocket fired from Gaza towards Israel. Immediately afterwards, IAF aircraft targeted a rocket-launching terrorist cell. The following day, the system successfully intercepted 3 rockets fired from Gaza towards Israel.
During the middle of March 2012, when terrorists in Gaza went on a rocket offensive against southern Israel firing nearly 200 rockets in less than 72 hours, the Iron Dome system successfully shot down no fewer than 52 rockets aimed at Beersheva, Ashdod, and Ashkelon. Israel Ambassador to the United States, Michael Oren, thanked President Obama and American legislators for their allocation of funds to support the Iron Dome project.
Source: IDF; Jerusalem Post; Israel Defense Forces; YnetNews; YouTube
Photo courtesy of the IDF Spokesperson.