Walther von Brauchitsch
(1881 - 1948)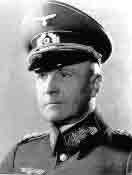 Though considered by his peers to be one the best and brightest generals of the German Army, this "man of culture, charm, and professional integrity" (Bond 1989, 95) was a fencesitter vis a vis the conspiracy [to depose Hitler]. As Army Commander-in-Chief he was in a position to give the conspirators the crucial support needed to overthrow Hitler and the Nazi regime.

Though personally averse to Nazism, Brauchitsch soon becomes inextricably bound to Hitler. He is forced to borrow 80,000 Reichmarks from the dictator in order to obtain a divorce and remarry. He is also highly ambitious and keen to succeed General Werner von Fritsch as Commander-in-Chief of the Werhmacht.

Like General Ludwig Beck, he opposed Hitler's invasion of Austria and Czechoslovakia. But unlike Beck, Brauchitsch can not bring himself to actively resist Hitler's plans for war. Asked repeatedly by Beck to persuade the entire General Staff to resign if Hitler persists in going to war over Czechoslovakia, Brauchitsch lets events take their course.

When the conspirators go into high gear with their first attempt to overthrow Hitler and the Nazi regime in September 1938, they repeatedly try to persuade Brauchitsch as Commander-in-Chief of the Army to lead the anticipated coup. But the only assurance he gives them is his famous reply: "I myself won't do anything, but I won't stop anyone else from acting."

Following the collapse of the 1938 coup attempt, Brauchitsch ignores all further appeals from Beck and the other coup plotters to use the army to overthrow Hitler before Germany is plunged into world war.
During World War II
In November 1939, prodded by Halder and the conspirators, Brauchitsch seeks an audience with Hitler to persuade him that Germany can never win a protracted general European war and to abandon his plans for conquest. Hitler flies into a rage submitting the Commander-in-Chief to a tirade of insults and abuse. Halder is horrified to see Brauchitsch emerge from the meeting "chalk white with fear." Hitler then calls a meeting of the General Staff to declare that he will smash the West within a year. He also vows to "destroy the spirit of Zossen" - a threat that panicks Halder to such an extent that he forces the conspirators to abort their second planned coup attempt.

Brauchitsch displays outstanding organizational talent in coordinating Hitler's blitzkrieg campaign against the West. Hitler rewards him and eleven other generals with the ultimate military prize - the field marshal's baton. Like Halder and many other senior officers, Brauchitsch is caught up in the euphoria of the Wehrmacht's whirlwind victory over France. Like Hitler, he mistakenly believes the campaign against Russia will be another short victorious war.

As Operation Barbarossa opens, Brauchitsch as Commander-in-Chief is forced to co-sign and implement Hitler's infamous Commissar Order and Order for Guerilla Warfare which essentially condones the mass extermination of captured Soviet prisoners of war and civilians - an act that haunts him at the Nuremburg Trials. Aghast at Hitler's decision to divert the panzer divisions of Army Group Center north towards Leningrad and south towards the Caucasus, Brauchitsch knows that it will doom the Wehrmacht's goal of capturing Moscow. Yet he makes no attempt beyond submitting memos in writing to change Hitler's mind. Predictably, Hitler blames Brauchitsch for the failure to seize Moscow, heaping so much abuse on the unfortunate field marshal that he later suffers a heart attack. In failing health, Brauchitsch is unceremoniously relieved of command and retired in December 1941 as Hitler takes direct control of the Wehrmacht.
The Conspiracy
When the July 20th coup attempt fails, Brauchitsch falls further still in the esteem of those who stand loyal to the conspirators when he publishes an article condemning Stauffenberg's plot and praising Himmler's appointment as Commander-in-Chief of the Home Army. Worse still, he denounces several former colleagues. He later excuses himself to Halder claiming he had been forced to do so to save a relative's life.
His Fate
In the1945-46 Nuremburg Trial, Brauchitsch is charged with complicity in Hitler's war of aggression and crimes against humanity. His defense consists of one perjured statement after another. He denies ever having received money from Hitler to remarry, that he had any foreknowledge of Hitler's war aims in 1938-1941, that he had known of the atrocities committed in Poland, or that he had ever been aware of the Commissar Order's genocidal consequences. Brauchitsch is sent to a prisoner of war camp in South Wales and brought back to Germany in 1948 to stand trial before a British court. He dies before the start of the trial.
---
Sources: Joric Center