Fedor von Bock
(1880 - 1945)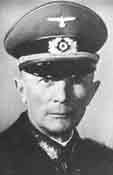 Fedor von Bock was born in Kustrin, Germany, on December 3, 1880. He joined the German Army and during the First World War won the Pour le Mérite. By 1918, Bock had reached the rank of major.
Bock was promoted to field marshal in 1940 for his part in Germany's victorious blitzkrieg campaign against France and the Low Countries. He was subsequently given the task of capturing Moscow. In July 1941, his Army Group Center troops captured Minsk and, three weeks later, reached Smolensk. Bock was only 225 miles from Moscow when Adolf Hitler decided to divert some of his army to Leningrad and Kiev. It was not until October that Bock was able to resume his advance on Moscow.
Bad weather forced Bock to halt his advance on Moscow in December 1941. Hitler replaced Bock with Gunther von Kluge but, after only a month's rest, Bock was sent once again to the Soviet Union to take control of Army Group South after the death of Walther von Reichenau.
After Hitler escalated his campaign in Russia to a war of annihilation, widespread atrocities were committed against Soviet civilians by Reinhard Heydrich's Einzatsgruppen units. This outraged many of Bock's subordinate officers, including Army Group Center Chief of Staff and anti-Hitler conspirator Colonel Henning von Tresckow.
Bock privately expressed outrage at the atrocities, but is unwilling to take the matter directly to Hitler. Instead, he sent one of his subordinate officers to lodge the complaint. When his envoy returned empty-handed, Bock declared triumphantly,"Gentlemen! Let it be noted that Field Marshal von Bock protested."
Hitler told Bock to destroy Soviet forces west of the Don and to gain control of the Caucusus oil fields. He initially had success at Voronezh, but Hitler was angered by his slow progress and dismissed Bock him from active service on July 15, 1942.
In 1944, Bock was approached by his nephew Henning von Tresckow about the possibility of joining the July Plot against Hitler. Bock refused, but did not pass details onto the Gestapo.
After Hitler's suicide, Bock offered his services to the interim Doenitz government, but Bock and his wife and daughter were killed on May 4, 1945, during an Allied air raid on Hamburg.
---
Sources: Joric Center; Spartacus Educational