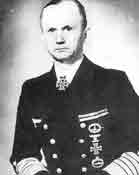 Karl Dönitz was a German naval leader, famous for his command of the Kriegsmarine during World War II and for his twenty-three day term as President of Germany after Adolf Hitler's suicide.

Dönitz was born near Berlin. He entered the Kaiserliche Marine (Imperial Navy) in 1911. During World War I, he served on surface ships before transferring to submarines. He ended the war a prisoner-of-war of the British. He remained in the navy after the war's conclusion and rose in the ranks of the Reichsmarine and Kriegsmarine, becoming a Grand Admiral (Großadmiral) and serving as Commander of Submarines (Befehlshaber der Unterseeboote, B.d.U.) and later Commander-in-Chief of the German Navy (Oberbefehlshaber der Kriegsmarine) despite never joining the Nazi Party.

Following Hitler's accession to power, Doenitz supervised the clandestine building of Nazi Germany's U-boat fleet iin direct violation of the Versailles Treaty clauses still in effect. Under his command, the U-boat fleet fought the famous Battle of the Atlantic. In 1936, he was appointed by Hitler to be Commander-in-Chief of the U-Boat fleet. From 1940-42, he waged an unsuccessful campaign to destroy the British merchant marine and starve out the British isles. But protected by British and U.S. naval armed escort, Britain's lifelines in foodstuffs, ammunition, and raw materials enable her to continue waging war against Germany while drawing the United States ever closer into the conflict, as U-boat commanders repeatedly damage or sink U.S. ships. In 1943, Doenitz replaced Admiral Erich Raeder as Commander-in-Chief of the Kriegsmarine.

On July 20, 1944, Doenitz rushed to Hitler's side to reaffirm the navy's and his personal oath of unquestioning loyalty to Germany's fuehrer. Doenitz publicly heaps adoring praise over Hitler and condemns the July 20th conspirators as a criminal and cowardly gang of traitors.

On May 2, 1945, according to Hitler's last will and testament, Doenitz succeeded Hitler as Reich head of state after the fuehrer committed suicide in his bunker deep underneath Berlin's Chancellery on April 30. As Reich head of state, Doenitz signed the Allied terms for Nazi Germany's unconditional surrender on May 8, 1945

After the war he was charged and convicted of "crimes against peace" and "war crimes" and served ten years. He was released in 1956. On his repatriation he moved to a small village near Hamburg. During his later years he wrote two autobiographies covering different periods in his life. He died of a heart attack on Christmas Eve 1980.
---
Sources: Wikipedia; Joric Conspiracy Center