Henning von Tresckow
(1901 - 1944)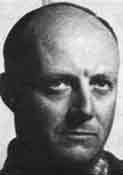 Henning von Tresckow was born in Magdeburg, Germany in 1901. He joined the German Army during the First World War and by the end of the conflict had become a junior officer.
Tresckow left the army after the war and pursued a career as a stockbroker. However, in 1924, he rejoined the army and by 1939 had reached the rank of lieutenant colonel and was serving on the staff of his uncle, Fedor von Bock, at AG Centre Headquarters.
In 1939, Tresckow was involved in the invasion of Czechoslovakia and Poland. He was appalled by the actions of the Schutz Staffeinel (SS) and the Gestapo in the occupied territories. After Tresckow witnessed the killings of captured soldiers in the Red Army in 1941, he decided that the government of Nazi Germany had to be overthrown.
In 1942, Tresckow became a general staff officer in the high command of the Army Group Centre. Over the next couple of years he used his access to senior army officers to try and recruit them join his conspiracy to overthrow the German government of Adolf Hitler. Fedor von Bock, Gunther von Kluge, Erich von Manstein and Gerd von Rundstedt all refused, but were sympathetic enough not to inform the Gestapo about his activities.
On March 14, 1943, Tresckow and his adjutant, Fabian Schlabrendorff, put a bomb on a plane carrying Hitler to Smolensk but the detonator malfunctioned and the bomb failed to explode. Tresckow still remained undetected and the following September was made chief of staff to the Second Army.
Tresckow had recruited Claus von Stauffenberg in 1942, and he was chosen to plant a bomb at a meeting attended by Hitler on July 20, 1944. Stauffenberg carried the bomb in a briefcase and placed it on the floor while he left to make a phone-call. The bomb exploded killing four men in the hut. Hitler's right arm was badly injured but he survived the bomb blast.
When Tresckow heard that the July Plot had failed, he said goodbye to his fellow conspirators, drove to the Eastern Front and blew off his head with a hand grenade.
---
Sources: Spartacus Educational