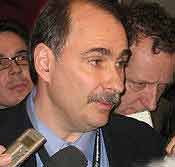 David Axelrod is a Jewish American political consultant best known as a former top advisor to Presidents Bill Clinton and Barack Obama.
Born on New York's Lower East Side, Axelrod grew up in a middle-class Jewish household and showed a passion for politics early. Axelrod attended the University of Chicago where he majored in political science and met his future wife, business student Susan Landau. As an undergraduate, Axelrod wrote for the Hyde Park Herald, covering politics, and picked up an internship at the Chicago Tribune.
At the age of 27, Axelrod became the City Hall Bureau Chief and a political columnist for the Chicago Tribune. He worked at the Tribune for eight years, covering national, state and local politics. He became the youngest political writer there in 1981. Unhappy with his prospects at the Tribune, in 1984 he joined the campaign of U.S. Senator Paul Simon as communications director and within weeks he was promoted to co-campaign manager.
In 1985, Axelrod formed a political consultancy company, Axelrod & Associates. In 1987, he worked on the successful reelection campaign of Harold Washington, Chicago's first black mayor. This established his first experience in working with black politicians and he later became a key player in similar mayoral campaigns of African Americans, including Dennis Archer in Detroit, Michael R. White in Cleveland, Anthony A. Williams in Washington, D.C., Lee P. Brown in Houston, and John F. Street in Philadelphia.
In 2004, Axelrod worked for the presidential campaign of John Edwards.
In 2006, Axelrod consulted for several campaigns, including for the successful campaigns of Eliot Spitzer in New York's gubernatorial election and for Deval Patrick in Massachusetts's gubernatorial election. Axelrod also served in 2006 as the chief political adviser for Democratic Congressional Campaign Committee chair U.S. Representative
Rahm Emanuel
for the U.S. House of Representatives elections, in which the Democrats gained 31 seats.
Axelrod and Barack Obama's ties reach back more than a decade before the 2008 presidential campaign when he served as Obama's chief strategist and media advisor. Axelrod is credited with implementing a strategy that encouraged the participation of people, a lesson drawn partly from Howard Dean's 2004 presidential campaign as well as a personal goal of Barack Obama. Axelrod's elaborate use of the Internet has helped Obama to organize under-30 voters and build over 475,000 donors in 2007, most of whom were Internet donors contributing less than $100 each.
Following Barak Obama's successful Presidential election, Axelrod was appointed Senior Advisor to the President in the Obama administration. He left that position in January 2011 to become the top aid for Obama's 2012 reelection campaign and announced that after the election he would retire from political life.
As of February 2013, Axelrod works as a senior political analyst for NBC News and MSNBC.
---
Sources: Wikipedia