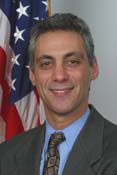 Rahm Emanuel is a Jewish American politician and policy maker who is currently the Mayor of Chicago and previously served as Chief of Staff to President Barack Obama.
Emanuel was born November 29, 1959 in Chicago to Jewish parents. His father, Benjamin M. Emanuel, was born in Jerusalem and a member of the Zionist organization Irgun. His mother, Martha Smulevitz, was the daughter of a Chicago union organizer. Emanuel attended a Conservative Jewish day school early in his childhood and he and his brothers attended summer camp in Israel. He graduated from Sarah Lawrence College in 1981 and received a Master's Degree in Speech and Communication from Northwestern University in 1985.
In 1989, Emanuel was a senior adviser and chief fundraiser for Chicago Mayor Richard M. Daley's campaign. He also played an important role in Paul Simon's 1984 campaign for the Senate. He began his career with the consumer rights organization Illinois Public Action.
Emanuel was a core member of the Clinton White House from 1993 to 1998, starting as the national finance director for the 1992 campaign and eventually becoming Senior Adviser to the President for Policy and Strategy. He was a leading strategist in the successful White House efforts to extend health insurance to millions of uninsured children; pass the Brady Act; enact the historic 1994 crime bill, which put 100,000 new police officers on the street; secure passage of the North American Free Trade Agreement and other trade measures; reform welfare; raise the minimum wage; and balance the federal budget. From 1999 to 2002, Emanuel worked at the Chicago investment bank Wasserstein Perella.
Emanuel was sworn in to Congress on January 7, 2003 as U.S. Representative from Illinois' 5th Congressional District, which covers the Northwest Side of Chicago and parts of suburban Cook County. Appointed by then House Minority Leader Nancy Pelosi, Emanuel served as Chairman of the Democratic Congressional Campaign Committee for the 2006 cycle. Under his leadership, Democrats gained 30 seats in the House without losing a single incumbent, and ushered in a new Democratic majority for the first time in more than a decade.
In January 2007, the new majority elected Emanuel to serve as Democratic Caucus Chair, the fourth-highest-ranking member of the House Democratic Leadership. As Chair, Emanuel led the Democratic Caucus in fulfilling its campaign promise to pass legislation reflecting the values and priorities of the American people.
Emanuel accepted the position of White House Chief of Staff for Barack Obama on November 6, 2008. On September 30, 2010, it was announced that he would be leaving his post to run for Mayor of Chicago.
Emanuel was elected Mayor of Chicago on February 22, 2011. He is Chicago's first Jewish mayor.
Emanuel and his wife, Amy Rule, have three children, Zach, Ilana, and Leah.
---
Sources: Congress, The White House, Wikipedia