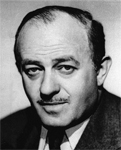 Ben Hecht was a Jewish American journalist, novelist, and playwright. He is most famous for his influence in helping Hollywood expose the true nature of the Holocaust.
Hecht was born in New York City on February 28, 1894, to Russian-Jewish immigrants. He attended high school in Wisconsin after his family moved there. After graduating in 1910, at age sixteen, Hecht ran away to Chicago, where he lived with relatives and started a career in journalism. He found work as a reporter, first for the Chicago Journal and later with the Chicago Daily News, and after World War I, Hecht was sent to cover Berlin for the Daily News. In Berlin, he wrote his first novel, Erik Dorn (1921).
In 1921, Hecht inaugurated a Daily News column called One Thousand and One Afternoons in Chicago that represented a new concept in journalism as he highlighted the average life of the city's citizens. After concluding One Thousand and One Afternoons, Hecht went on to produce novels, plays, screenplays, and memoirs, but none of these eclipsed his early success in finding the stuff of literature in city life.
While living in Chicago, Hecht met fellow reporter Charles MacArthur. Together, they moved to New York to collaborate on their play, The Front Page, which became widely acclaimed and had a successful run on Broadway of 281 performances. In 1931 it was turned into a successful film, which was nominated for three Oscars.
Hecht, however, had little to do with Judaism or Jewish affairs until 1933 when the Nazis seized power in Germany. Hecht became increasingly involved in anti-fascist and anti-Nazi activities from that point on, and his play To Quito and Back (1937) reflected this change of attitude.
In September 1941, Hecht was contacted by Peter Bergson – who would later become a Knesset parliamentarian under the name Hillel Kook – and agreed to join Bergson's "Committee for a Jewish Army," a group of primarily non-Jewish celebrities that included Frank Sinatra and Burgess Meredith for a national tour to expose Hitler. He found that his previous contacts in the press and Hollywood could be used to the advantage of the delegation representing the underground Irgun, the military arm of the Revisionist Zionist movement. Hecht thus proceeded in two ways.
First, he used his own experience as a journalist to craft a series of full-page newspaper advertisements. One read "For Sale To Humanity 70,000 Jews Guaranteed Human Beings at $50 A Piece" (New York Times, February 16, 1943, p. 1) and brought the Holocaust to public attention.
Second, Hecht used his extensive contacts in Hollywood to create the We Will Never Die pageant. Co-authored by Hecht and Moss Hart, the pageant, which was staged in Madison Square Garden on March 9-10, 1943, and then later played in five other cities, became a centerpiece in the Emergency Committee to Save the Jewish People of Europe's campaign to create an American rescue policy after the failure of the Bermuda Conference. We Will Never Die helped create a "boiling point" atmosphere and was influential in leading to President Roosevelt's creation of the War Refugee Board in January 1944.  The pageants were seen live by more than 100,000 people and by several million others on NBC broadcasts.
In 1944, Hecht published A Guide for the Bedeviled, a highly controversial analysis of anti-Semitism.
Hecht continued his activities on behalf of the Bergson group after World War II and was involved in fundraising and recruiting for the Irgun. In 1946, he produced n unapologetically propagandistic play; A Flag is Born, starring renowned actors Paul Muni and Celia Adler and a young Marlon Brando. Directed by Luther Adler and with music by Kurt Weill, A Flag is Born helped mobilize American opinion for a Jewish homeland in Palestine. The play had but one set, a graveyard, and three characters: elderly Treblinka survivors, Tevye and Zelda, who drag their tired and broken bodies searching for a path to Palestine, and Brando's David, an angry young concentration camp survivor. A Flag is Born debuted on Broadway on September 5, 1946, and played in six North American cities. The play raised more than $400,000.
One of the Aliyah Bet ("illegal" immigration) ships sent by the Irgun bore Hecht's name. Hecht was one of the organizers of the June 1948 voyage of the Altalena, a ship that carried arms and immigrants to Israel. While the immigrants and most weapons were allowed to disembark, the Israeli government was adamant that the Irgun surrender the weapons to the newly created Israeli army. When the Irgun refused, the Israeli government sank the ship.
Hecht withdrew from Zionist activities after the Altalena affair. However, he retained his highly partisan position, as reflected in his autobiography, A Child of the Century (1954), and in his book Perfidy (1961), a sensationalized account of the Rezsö Kasztner affair and the negotiations to ransom Hungarian Jewry.
He died on died April 18, 1964.
---
Sources: U.S. Holocaust Memorial Museum.
Wikipedia.
Times of Israel (March 9, 2013).
Jewish Theatre News.