The Arab League: Background & Overview
(March 22, 1945)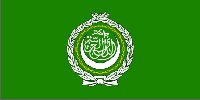 Arab League Flag
The League of Arab States, or Arab League, was formed in Cairo on March 22, 1945, for the purpose of securing Arab unity. Because of inter-Arab rivalries, the League has generally been unable to pursue a consistent agenda beyond general opposition to Israel. Even that issue became a source of tension when Egypt signed its peace treaty with Israel in 1979. The League suspended Egypt's membership and moved its headquarters from Cairo to Tunis. In 1989, Egypt was readmitted, and Cairo again became the League's base of operations.
The League meets periodically, with its main decision-making council convening biannually. Though unanimous decisions of the council are supposed to be binding on all members, individual states have often gone their own way. One example of this is the inconsistent enforcement of the Arab League's boycott of Israel.
The League's founding members were Egypt, Iraq, Jordan (originally Transjordan), Lebanon, Saudi Arabia, Syria and Yemen. Other Arab countries became members later or as they gained their independence: Algeria (1962), Bahrain (1971), Comoros (1993), Djibouti (1977), Kuwait (1961), Libya (1953), Mauritania (1973), Morocco (1958), Oman (1971), Qatar (1971), Somalia (1974), Southern Yemen (1967), Sudan (1956), Tunisia (1958) and the United Arab Emirates (1971). The Palestine Liberation Organization (PLO) was admitted in 1976 and is now considered the State of Palestine. Today, the League has 22 members (Southern Yemen united with the north) with four observer states: Eritrea (2003), Brazil, Venezuela and India.
During the 27th annual Arab League summit, in July 2016, the Palestinian representative assailed the other delegates with accusations that the plight of the Palestinian people had fallen from their priorities.
President Donald Trump's Special Representative for International Negotiations Jason Greenblatt attended the 28th annual Arab League summit as an observer in March 2016. Although as an observer Greenblatt did not endorse the speeches given or resolutions approved by the League, he held multiple meetings with Arab League representatives.
Arab League officials accused Iran of destabilizing activities in the region and labelled Hezbollah a terrorist organization in November 2017, but stopped short at taking any action against either.
In a major defeat, the Palestinian Authority failed on September 9, 2020, to get the Arab League's foreign ministers to endorse a resolution criticizing the U.S.-brokered normalization deal between Israel and the United Arab Emirates.
---
Sources: League of Arab States;
Lawrence Franklin, "What the Arab League Meeting Reveals," The Gatestone Institute, (August 1, 2016);
Special Representative for International Negotiations Greenblatt's March 27-29 Trip to Jordan, US Embassy in Jordan, (March 29, 2017);
Zaid Sabah. Arab League Condemns Iran, Calls Hezbollah a Terrorist Group, Bloomberg, (November 19, 2017);
Barak Ravid, "Palestinians fail to get Arab League to condemn Israel-UAE deal," Axios, (September 9, 2020).