Arlen Specter
(1930 - 2012)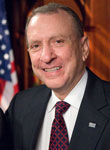 Arlen Specter, born February 12, 1930 in Wichita, Kansas, wais the senior U.S. Senator from Pennsylvania. He was first elected to the U.S. Senate in 1980 and served five terms.
Specter graduated from University of Pennsylvania in 1951 and served in the United States Air Force from 1951 to 1953. He graduated from Yale University Law School in 1956 and was admitted to the Pennsylvania bar in 1956 where he commenced practice in Philadelphia. From 1959 to 1964 he served as assistant distric attorney of Philadelphia and from 1966 to 1974 as district attorney of Philadelphia. In 1964 he was assistant counsel on the President's Commission on the Assasination of President Kennedy (Warren Commission). He was admitted to the New Jersey bar in 1979 and to the District of Columbia bar in 1983.
Specter was first elected as a Republican to the United States Senate in 1980 and then reelected in 1986, 1992, 1998 and 2004. He changed party affiliation on April 30, 2009, becoming a Democrat. He has served on the Select Committee on Intelligence, the Committee on Veterans Affairs, and the Committee on the Judiciary.
Since 1981, he played a significant role in Supreme Court nomination hearings, for Chief Justice Rehnquist, Justices O'Conner, Scalia, Kennedy, Souter, Thomas, Ginsberg, Breyer and Judge Bork. Notwithstanding debilitating chemotherapy treatments in 2005, he stayed on the job as Chairman of the Judiciary Committee to preside over historic Supreme Court confirmation hearings. His work on the Judiciary Committee included writing significant legislation about Constitutional law, civil rights and privacy.
On the Appropriations Committee, Specter fought to increase funding for the National Institutes of Health from $12 to $30 billion to expand medical research to find cures for cancer, heart disease, Alzheimer's, Parkinson's and other maladies. He supported expanding health care for seniors and children and has proposed legislation to cover the almost fifty million Americans who do not have health insurance. On the Appropriations Subcommittee, he advocated to increase federal spending by 138% and raise funding for scholarships and student loans.
As Chairman of the Intelligence Committee in the 104th Congress and a member of the Appropriations Subcommittee on Foreign Operations, Senator Specter traveled extensively meeting with world leaders including Soviet President Mikhail Gorbachev; French President Francois Mitterrand; Israel's Prime Ministers Menachem Begin, Yitzhak Shamir, Yitzhak Rabin, Shimon Peres, Benjamin Netanyahu, Ehud Barak, Ariel Sharon and Ehud Olmert; China's President Hu Jintao; Indian Prime Minister Singh; Pakistan's Prime Ministers Benazir Bhutto, Mohammad Zia and Pervez Musharraf; Jordan's Kings Hussein and Abdullah; and Egyptian President Hosni Mubarak. Strongly agreeing with Moishe Dayan's famous statement that we make peace with our enemies not our friends, he has met with Syria's Presidents Hafez al-Assad and Bashar al-Assad; the Palestinian Authority's Chairman Yassar Arafat; Iraq's President Saddam Hussein; Cuba's President Fidel Castro; Libya's Leader Muammar Gaddafi; and Venezuela President Hugo Chavez.
From these meetings and his studies of foreign affairs since his undergraduate days at the University of Pennsylvania where he majored in Political Science and International Relations, Senator Specter was a forceful advocate for aggressive diplomacy to solve international conflicts. He wrote, with staffer Chris Bradish, an article for the Washington Quarterly (Winter 2006-2007), outlining a blueprint for diplomatic initiatives in the Mideast with emphasis on bilateral negotiations with Iran and Syria. Similarly, he has urged bilateral, as well as multi-lateral, negotiations with North Korea.
Early in his Senate career in 1982, he was among the first to call for a US/USSR summit in a Resolution which passed the Senate 90 to 8. He participated extensively with the Senate observers at the Geneva Arms Reduction talks in the 1980's and led the fight for the broad interpretation of the ABM Treaty. Senator Specter consistently supported appropriations to fight global aids and promoted worldwide support for underdeveloped countries including free trade agreements.
Specter was treated for Hodgkin's lymphoma in 2005 and 2008 and ultimately succumbed to the disease on October 14, 2012.
Senator Specter is survived by his wife, Joan, their two sons, Shanin and Steve, and three grandchildren.
---
Sources: Biographical Directory of the United States Congress; U.S. Senator Arlen Spector