Albert Kesselring
(1885 - 1960)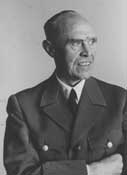 Albert Kesselring served as General Field Marshal of the air force and later Commander-in-Chief of the German troops in Italy during World War II. Born in Bavaria in 1885, Kesselring joined the military as a cadet in 1904 and became an artillery officer in the Bavarian army. After his service in the First World War, Kesselring joined the Reichswehr for regimental service with the artillery and was promoted to Brigadier in 1932.
By 1935 Kesselring was transferred into the air force and quickly held significant rank. He was made General of Fliers in 1937 and a year later became Commander-in-Chief of Air Fleet I (Berlin). Following his success in Poland and Belgium, he was made General Field Marshal in July 1940 with the fall of France.
His strategic bombing attacks in Rotterdam and Dunkirk were considered brilliant by strategists and his success during the Battle of Britain may have been complete had it not been for Goering's meddling. In December 1941, he was transferred to the Mediterranean as the Commander-in-Chief in the South. He worked closely with Rommel in North Africa and devised strategic retreats in Tunisia and the Italian peninsula that delayed Allied advances by almost a year.
His noteworthy military and strategist career was marred by his involvement in the Ardeantine cave massacre of March 1944 in which 335 Italian civilians were shot.
Kesselring finished the war on the western front. A British military court in Venice sentenced Kesselring to death in 1947 for killing Italian hostages, but his sentence was commuted to life imprisonment. He was released due to ill health in October of 1952 and died on July 16, 1960, in Bad Nauheim.
---
Source: Robert S. Wistrich, Who's Who in Nazi Germany, (NY: Routledge Press, 1995).
Photo: Field Marshall Albert von Kesselring during an intermission in the IMT Nuremberg commission hearings investigating the Supreme Command of the German Armed Forces (OKW), USHMM, courtesy of Gerald (Gerd) Schwab.