From Haven to Home: Zion and America
The Jewish immigrants who arrived in massive waves from Eastern Europe beginning in the early 1880s brought with them the ideas of "Hibbat Zion" (Love of Zion), a movement whose principal aim was the return of the Jewish people to their ancient homeland. Political Zionism gained strength in America in 1914, when Louis D. Brandeis accepted a leadership post as chair of the Provisional Executive Committee for General Zionist Affairs. The persistent efforts of America's Zionist activists on behalf of the establishment of a national homeland for Jews in Palestine were rewarded when the U.S. voted in favor of the United Nations 1947 partition plan. A two-thirds majority vote divided Palestine into two independent states, one Jewish and one Arab. On May 14, 1948, Israel declared its independence and minutes later President Harry S Truman officially recognized the new Jewish state.

Hebrew Lotto Game

This Hebrew Lotto game was produced in Warsaw at the beginning of the twentieth century, with the emergence of political Zionism and the effort to revive Hebrew as a language of everyday life. Intended for children ages four to seven, the game sought to teach them to read Hebrew through play. The instructions suggest that a teacher using these materials could reinforce each lesson by weaving a story or a discussion with the words learned in the course of the game. Educational games like this one, designed to teach as well as to amuse, were played in American Zionist households and schools.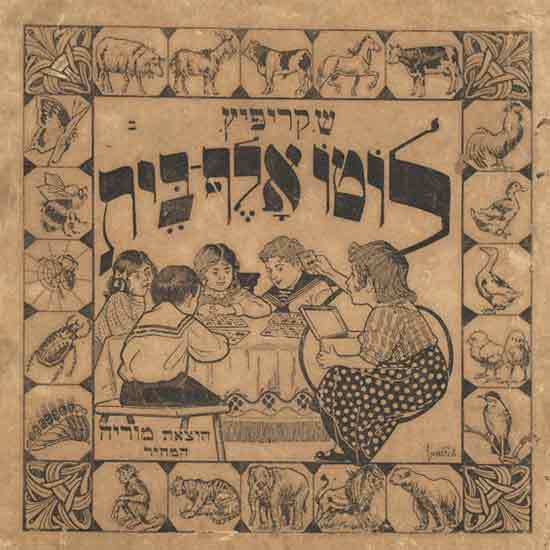 Hebrew Lotto game.
Warsaw: ca. 1900.
Wood with paper game pieces.
Hebraic Section
President Truman Recognizes the State of Israel

Just minutes after the State of Israel proclaimed its independence on May 14, 1948, President Truman officially recognized the new state. Displayed here is the president's note recognizing the State of Israel, which includes his handwritten revisions.
The Vote for Partition

On November 29, 1947, the United Nations General Assembly voted to partition Palestine into two independent states--Jewish and Arab. Displayed here is New York Congressman Emanuel Celler's tally sheet, which he used to keep track of the vote; it also includes his handwritten notes quoting from the delegates' speeches.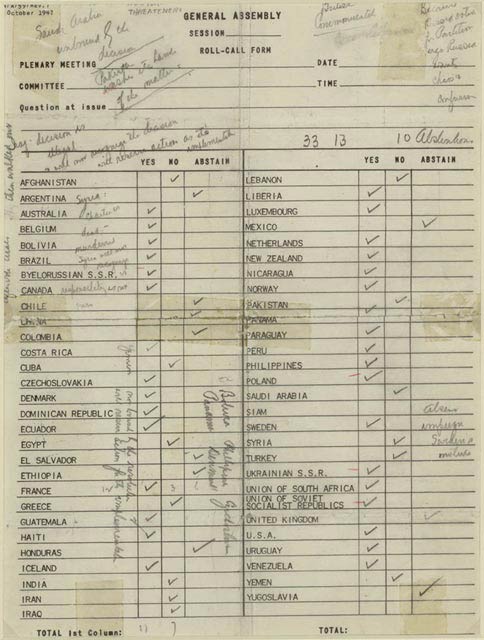 United Nations Resolution on the Partition of Palestine.
Typescript form.
Emanuel Celler Papers.
Manuscript Division
"The Follies of Zionism"

In a series of published "open letters," Rabbi Jacob Voorsanger of San Francisco set out his reasons for opposing political Zionism. Voorsanger believed that Zionism was a mistaken doctrine for Diaspora Jewry because Jews were fully already integrated into their European and American surroundings. In addition, he argued that Palestine was unsuitable as a prospective homeland for Jews. "Look at the geographical location of Palestine. Is it not out of the way? What waterways does it possess, has it ever possessed, to favor the development of commerce? . . . If these questions are asked, friend, the follies of Zionism become at once apparent."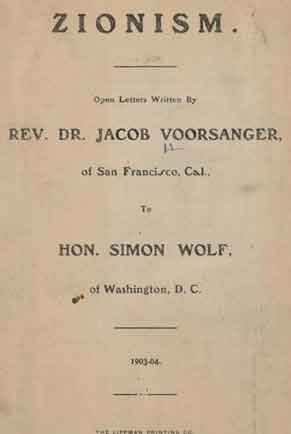 Jacob Voorsanger (1852-1908).
Zionism. Open Letters written by Reverend Dr. Jacob Voorsanger of San Francisco, Calif., to Honorable Simon Wolf, of Washington, D.C., 1903-1904.
San Francisco: Lippman Printing Co., 1904.
General Collections
Choosing Zion

Published in Newark, New Jersey, in 1893, this early Zionist treatise castigates immigrants who choose to make America their home rather than Zion. The frontispiece illustration shown here depicts a Jewish traveler turning his back on a desolate Jerusalem and walking towards a prosperous America.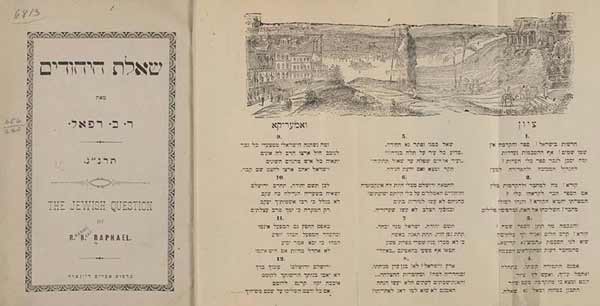 Raphael Baer Raphael.
She'elat Ha-Yehudim
[The Jewish Question].
Newark: Ephraim Deinard, 1893.
Hebraic Section
Zionism and Patriotism

A successful lawyer, Louis D. Brandeis (1856-1941) became active in the nascent American Zionist movement on the eve of World War I. In 1914, he became chair of the Provisional Executive Committee for General Zionist Affairs, the leader of American Zionism. His participation served to legitimize the movement in the eyes of American Jewry and other Americans. He believed strongly that Zionism and American patriotism were compatible, a view expressed in the pamphlet displayed here. In 1916, Louis Brandeis became the Supreme Court's first Jewish justice.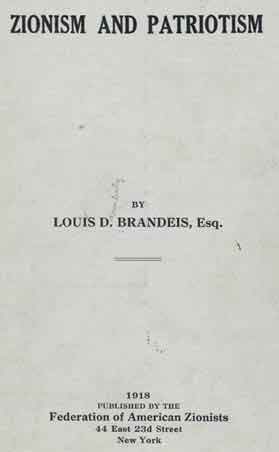 Louis D. Brandeis.
Zionism and Patriotism.
New York: Federation of American Zionists, 1918.
General Collections
"I See My Future as Very Close to the Future of Israel"

In October and November 1948 — during Israel's War of Independence — Leonard Bernstein traveled to Israel, leading concerts of the Israel Philharmonic Orchestra in cities and towns across the land. In a letter to his parents, expressing feelings shared by many American Jews, he wrote: "If my present mood keeps up I see my future as very close to the future of Israel. I can do so much here — and it's the most important of all." The letter closes with a report on his visit to a Yemenite synagogue — "I went to Kol-Nidrei at a Yemenite synagogue, [and] got the thrill of a life. The music makes Stravinsky look pale." Also included was a brief note in Bernstein's hand in rudimentary Hebrew reporting on his health and itinerary.
Leonard Bernstein (1918-1990) to his parents Jennie and Samuel.
Holograph letter (sent from Tel Aviv), October 15, 1948.
Leonard Bernstein Collection.
Music Division
Concert given with members of the Israeli Philharmonic
for the armed forces in Beersheba, Israel],
November 20, 1948.
Gelatin silver print.
Leonard Bernstein Collection.
Music Division

Leonard Bernstein in rehearsal, Israel, 1948.
Gelatin silver print.
Leonard Bernstein Collection.
Music Division
Exodus

Based on the 1958 novel by Leon Uris, Exodus (1960) introduced America to the story of the State of Israel, turning its struggle for existence into the stuff of Hollywood legends. Its sympathetic portrayal of Israel's founding greatly strengthened the identification of America's Jewish community with the newly established state.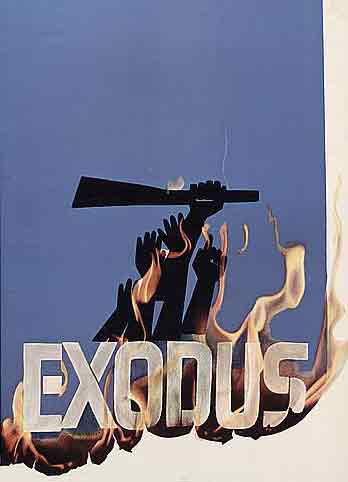 Saul Bass (1920-1996).
Exodus, 1961.
Color offset lithograph poster.
Prints and Photographs Division
---
Sources: Library of Congress