From Haven to Home: In the Public Sphere
Legal impediments to Jewish participation in the political, social, and economic life of the country largely ended once Jews received political rights in Maryland in 1826. By then, Jews had turned their attention in new directions, seeking to assure their inclusion in all facets of American life and advocating on behalf of oppressed co-religionists abroad. They participated fully in the political life of the nation, advocated on behalf of causes important to them as Jews, and sometimes held out the promise of the "Jewish vote" in an effort to garner political support. Issues that have traditionally stood at the top of the Jewish community's political agenda include opposition to anti-Semitism, extension of civil rights, separation of church and state, the security of the State of Israel, and the welfare of Jews around the world.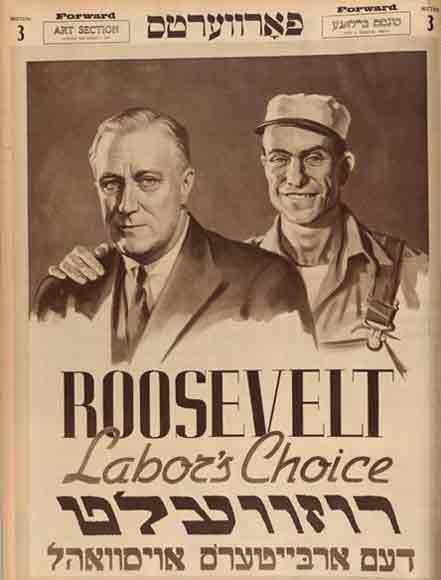 Secretary of the Board of Delegates of American Israelites Myer S. Isaacs wrote to Lincoln on the eve of the presidential election, October 26, 1864, that "the Jewish vote does not exist." Isaacs nevertheless assures Lincoln that "the majority of Israelite citizens must concur in the attachment for the Union and a determination to leave no means untried to maintain its honor."

English born Isachar Zacharie was President Lincoln's chiropodist, political confidante, and special emissary. Among other things, Zacharie involved himself in helping Abraham Lincoln secure the Jewish vote. In a letter to Lincoln on November 3, 1864, Zacharie wrote: "I just returned to this city after a trip of nine days through Pennsylvania and New York state, and I am happy to inform you, that I am satisfied that I have done much good, I now think all is Right . . . . As regards the Isrelites [sic]--with but few Exceptions, they will vote for you. . . . I understand them well, and have taken the precaution--to see that they do as they have promised--I have secured good and trustworthy men to--attend on them on Election Day--My Men have been all the week seeing that their masses are properly Registered--so that all will go right on the 8th ins."
---
Sources:Library of Congress