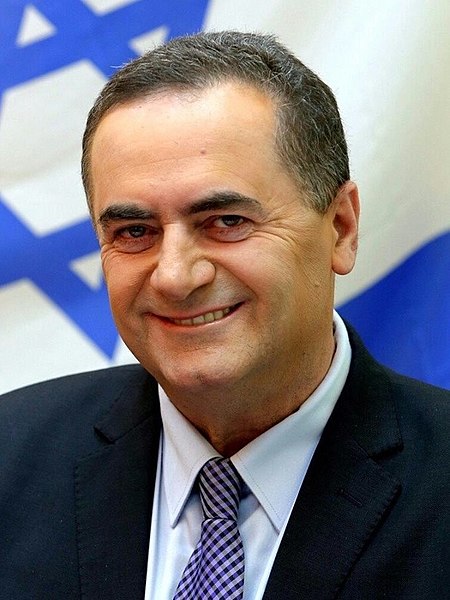 Yisrael Katz is an Israeli politician who was born in Ashkelon on September 21, 1955. He holds a B.A. degree from the Hebrew University in Jerusalem, where he also attended graduate studies. A resident of Moshav Kfar Ahim, he has engaged in agriculture.
He was drafted into the IDF in 1973. He volunteered as a paratrooper in the Paratroopers Brigade. He served as a soldier and a squad leader. In 1976, he became an infantry officer after completing Officer Candidate School and returned to the Paratroopers Brigade as a platoon leader.
After his discharge in 1977, he studied at the Hebrew University of Jerusalem, and graduated with a BA and an MA from the Hebrew University of Jerusalem. While studying at the Hebrew University in the early 1980s, he was chairman of the students' union. In March 1981, he was suspended for a year over his participation in violent activities to protest Arab violence on campus, including imprisoning rector Raphael Mechoulam in his room as a protest.
Katz entered the Knesset in November 1998 as a replacement for Ehud Olmert. He was re-elected in 1999 and 2003 and was appointed Minister of Agriculture and Rural Development in Ariel Sharon's government in 2003. Katz left the cabinet in January 2006 after the Likud–Kadima split and was re-elected in the 2006 elections.
In March 2007, the Israel Police recommended indicting Katz on charges of fraud and breach of trust linked to political appointments at the Ministry of Agriculture during his tenure as minister. The police transferred their investigative material to the central district prosecution, which subsequently declined to prosecute.
Katz retained his seat in the 2009 elections and was appointed Minister of Transportation in the Netanyahu government. In July 2009, he decided to replace existing road signs in Israel with new ones so that all the names appearing on them in English and Arabic would be a direct transliteration of their Hebrew names, instead of being directly in English and Arabic.
Katz was re-elected in 2013 and remained Minister of Transportation in the new government. He was re-elected in 2015, after which he was appointed Minister of Intelligence while remaining Minister of Transportation.
In 2019, Katz assumed the position of Minister of Foreign Affairs.
In 2020, Katz became Minister of Finance in the Thirty-fifth government.
Following the 2022 election, Katz was appointed Minister of Energy.
He is married, with two children.
---
Sources: Israeli Ministry of Foreign Affairs.
Israel Katz, Wikipedia.
Photo: Yarondvash at Hebrew Wikipedia.(Original text: צילום: ששון תירם), CC BY 4.0 via Wikimedia Commons.