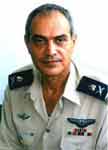 Dan Halutz is an Israeli Air Force Lieutenant General and former Chief of Staff of the Israel Defense Forces.
Halutz (born August 7, 1948) was born in Tel Aviv only a few months after Israel's proclamation of independence. He enlisted in the IDF in November 1966 as a cadet in the Air Force flight school. In July 1968, Halutz graduated as a fighter pilot with the rank of second lieutenant and was assigned to the "Mister 4" fighter squadron, then to the "Vutour" fighter squadron.
Beginning at the end of 1969, he joined the first Phantom squadron of the IAF. Halutz flew 40 operational flights during the War of Attrition.
In November 1969, Halutz converted to an F-4 pilot and served in the same squadron until 1982. Released from the IDF in 1973, he began academic studies but returned to the Phantom squadron at the outbreak of the Yom Kippur War. In the course of some 43 operational flights he shot down three enemy aircraft.
In 1978, he was again released from the IDF but continued to serve as a pilot in the reserves for four years. He returned to active duty in 1982, when he started to fly F-16 planes. In 1984, he received the command of the Phantom squadron and in 1986 was chosen as head of the operational unit of the Lavi aircraft project. In 1988, the General was nominated as head of the Operational Requirements Department of the IAF, and from 1991-1993 he was a wing commander.
In 1991, Halutz was appointed commander of the Hazor Air Force Base. In 1993, he was promoted to the rank of brigadier general and appointed head of the IAF Air Division. In 1995, the General was appointed as the Head of Staff of the IAF. In August 1998, General Halutz was promoted to Major General and assumed the position of assistant of the Deputy Chief of General Staff. In June 1999, after the reorganization of the General Staff, Maj. General Halutz was nominated as the Director of Operations (J-3). He subsequently served as commander of the IAF from 2000 until 2004, when he was appointed to the position of deputy chief of General Staff.
On June 1, 2005, Halutz was promoted to the rank of Lieutenant-General and appointed the 18th Chief of General Staff of the IDF. During his time in command, Halutz oversaw a controversial "targeted killing" campaign of Palestinian terrorists. He was also in command of the IDF during the Second Lebanon War. He resigned from his post a few months following the war after he was publicly criticized for his actions during the war.
Halutz is a graduate of Tel Aviv University and received a B.A. in economics. He is married with three children.
---
Sources: Israeli Foreign Ministry; IDF; Wikipedia