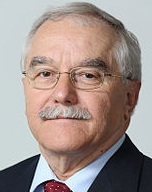 Yair Shamir is an Israeli politician and serves in the thirty-third Knesset as Minister of Agriculture & Rural Development.
Born on August 18, 1045 in Ramat Gan, Israel, Shamir is the son of the late former Israeli Prime Minister Yizhak Shamir. Yair was named after Avraham "Yair" Stern, founder of the Lehi, a Jewish underground movement who worked in pre-state Palestine before Israel was founded.
Shamir is the number two politician on Yisrael Beiteinu's party list, and a new member of the Knesset. He is a former Israeli Air Force commander (having served for 25 years), who dabbled in technology in the private sector, and entered Israeli politics in 2012.
His business career includes working at El Al Israel Airlines; Israel Aerospace Industries, Israel's leading airplane manufacturer; a large telecommunications firm; venture capital fund; and a computer company.
Going into politics was a "nationalist decision … [a decision] to give my coming years to strengthen Israel on the national level and not on the private level," Shamir told the Jewish Telegraph Agency. Shamir sees himself following in his father's footsteps. The elder Shamir was Prime Minister from 1986 to 1992.
Yair greatly admires the values of pluralism and democracy but opposes a Palestinian state, which contrasts with Avigdor Liberman's position on that topic. Liberman is Yisrael Beiteinu's number one politician.
Shamir lives in Savyon and is married to Ella. The couple have three children and seven grandchildren.
---