Werner von Fritsch
(1880 - 1939)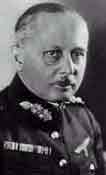 Werner von Fritsch was born in Benrath, Germany, on August 4, 1880. He joined the German Army and served throughout the First World War. He remained in the army and, in May 1935, he became commander in chief of the armed forces.
Fritsch occasionally spoke contemptuously of Adolf Hitler to fellow officers. On one occasion, when a colleague enthusiastically calls him to the balcony to watch a military parade for Hitler's birthday, Fritsch snaps, "Why celebrate that!?" Fritsch was also outraged by the Night of the Long Knives massacre in June 1934 but failed to vocalize his objections to Hitler.
Nevertheless, Hitler became aware of Fritsch's aversion to Nazism and opposition to Hitler's grandiose schemes for the coming military adventures. Hitler was determined to gain control of the army and Heinrich Himmler was asked to gain information on Fritsch. Eventually, Hans Schmidt, a male prostitute, agreed to claim that he had a sexual relationship with Fritsch.
On January 24, 1938, Hitler told Fritsch about the claims made by Schmidt. When it became clear that senior members of the German Army were unwilling to support him against these false charges, Fritsch retired from office. When it was later discovered that Schmidt was lying, Hitler refused to reinstate Fritsch.
Recalled to the army on the outbreak of the Second World War, Fritsch became an honorary colonel in his former regiment. Werner von Fritsch was killed during the invasion of Poland on September 22, 1939.
The Nazi regime's disgraceful behavior toward General von Fritsch turned many like-minded officers such as Ludwig Beck into sworn enemies. Other officers whose loathing for Hitler and the regime now boiled over include Abwehr Chief Admiral Wilhelm Canaris, his second in command Colonel-General Hans Oster, Field Marshal Erwin von Witzleben, and General Karl Heinrich von Stuelpnagel - all of whom would play leading roles in the six-year conspiracy to overthrow Hitler.
---
Sources: Joric Center.
Spartacus.