Higher Education in Israel: The Technion - Israel Institute of Technology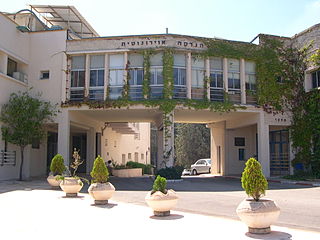 The Technion – Israel Institute of Technology is a public research university located in Haifa.
The cornerstone of the original Technion building was laid in 1912 in central Haifa. It's purpose was to foster the study of science and technology in Palestine, crucial to the development of the Jewish settlement. The plan for the establishment of such a university was promoted by financial backers from Germany, Russia, and the United States.
Before the building could be completed, however, a controversy erupted over the language which would be used in teaching the various subjects. The majority of the governing board felt that German was the most suitable language for instruction at the Tecknikum, as it was then called. The minority protested, claiming that only the Hebrew language should be used. This "language conflict" was not solved before the outbreak of WWI, which further delayed the opening of the university.
In 1923, Albert Einstein visited the nascent campus and planted the first palm tree, as an initiative of Nobel tradition. This palm tree still stands today in front of the old Technion building in Hadar.
Only after the war was over was the Technion finally able to open its doors. The first classes were held in December, 1924. After the independence of the State of Israel, new plans were made to move the facility to another site in Haifa, greatly expanding the university. Today, the Technion stands at the cutting edge in the research and development of new technologies.
Today, some 11,000 students study at the university, with approximately 700 faculty members, include three Nobel Laureates in chemistry.
The Technion has 18 faculties - aerospace engineering; architecture & town planning; biology; biomedical engineering; biotechnology & food engineering; civil & environmental engineering; chemical engineering; chemistry; computer science; education in technology & science; electrical engineering; humanities & arts; industrial engineering & management; mathematics; mechanical engineering; medicine; and, physics.
---
Sources: The Jewish Agency for Israel.
The World Zionist Organization.
Wikipedia.
Photo: Public Domain.